Note: Durability Matters is reader-supported. When you buy through affiliate links on our website, we'll make a small commission, without impacting your price. Thank you. Learn more.
As the saying goes, "where there's smoke, there's fire" — or is there? Smokeless fire pits such as the Solo Stove and Breeo beg to differ, claiming to offer the best of both worlds. A warm, toasty place to stretch out your feet on a chilly day. Or rack up marshmallows on a stick to toast.
Yet, without the smelly, hazy (and potentially hazardous) smoke that usually accompanies such activities. A bonus for those who prefer not to smell like charcoal or suffer breathing issues after an outdoor get-together or camp night. You're in luck if you've been hunting for just such a mythical contraption.
Smokeless fire pits capitalize on innovative yet low-tech engineering processes — which we'll explain later on — to remove smoke from the campfire equation. That said, picking the perfect smokeless fire pit is a bit more challenging. Today, I'm sizing up two of your top choices; the Solo Stove and Breeo Fire Pit.
What makes the Breeo and Solo Stove smokeless fire pits so special?
The Breeo smokeless fire pit inventors, Andy Kaufman and Jr. Troyer, are credited with pioneering the first modern-day version. However, it is thought that smokeless fires and pits were first invented by the Dakota people as far back as the 1600s.
The benefits of less smoke during this century are clearly recognizable. Besides improving visibility while cooking, a smokeless fire is much less visible itself. In this way, it keeps its creators safe from discovery by those nearby or far, be they animals or humans.
Today, smokeless fire pits accommodate fireside visitor needs, as well. Though the scent of smoke certainly is nostalgic, not everyone appreciates it. Smoke from combusted wood, charcoal, fire starters, and fuel also tends to contain carbon monoxide, which isn't the safest to breathe in. Smokeless fire pits are safer for those with breathing difficulties, kids, and for long-term use.
What is a Solo Stove?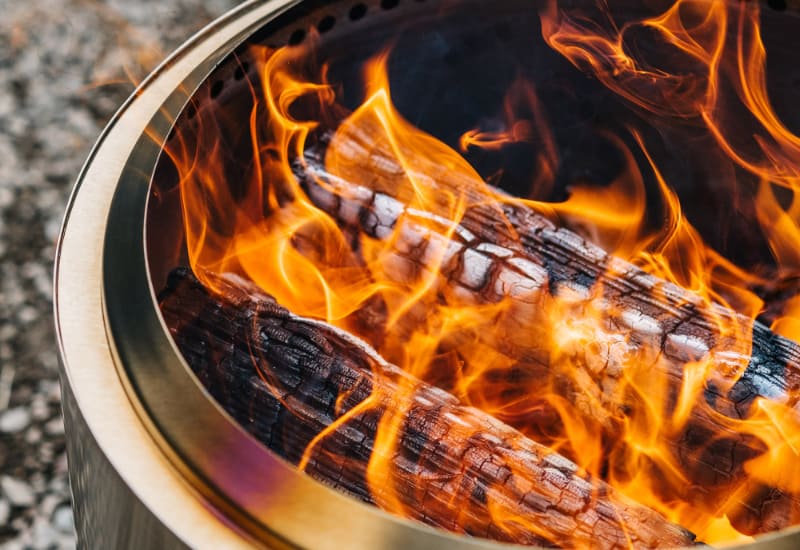 The Solo Stove is a smokeless fire pit designed with the great outdoors in mind. The two smallest versions; the Range and Bonfire, are both portable and lightweight. Meaning that you can take them away with you on backpacking and camping trips. Solo Stove smokeless fire pits even come with a carrying case and feature a premium, durable thin stainless-steel construction.
What makes the Breeo fire pit so special?
If you're looking for something permanent, then a Breeo may be more in-tune with your needs. Breeo's imposing smokeless fire pits are built for backyards, coming in various sizes and styles. The Y Series, a compact 19'' stove, is the only portable option, available from September 2022. Whereas the stylish X Series and deluxe Luxeve are perfect for patios, even featuring multiple patina options.
How do smokeless fire pits work?
Now, to the nitty-gritty stuff – how do "smokeless" fire pits actually work? Smokeless fire pits come in various designs, each operating in its own unique ways. However, most are likely to feature a double wall and air vents. These elements work together to create secondary combustion — a process where excess smoke gets burned off inside the pit.
You see, smoke is actually a combustible gas (or secondary fuel source) resulting from incomplete combustion of the primary source. When wood or another primary fuel source burns incompletely due to insufficient heat, smoke gets released as a by-product. Smokeless fire pits aim to limit incomplete combustion to reduce smoke output. However, there's more to smokeless fire pits than a few engineered modifications.
The right fuel, including seasoned, hardwood, or kiln-dried logs, contributes — as does sufficient heat, which most fire pits are designed to produce, as well. To simplify, when the right mix of heat, quality fuel, and airflow gets met, high combustion with little smoke is the result. Do note that "smokeless" doesn't mean entirely smoke-free, though — smokeless fire pits may still produce some smoke, especially when firing up or if incorrectly fueled or loaded.
How does a Solo Stove work?
The Solo Stove is one of the smokeless fire pits that relies on a double-wall and vent system. These elements work together to produce a secondary burn, resulting in less smoke. Once a fire gets lit in the chamber, it creates a vacuum at the bottom of the pit. The vacuum pulls oxygen through the Solo Stove vents, fueling the fire from the bottom and top, creating a secondary burn.
How are Breeo fire pits smokeless?
Just like the Solo Stove, Breeo pits also function on a secondary burn — or "secondary combustion," as the company calls it. Breeo pits also feature a double wall with air vents located at the top and bottom. Once a fire gets lit, oxygen gets pulled into these vents, fueling the fire from the top and bottom. As plentiful heat and oxygen get provided to the fire, smoke, and fuel burn off more efficiently.
Product Range
A fire pit that's ideal for camping may not be perfect for your patio, and vice versa. Luckily, both the Solo Stove and Breeo smokeless fire pit ranges have a lot to offer for either purpose. From small to large, simple to deluxe, you can take your pick based on your needs. Let's explore the various models, designs, and accessories you can choose from within the Breeo and Solo Stove ranges.
The Solo Stove Range
Solo started out with a mission to create the ultimate portable smokeless fire pit for camping and the great outdoors. That said, you are welcome to use your Solo Stove while at home or away. The range currently comprises three models — the Ranger, Bonfire, and Yukon. One important thing to note is that, though they differ in size, all these smokeless fire pits feature the same look and construction.
The Ranger 2.0
Price range: From $229.99 to $299.99
The Ranger is the smallest fire pit in the selection, measuring 15" wide, 12.5" high, and weighing in at just 15 lbs. Designed for 1 to 3 people, it's the best for solo camps and couples' getaways. Overall, it's very lightweight, compact, and portable.
The Bonfire 2.0
Price range: From $259.99 to $399.99
The Bonfire is the middle child, measuring 19.5" wide, 14" tall, and weighing in at 20 lbs. Designed for up to 5 people, it can accommodate larger groups during outdoor exploits. As it is larger but still portable, it is a popular choice for family camping.
The Yukon 2.0
Price range: From $459.99 to $749.99
The Yukon is the largest Solo Stove, measuring 27" wide by 17" high and weighing a heftier 38 lbs. It's the only Solo Stove designed for home use instead of portability. You could certainly attempt to take it away with you camping, but you would definitely need extra hands to help you carry it.
Solo Stove Accessories
Each Solo Stove comes with a free carry case and removable base plate, and ash pan. However, there are a few other accessories you can buy for yours separately or in a bundle. These items include a stand, shield, tools, and a lid-style cover, which come in handy for safety and protection. You can also buy cooking bundles featuring various griddles, stands, and roasting tools.
The Breeo Smokeless Fire Pit Range
Breeo, the inventors of the first modern-day smokeless fire pit, came at its design in the opposite direction from Solo. Its range of fire pits was designed first and foremost to look stylish in backyards. The Breeo team focused on creating fire pits that would both look good and wear well outdoors on patios and lawns. Its range currently includes three series of pits, all featuring durable stainless-steel construction: the Y Series, X Series, and Luxeve.
Y Series
Price range: From $495
To accommodate outdoor explorers, Breeo has decided to release a portable 31 lbs. version of its permanent smokeless fire pits — the Y Series. Not yet released and currently only advertised in one size, it one-ups the Solo Stove in two ways. Firstly, it features an articulated handle for easy carrying. Secondly, it also has retractable legs that help it adapt to any surface accessory-free, including decking and wood chips.
X Series
Price range: From $399 to $1399
The X Series is Breeo's flagship smokeless fire pit. Boasting a stylish-yet-understated design, it looks as at home in a modern setting as it does in a rustic one. This fire pit is available in three different-sized models; the 22" wide X19, the 27.5" wide X24, and the 34.5" wide X30. Besides size, you can also pick from two external finishes — Corten Steel (a red rust patina) and Stainless Steel (polished stainless steel). Weighing from 47 lbs. up to 94 lbs., the X Series is best suited as a permanent fixture in gardens and backyards.
Luxeve Smokeless Fire Pit
Price range: From $1899
As the name implies, the Luxeve is the most luxurious smokeless fire pit in the Breeo range. If you're looking for a fire pit that'll make an impression, it's the perfect fit. At a massive 36" wide and 135.5 lbs., it accommodates plenty of feet. Plus, you can pick from four patina finishes: bronze vein, earth rust, silver vein, and white river — and a variety of decorative glass chip colors. Gray, amber brown, clear, dark blue, or black glass chips fill the edge of the Luxeve, elevating its look.
Breeo Smokeless Fire Pit Accessories
Despite what you may assume, Breeo smokeless fire pits aren't simply decorative. With the addition of a few key Breeo cooking accessories, you can turn yours into a grilling or smoking machine. Think cast iron kettles, kettle plates, griddles, and grills. Additional safety and maintenance gear, including a base, cover, lid, spark screen, gloves, and ash shovel, make using and caring for your Breeo easy. Breeo even sells fireside furniture to add a touch of convenience to the fun.
How to use Solo Stove and Breeo?
Smokeless fire pits operate similarly to regular fire pits. Fuels such as hardwoods and kiln-dried woods are ideal choices for them. But you may be able to other fuels, such as charcoal or compressed wood pellets. How to set up a smokeless fire pit and which fuels you can use inside yours will vary based on the make and model.
As such, it's advisable to read your smokeless fire pits instruction booklet to get yourself started. Below, I've listed the general setup instructions for most Breeo and Solo Stove smokeless fire pits. These steps should give you a general idea of the differences and similarities between setting up these two fire pits.
Solo Stove Setup
The Solo Stove is a delight to set up, mainly because it requires zero set up. These stoves come ready to fire up straight from the box. Of course, you can add accessories you bought to the mix. If you are using your Solo Stove on a flammable or otherwise damageable surface, such as wooden decking or tile, Solo recommends that you always use a stand. However, a shield and cover are particularly handy for avoiding burns from sparks or accidentally touching the stove while still hot.
Remove it from its box and any accompanying packaging.
Stand your Solo Stove upright wherever you wish to enjoy it. If you wish to protect your flooring, now is the time to place it on its stand.
Stack the Solo Stove with just the right amount of fuel. Solo recommends 4 to 6 regular-sized wooden logs, preferably hardwood like hickory, birch, or oak.
Light up your fire as you usually would, using kindling, fire starters, or your usual process.
Wait around 20 minutes for the Solo Stove to get to full heat. At this time, it should stop smoking heavily.
Add any additional accessories, such as griddles or spark covers required now. Solo does not recommend using the lid while a fire is lit inside to snuff it out. Doing so may cause fire to come out of the vents and damage the lid.
Breeo Smokeless Fire Pit Setup
Depending on the size of the Breeo smokeless fire pit you choose, setting it up may be a little more challenging. Most Breeo fire pits are heavy, meaning that you will probably need a second pair of hands to assist you. The good news is that once your Breeo fire pit is in place, you shouldn't need to pick it up again — unless you move house, rearrange your furniture, or re-decorate. Since most Breeo smokeless fire pits are one-piece, you only need to place yours wherever you plan to use it.
To get your Breeo smokeless fire pit going:
Remove the Breeo fire pit from its box or packaging.
Place the fire pit wherever you plan to use it. Get a friend or two to help if it's heavy, as you could hurt yourself by carrying it alone. Also, try to add any cooking stand accessories required now to avoid touching the stove while hot.
Stack your fire pit with enough fuel, preferably dry wood logs. Though, some Breeo fire pits are tri-fuel compatible, meaning they accept wood, wood pellets, and charcoal.
Get your fire going as you usually would using fire starters or kindling. Breeo suggests using a long lighter or match to light these to avoid burns.
As with the Solo Stove, wait until the Breeo fire pit gets to maximum heat to enjoy it smoke-free.
You can now place protective accessories, such as the spark cover, on your Breeo. Alternatively, your cooking accessories if you are ready to grill or smoke.
How much heat do the fire pits give away?
Smokeless fire pits burn more efficiently — but are also hotter than regular fires or fire pits. Expect to get the most heat out of any wood added, but also to fuel your smokeless fire pit more frequently. That said, where and how hot a fire pit gets largely depends on its design.
How much heat does a Solo Stove give out?
Solo Stoves are compact, designed to heat wood at as high temperatures as possible. As such, Solo Stove fires tend to burn brighter and hotter, demanding plenty of wood. One drawback of the Solo Stove design, particularly its double wall, is that it doesn't radiate side heat, as reported by some users. Instead, the main concentration of heat is at the top, making it not-so-ideal for warming chilly toes.
How hot are Breeo smokeless fire pits?
Conversely, the Breeo smokeless fire pit is reported to radiate more heat around itself. Not only do users claim it gets hotter than standard fire pits. They also felt that they used less wood due to its efficiency. Though just how hot also depends on the model, be it Y Series, X Series, or Luxeve. Besides the noticeable size difference compared to the Solo Stove, the main reason why it gets hotter is probably thanks to its unique patent-pending oxygen flow system.
Shipping and Warranty
When buying any item, it's always advisable to look beyond its durability. Warranties are not only a welcome bonus but also make it easy to spot less long-wearing items. Longer or limited-lifetime warranties tell you a product is a truly worthy buy. You also need to consider shipping with heftier items such as smokeless fire pits. Getting heavy items mailed or couriered to you can be quite costly.
Solo Stove Shipping Costs & Warranty
Coming with both a lifetime warranty and free shipping for orders over £75 (within mainland USA), Solo Stove adds value. Unfortunately, the free shipping offer doesn't apply to Alaskan and Hawaiian postcodes or expedited orders. However, if you're happy to wait and located centrally, you won't have to worry about those extra shipping costs. To boot, Solo Stove also offers free returns.
Breeo Shipping Costs & Warranty
All Breeo pits come with a limited lifetime warranty and 5 years on rust and burn-through damage. When you order, you get free ground shipping within the contiguous USA. As with Solo Stove orders, Alaskan and Hawaiian postcodes aren't included. Breeo also offers free returns, but only for orders sent back within 30 days. The offer doesn't apply for larger X Series 30 or Luxeve fire pits, either.
Conclusion: Are the Breeo and Solo Stove worth it?
We've explored the main features of and differences between the popular Breeo and Solo Stove smokeless fire pits. While these pits have a lot to offer, they each come with limitations. That said, both do get a high rating, particularly compared to other fire pits on the market.
Is the Solo Stove worth it?
The Solo Stove is undoubtedly a good choice when it comes to portability and ease of use. Its construction is extremely durable, while it also works very efficiently, fuel- and heat-wise. Though the heat tends to rise vertically rather than radiating, it's still sufficiently hot and can even cook food. Additionally, Solo Stoves are competitively priced compared to other full stainless steel pit options.
Is A Breeo fire pit worth it?
The smokeless fire pits in the Breeo range are even more durable than the Solo Stove pits. They also beat out Solo Stoves when it comes to looks, offering a sturdier design and more finish options. That said, they are a lot heavier — and generally, more expensive. Otherwise, the cooking possibilities are even more abundant with Breeo X Series and Luxeve pits, thanks to the various sturdy cooking accessories available.