Silicone is a great material for a watch band, because it is durable and comfortable, and can come in any color or pattern. It also holds up very well to daily life and can be used by active people in any number of circumstances, including water sports and extreme sports.
The only issue with a silicone watch strap is that it does have a good chance of staining, or in the case of a white or light-colored band, turning yellow as it ages. The good news is that these watch straps are very easy to clean, and very easy to maintain with a little bit of regular cleaning.
Follow our tips and tricks below to get your silicone watch band looking clean and new, and keep it that way.
How to Clean Your Silicone Watch Band
There are a number of ways to clean your silicone watch band, but some of them are quite harsh, and should only be used in emergencies, or to bring a particularly dirty or stained watch band back from the brink of death. All of these options work to remove the uppermost layer of the silicone which has oxidized, leaving the fresh layer below exposed, and your watch strap looking brand new again.
We've created the following list in order of gentlest to harshest (and most effective) cleaning method, so you should start with the first, and only use one of the latter ones if it is really necessary. The chemicals on this list can be absorbed by the silicone, making it brittle and weak, and if used too many times, they will eventually destroy your watch band.
Method 1: The Safest Option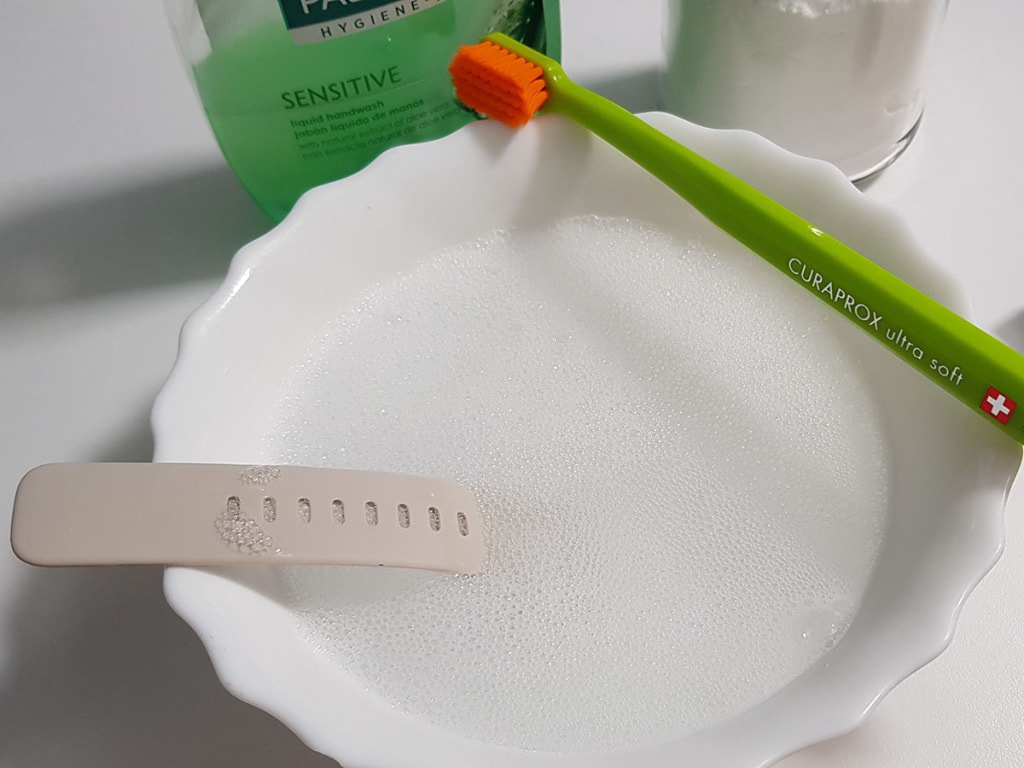 The first and safest method for cleaning your silicone watch strap is with soapy water and baking soda. For this method, you will need the following:
A bowl of warm water
Some mild dish soap
An old, soft toothbrush
Some baking soda
A soft, clean cloth or towel
Mix some dish soap into the water, then remove your watch strap from your watch and drop it into the soapy water. Leave it to soak for a few minutes.
Give the watch band a gentle rub down with your fingers in the soapy water, then remove it and see how it looks. If it needs further cleaning, move on to the next step.
Make a paste with some baking soda and clean water – it should be about as thick as toothpaste. Use the old toothbrush to scrub your watch strap with the baking soda paste.
Rinse the watch band well under clean, running water, and see if it is clean enough. If not, repeat step 3 until you are happy with the results.
Dry your watch strap off with the clean, dry towel, and then lay it out flat to finish drying.
Method 2: Strong but Safe
Toothpaste is not just known for doing a great job at keeping our teeth clean and healthy – it has many other uses as well. If you want to use toothpaste to clean your silicone watch strap, make sure it is not a fancy toothpaste with whitening ingredients or strong additives. The best option is plain white toothpaste.
Just scrub your watch strap with some toothpaste on a soft old toothbrush, and rinse well. You can repeat if needed, and then allow your watch strap to dry completely before using it. This option also works great for removing bad smells.
Method 3: Getting to the Harsh Stuff
Isopropyl Alcohol is quite strong, and will definitely get absorbed into the silicone, so be very sparing with it, and make sure you rinse your watch strap well immediately after cleaning.
Pour a small amount of the alcohol onto a soft cloth, and use it to wipe down your watch strap. Put a little extra effort into areas that are stained or particularly dirty. Rinse well under warm water to remove all the alcohol, and then allow your watch band to dry fully before use.
Method 4: Careful with This One
The next strongest cleaning option is acetone. You've seen how quickly it removes nail polish? Well, it will do the same for your watch strap, stripping off the top layer to reveal the fresh silicone underneath. Use it sparingly, and work quickly so it has less time to be absorbed into the band. Apply it the same way you would the isopropyl alcohol.
Method 5: The Last Resort
If your watch strap has been worn for years and never cleaned, it may need one very good clean in order to look like its old self again. In those circumstances, you may want to clean it with some WD-40. WD-40 is a very strong degreaser, and if used too much or incorrectly, it could seriously damage your watch band. However, it is capable of removing tough dirt and stains from almost anything, and will work very well for your watch strap if you only use it once.
Rub a tiny amount of WD-40 onto your watch band with your fingers, focusing on areas that are especially stained or dirty. As soon as you are happy with the outcome, wash off the degreaser, ensuring that there is none left anywhere, and then allow your watch strap to dry.
How to Clean a White Watch Band Without Chemicals
There is one safe method left that is an excellent choice for cleaning white watch bands – a magic eraser. Follow the package instructions on how to use the eraser correctly, then rinse or wipe down your watch band well. Be sure to only use a magic eraser when you are not wearing your watch, as it could irritate your skin.
How to Keep Your Silicone Watch Band Clean
If your watch strap was very dirty, and you've used one of the harsher methods listed above to clean it, you will want to make sure it doesn't come to that again. Repeating any of the stronger cleaning methods might cause permanent damage to your watch band. The best thing you can do is to create a little maintenance routine for yourself, and ensure that you always keep your watch strap clean in the future.
If you are not a very active person, and your watch is not often exposed to foreign substances, you can likely get away with soap and water wash every 2 weeks or so. However, if you are very active, and your watch is often exposed to sweat, you should clean it more regularly, like once a week.
If your watch is exposed to dirt, chemicals, seawater, chlorine, perfumes, body products, etc., it should be washed as soon as possible.
Enjoy your clean and new-looking silicone watch strap!