Note: We received this product for free. No other compensation was provided, and as always, all opinions are our own. We may earn money from links on this page, but we only recommend products we back. Learn more.
Solar-powered yard lights have been all the rage lately. Without the annoying cords and without the pull on your electricity, they're a great way to illuminate yard features, walkways, your home's facade, and more. However, like so many lights, it's difficult to gauge their quality while shopping online.
Xibolar reached out to see if I would test their spotlights. Since these neat lights had great ratings on Amazon, and I also tested VONT's LED spotlights, I was happy to put them through their paces. Over the course of several weeks, I used Xibolar's lights in my yard to see how they would hold up. This review will detail what I found out.
First Impressions
So, I normally like to start off my reviews with how well packaged everything is. But in this review, I want to begin with the product's Amazon listing. If I were to stumble across these spotlights while browsing Amazon, I would have had a lot of hesitations when it comes to purchasing them. Why? Their photos are obviously photoshopped—which I'm not vehemently opposed to—but it makes it difficult to gauge the quality of the product as well as the size and range of the light.
These photos lowered my expectations. The one photo that seems the most inaccurate is the one with the hand over the light. The lights are much more petite than this photo makes them appear. So, I took a photo for reference–note that I have tiny hands. I also took some sizing photos below to help you better estimate the size.
After the lights arrived, I was pleasantly surprised with the quality of the lights, the packaging, and the straightforward nature of the assembly.
What's in the Package
Within the package, you will find:
6 solar spotlights
Yard stakes
Instructions
Mounting screws
Everything was neatly packed and not filled with excess and unnecessary packing materials.
Specs
When it comes to yard lights, these are bright at 320 lumens. They're also well waterproofed with an IP65 rating. Here are other specs you may be interested in:
LED quantity: 32
Color temperature: 6500K
Output 5.5V 1W
Battery: 1200 mAH
Light angle 120 degrees
Lighting time (low): 10-12 hours
Lighting time (high): 6-8 hours
Here are some sizing photos: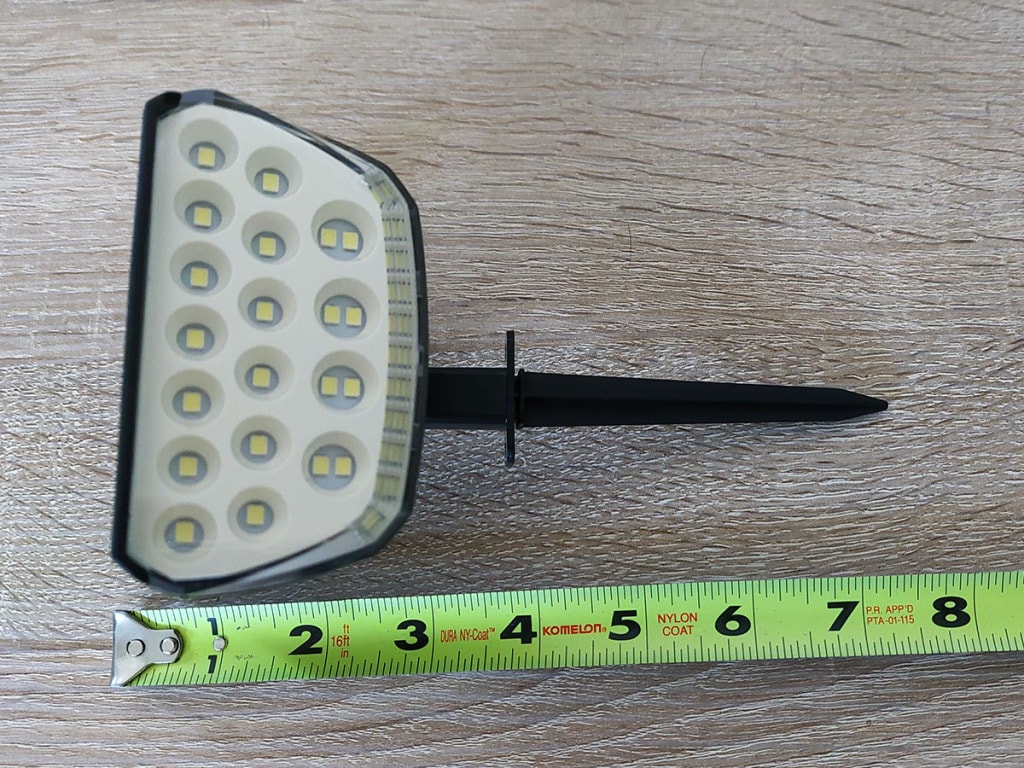 Setup/Installation
These lights are very easy to set up then install in the ground. As for mounting on a fence or wall—they're a bit more complicated.
Ground Installation
All you have to do is stick the stake into the slot then push them into the ground. Don't forget to turn them on. However, I recommend if you want the lights close to the ground, you actually put the stakes in first, since the lights wobble, tilt, and wiggle as you press the whole light in.
The stakes are a bit short, but they went into the ground easily (except where the ground was frozen solid). The body of the light holds tight to the stake. They also feel pretty sturdy in the ground.
The lights are easy to position and tilt to the right spot.
Mounting
These lights have the same issue I found in other solar spotlights: the body of the light is in the way of the drill or screwdriver. They're also so bright that they can be a bit blinding if you're mounting them where you may have to look directly toward the LEDs.
Performance
These lights are bright. They also do a wonderful job of flooding the area they're pointed to–and that's the point of a spotlight, right?
Related: 5 Best Solar Spotlights to Light Up Your Outdoor Space
Usage Recommendations
I would likely not use these as wall-mounted lights since installation can turn into a headache, and the light is a bit blinding.
I do recommend that you place the lights further away from what you want to light up. I was lighting up my statue of Goddess Kaveri and was quite surprised that pulling the lights back resulted in better lighting.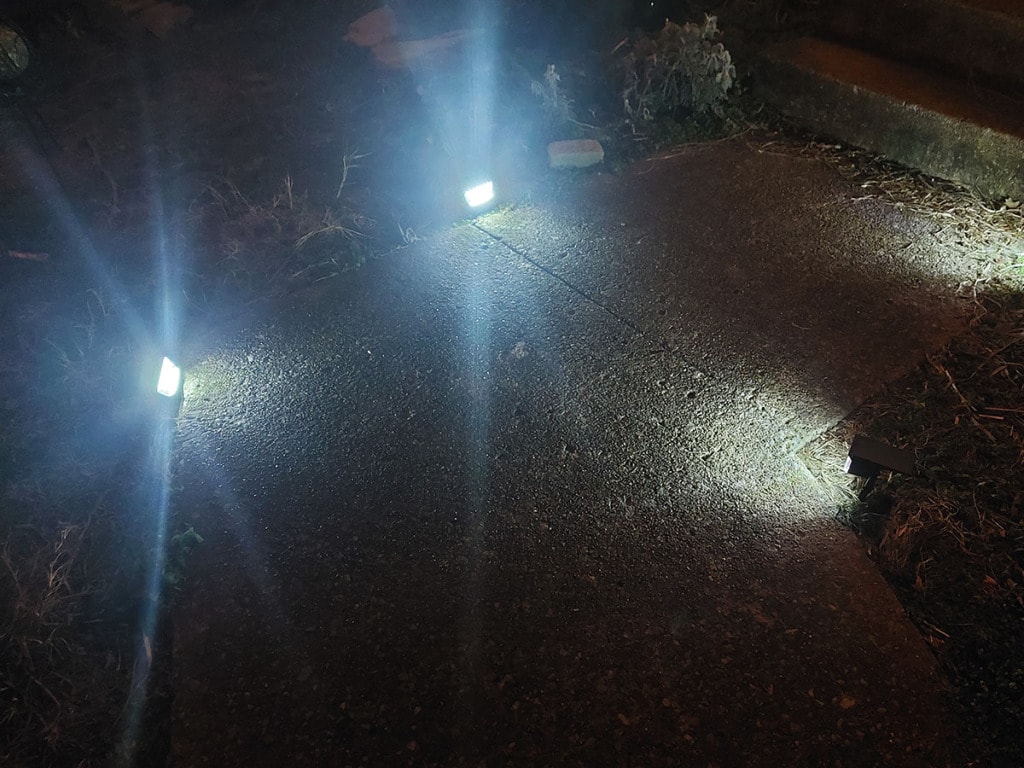 I would say they work best as up-lighting. However, they can be used as sidewalk or pathway lights. I felt the brightness and coloration was a bit more cold than I would prefer for a path light. When I had them on the path at the top of my hill, the brightness was almost blinding on high. Of course, you can point them more downward, but with such a short stake, this can be a bit difficult.
Charging and Longevity
The lights charge fine on cloudy days and in regions of the yard that may not have direct sunlight. I haven't had any days where the lights didn't stay on until after I've gone to sleep.
I have not had any issues with these lights holding up to below-freezing temperatures or rain. We didn't experience super high temperatures, but I suspect they'd be just fine.
Other Notable Features
I appreciate that these lights have a high and low mode.
These lights are easy to turn on and off. The large rubber button is easy to locate and access without having to pull the lights out of the ground.
These lights are not low-profile, but they're not an eyesore. The compact size of the lights allows them to be easily camouflaged if they're used as uplights. Just place them behind a tuft of grass.
The biggest drawback of these solar spotlights is that you can only rotate the head up and down, but not left-to-right. This means you have to pull them up and reposition them if they're not facing their target correctly.
Conclusion
Overall, these lights work well as uplights and spotlights. As for path lights–they're pretty good, but a very cool coloration that can feel a bit intense on the eyes. Ground installation is super easy, but wall mounting is a bit more complicated.
If you're looking for affordable, hardy, and effective, Xibolar Spotlights would be a great choice.
Sale
BUY FROM AMAZON