Note: We received this product for free. No other compensation was provided, and as always, all opinions are our own. We may earn money from links on this page, but we only recommend products we back. Learn more.
I love to work out. Well, maybe not exactly 'love,' but I do enjoy working out, once I get started. My aim is to have at least four quality exercise sessions per week, and I've been doing home workouts for almost two decades now.
This hasn't produced any spectacular results, though my goals weren't to 'get ripped' (at least, that's what I'm telling myself), but to achieve and maintain a certain level of functional fitness, strength, and flexibility.
I have always been a home-workout guy with minimal exercise equipment. Even when my wife and I lived in a 300 sq ft (28 m2) studio apartment, I found space to set up my own minimalistic home gym. All I needed was:
A set of resistance bands
Pull-up bar
Rubber mat
Stability ball (which doubled as my chair when I worked at my desk)
Even now, when we live in a house with lots of space, I'm sticking with almost the same setup (the only add-on was a treadmill).
Resistance bands were always a vital piece of equipment for me. They have a few significant advantages over dumbbells, and I prefer them because:
You can replicate dumbbell exercises.
You can add strength exercises that you cannot do with dumbbells alone.
They weigh next to nothing, so you can take them anywhere with you (especially useful when traveling).
They take up very little space.
Sure, a dumbbell will you forever, but durable resistance bands can also last you many years.
When Andrea was writing an article about how to make resistance bands last longer, she discovered a brand called Victorem, which produces extra-durable resistance bands, among other sports equipment.
The brand was established by former and current athletes that design, test, and use their own equipment.
Years of accumulated experience have gone into this product, and it is always reassuring when someone with experience in a field uses a product that they have designed.
Durability Matters is all about finding the most durable products, so I sent an email to Victorem asking if they could send us a sample for review. They were extremely accommodating and sent the pull-up assist band set that I was asking for.
The set of bands came in a neatly packaged carry bag, with basic safety instructions, and a welcome card.
The four bands come in black, acid-lime, blue, and teal. This is, of course, not only for styling purposes; each color represents the band's resistance levels.
Black band: The black band provides resistance from 10 lbs to 51 lbs (4.5 kg to 23 kg). This band is best suited for mobility exercises and compound movements (deadlifts, lunges, bent-over rows, pull-ups, etc.).
Acid-lime band: The acid-lime band provides resistance from 7 lbs to 38 lbs (3 kg to 17 kg). It's great for pull-ups and other large-muscle workouts (biceps, abdominals, obliques, etc.).
Blue band: The blue band provides resistance from 5 lbs to 28 lbs (2 kg to 12.5 kg). This band can be used for warm-ups, pull-ups, or for exercises that don't require massive resistance (lateral raises, face pulls, reverse flys, etc.).
Teal band: The teal band provides resistance from 3 lbs to 22 lbs (1 kg to 10 kg). It's perfect for yoga, stretching, or physical therapy exercises, which are designed to improve range of motion, flexibility, increase strength after an injury, and more.
Each band measures exactly 41 inches (104 cm), which is a lot to work with.
You can use the bands on their own, or you can combine them for an even more extensive range of resistance levels.
These four bands can effectively replace a ton of dumbbells (pun intended).
The bands are crafted from tough fabric and blended latex. This not only provides extra longevity but durability too.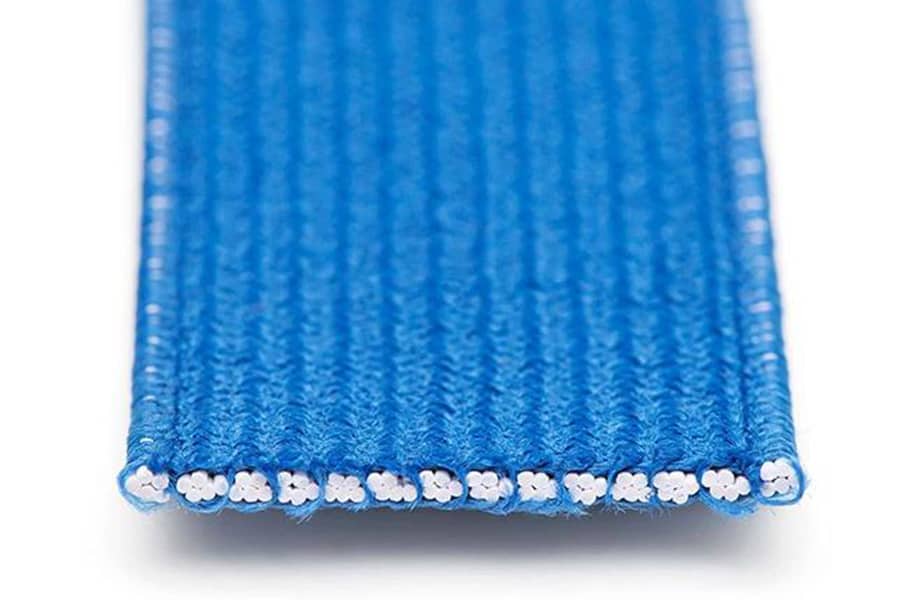 Unlike typical latex bands, these are weather-resistant, so you can actually take them outside, and they won't dry out or slip when wet. They are also soft to touch and have a pleasant feel to them.
Another bonus, compared to regular latex bands, is that these don't have any smell. Regular bands often smell, very noticeably, for the first few days, which doesn't bother me personally, but some people are put off by the distinctive latex smell.
The welcome card comes with a QR code printed on it, which will (when scanned) open your Facebook Messenger app (if it's installed on your device) and take you to Victorem's chatbot.
There, you'll be presented with workout options for arms & shoulders, backs & chest, and legs. Whatever you choose, a presentation video with workout ideas will be shown. I really liked that, and it streamlines the whole experience, from opening the package to completing the first exercises.
The Facebook Messenger chatbot that will help you to get started.
I have a few other regular exercise bands, from different brands, and nobody else had anything like this.
I received these bands about a month ago, and I do all sorts of exercises with them, but two bands (acid-lime and blue) are, more or less, staples on my pull-up bars.
I wanted to improve my pull-up count because I plateaued at 10, a long time ago. I was content with this number and didn't bother to do more, but, with these new pull-up bands, I was bound to break some (personal) records.
Pull-ups are compound exercises that are very effective in strengthening your grip strength (did you know that grip strength may predict longer life?). They also strengthen large back muscles, arms and shoulders, lats, and more. It's no wonder they're so hard to do and considered to be one of the toughest exercises.
When I use these two bands, they reduce my body weight by up to 45 lbs (20 kg). That's about 25% of my total weight.
When I started using the bands, I transitioned from doing 10 non-assisted pull-ups to 16 assisted pull-ups. Now, almost a month later, I can do the 16 pull-ups without the bands! I find that a very satisfying achievement.
Without these bands, that would probably never have happened. My regular latex bands are too short and not designed for assisted pull-ups.
But I'm not stopping at 16. I'll continue to push myself because I want to see how far I can go. Victorem's bands are definitely giving me a lot of motivation!
They may be branded as 'pull-up assist' bands, but the name should not limit you. There are lots of different exercises that you can do with these bands.
Luckily for me, I won't have to rip my shirt off and do some demo exercises (I don't think that anyone is asking for that), because Victorem's Instagram is full of examples.
You can also use them for any other exercises that regular bands are used for. Just google 'resistance band exercises' or 'resistance band workouts,' and you'll be presented with plenty of ideas.
There's nothing wrong with my old latex workout bands, but Victorem's bands are better in every aspect, so I switched to using them exclusively.
I honestly believe that resistance bands give you the most bang for your buck, and are an essential piece of exercise equipment for anyone who wants to work out more efficiently.
Go to Vicorem's online store and buy yourself a set of their bands. You won't regret it.