Note: We received this product for free. No other compensation was provided, and as always, all opinions are our own. We may earn money from links on this page, but we only recommend products we back. Learn more.
The Vera Forma Commodore wallet is sleek and minimalist, and I want to mimic that with a review that is brief but informative.
This is a rich leather wallet that is for the true connoisseur. It comes packaged in its own elegant box, wrapped in gold paper, giving it a luxurious aura.
If you want a wallet that is sleek in your pocket, the Commodore is designed for you.
The Material
As soon as I unwrapped the gold paper, I could feel the quality craftsmanship of the wallet. It is crafted from Horween Veg Tan Derby Leather, and it looks beautiful. There is also the smell that comes with fresh leather, and that all combines to created something special.
The Commodore wallet comes with a distressed pattern, which is beautiful to look at, and that beauty is only going to increase over time. Leather is a material that has character, and the look and feel will change over time. The high wax content means that every crease and fold will be nuanced, and that creates a living wallet that will tell your story.
Leather is also durable, and this wallet is designed, in my opinion, to last a lifetime. The look and feel of the leather tell me that it may change over time, but it is not going to wear out. When you have elegance, you want it to stay with you.
Excellent Craftsmanship
This is a bi-fold wallet crafted from one main piece of leather that is folded in half to create the bi-fold. Leather pieces have been added inside to create the card pockets and they are stitched together to create a solid wallet that is also soft and flexible. On the front of the wallet, the Vera Forma logo is stamped into the leather.
The edges of the wallet have been burnished and dyed dark to create a contrast between the tan leather. The stitching also adds contrast, small pockets of light tan against the darker tanned leather where the stitches go through the material. Both the burnished edge and the stitching help to draw the eye, and that makes for a wallet that will draw attention each time you take it from your pocket (and only in a good way).
Size
The wallet measures in at 3.75" x 2.7" x 0.3" and weighs only 1.44 ounces.
As far as wallets go, this is one of the smallest out there. It measures in at a little larger than a credit card, and that is definitely to its advantage. Of course, if you need to carry more than just a few credit cards, this is not the wallet for you, but if you are looking for something with a minimal pocket feel, you are not going to find much better.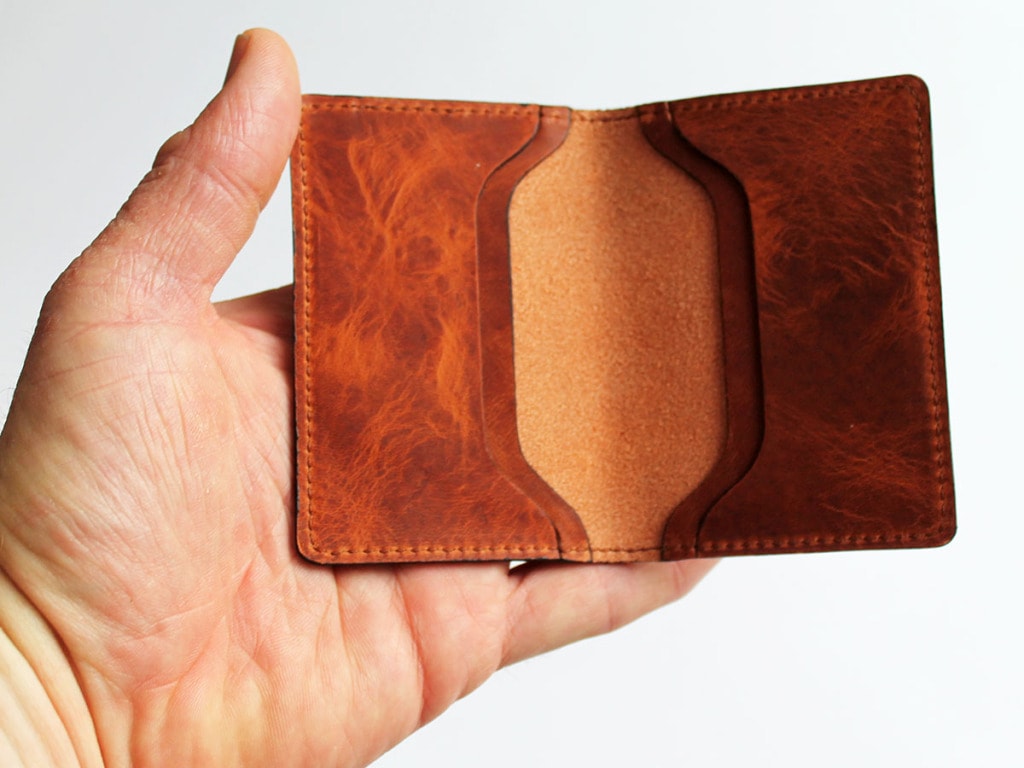 When you open the wallet, you will see that there are four spaces for cards, though you could use the card slots to carry bills too. Over time, the leather will stretch (as leather does), and you will be able to carry six cards easily.
Who Is This Wallet For?
Simply, this wallet is for anyone who wants to carry cards with them but does not want a large wallet in their pocket. More specifically, this is a wallet that will be coveted by fashionistas as part of their attire and not simply an accessory.
If you are getting dressed up for an evening, and do not need to cart around a lot of extra loyalty and library cards or spare change, then this is going to fit in your pocket without you knowing that it is there. Not only is it going to feel great to have along with you, but it is going to elevate your look and feel, adding style and class.
Related: 9 Most Durable Leather, Minimalist, and Tactical Wallets For Men
If you find that you do not carry around more than six cards at a time, then this is also a fantastic wallet. Not only is it extremely compact, but it is durable and beautiful too. If you want to add a touch of luxury to your life, grab this high-quality full-grain leather wallet.
Conclusion
There is no doubt that this is a beautiful and luxurious wallet presented at an affordable price. The leather looks amazing, and from owning a leather wallet, I know that it is going to change over time, softening and obtaining character without it taking on any wear or tear. As far as slimline wallets go, this one is fantastic.
The Commodore will not become my primary wallet. I have too many cards that I need to carry around with me. However, I do know that I am going to enjoy having it with me when I get dressed up to go out for dinner or to a gathering. When it is in my pocket, I hardly know that it is there, and it is able to hold everything that I will need on a night out.
If you love leather wallets and need something minimal, the Vera Forma Commodore wallet is worth your money.