Note: We received this product for free. No other compensation was provided, and as always, all opinions are our own. We may earn money from links on this page, but we only recommend products we back. Learn more.
Winter is still ongoing in the Northern Hemisphere and our local groundhog, Puxsuxaneany Phil, only says that it'll last another six weeks. Since we're buckling down until spring and waiting for March to grace us with warmth, Venustas has kindly created a chair that makes the cold more bearable. Intrigued? I was too.
First Impressions
The battery and chair arrived in separate boxes, only separated by a day—just enough time to charge the battery and get excited for the Venustas Heated Camping Chair to arrive! The instructions also note to fully charge the battery before first use.
The chair comes in its own sack, complete with a drawstring and shoulder strap. It is large (about 3.5 feet long) and somewhat hefty, though carriable for most people. It isn't meant to be light or compact, so this was expected and not a concern for me. I was pleased with the carrying sack and the durability of the strap and material. I like to keep some of my supplies outside overnight and these items seem like they can withstand the test long term.
Unveiling the Chair
Upon removal, I noticed how simply the chair unfolds. The frame and material are connected like a traditional camping chair—no need to figure out how the material attaches or how to fit poles together, like with our Big Agnes Big Six Camp Chair.
The first thing you notice with Venustas' heated chair is that once it's open, the chair is solidly built. I've sat in quite a few camping chairs at REI, from cheaper folding chairs to the ultralight backpacking chairs, and this feels more like a piece of furniture, which is remarkable since it folds up all the same.
I'm a heavier person at over 200 lbs. and the frame doesn't flex or give when plopping down on it. The chair has big, solid feet to help keep the chair stable as well.
Material
The frame is made of steel and the suspended material is heavy nylon (think something along the lines of 1000 denier Cordura). The stitching around the looped areas, where the material connects to the metal, is solid and barely gives upon sitting. The heated element zips in and is a comfortable, slightly padded material. Overall, the assembly was easy, everything fits together well, and feels like it will last many trips camping and positioned around the house.
Heating
The heating level can be adjusted by pressing the power button for one second. Every time it's pressed it will cycle through the chair's temperature settings—at room temperature it'll reach 130°F (55°C) at high heat, 113°F (45°C) at medium heat, and 100°F (37°C) at low heat. Want to hear more good news? This chair can last up to 11 hours at low heat, or 3 to 4 hours on high heat—enough time to cook food and then hunker down for the night.
Venustas Values
Venustas wants their customers to "live without limits", a slogan I can easily get behind. Afterall, that's my primary goal when exploring the contiguous U.S. while camping. My biggest limit when camping is the chill from winter weather. But if you want to enjoy the beauty of fall or winter without being uncomfortable, Venustus can help guide the way with their products.
Quality to Rest Your Butt On
While this chair may be marketed as a "heated camping chair", it's also versatile enough to use at home. Once the box was opened, Venustas' chair hadn't left my living room. It's easy to fold and lean in the corner, and on chilly nights when the cold is sneaky enough to seep through the window, it becomes a competition between my partner and me to see who can claim the heated chair.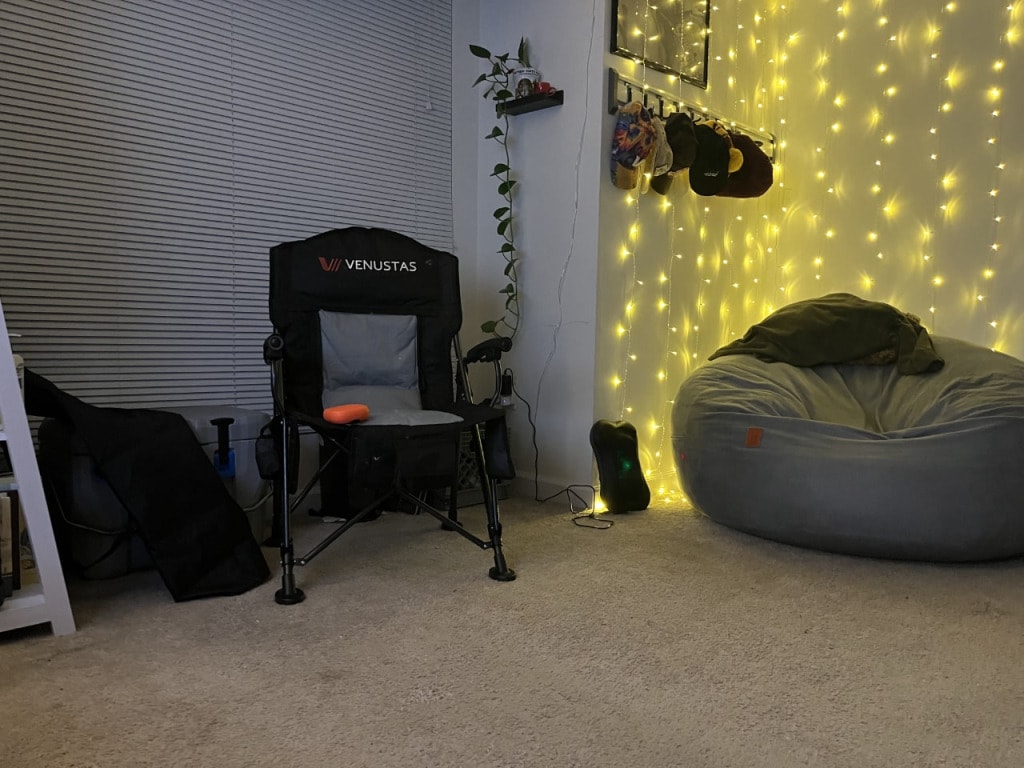 I've primarily used Venustas' product at home thus far because you have to be a serious survivalist to go camping in below-freezing weather in the mountains. But during a picnic in the cold, you just can't beat it.
Long Lasting
As mentioned before, the fabric is sturdy and looks to be made of heavy-weight nylon. Even with my dog's nails raking across it, the chair easily held up to the dog-nail test—a major pro in favor of it surviving out in the wilderness.
Since we weren't brave enough to go camping with it, I set up our 4-person tent in the living room and it easily fit with a full-sized bed, two adults, and a dog inside. We also added our other non-heated camping chair for kicks and everything fit in the cozy space of the tent. I particularly like using products that can endure and last because it's more sustainable for the environment, and it's no surprise that Venustas fits the bill.
Venustas Heated Chair: The Cold Never Felt So Comfortable
If I'm honest, I've never been attracted to "sophisticated" camping accessories. I would classify myself as an outdoor enthusiast after living out of my Honda Element for four months at National Parks—I can safely say that trucking this chair on trips is an asset, not a hindrance.
The Venustas Heated Camping Chair is versatile, easy to charge, wonderful at projecting warmth without getting uncomfortable, and simple to pack and unpack—a must if you're often on the go. Quality and affordable items are hard to come by when camping, so I wouldn't pass up the opportunity to indulge in purchasing a second chair for my partner.