In This Article
We're always on the lookout for companies that take pride in making high-quality and durable products. When we were researching the best heavy-duty treadmills for home use, we discovered a company called Tuff Tread.
The Tuff Tread Performance Treadmill Company (based in Conroe, Texas, USA) has been building treadmills for over 22 years. They pride themselves in building treadmills that are big, fast, strong, and extremely durable.
The company builds treadmills for:
fitness centers,
research labs (exercise science, robotics),
tactical training (police, firefighters, military),
physical therapy,
athletic facilities,
home use, and
various promotions.
According to their website, they are dedicated to building the toughest treadmills "on the planet."
I knew that this was definitely a company we'd like to feature on Durability Matters, so I reached out to them and asked if they would tell us more about how they make their treadmills, what features the treadmills have, what their pricing strategy was, and more.
They were happy to help, and here's what I learned.
What Are Tuff Tread Treadmills?
When you work out on a Tuff Tread treadmill, you will notice how smooth the belt is – there is absolutely no hesitation. The running belts on their treadmills perform up to an impressive user capacity of 600 pounds.
Enhanced shock absorption is a feature that is designed (as a two-stage shock absorbing system) to cushion walking or running.
You will also see a difference in workout functionality. The steel foot rails are sturdy and extra wide, which makes it easier to get on and off the moving belt.
The data display and push button controls are intuitive and easy to navigate for fast workout adjustments.
The display also features a quick-start and a five-window LED panel that constantly displays:
calories burned,
distance,
time,
pulse,
incline,
watts used,
and speed.
All Tuff Tread models have at least six preset programs and three custom programs.
Treadmill models are organized into the Performance Series and the Peak Performance Series.
If Tuff Tread doesn't have what you are looking for, don't worry, they also offer Custom Performance treadmills. They have distinguished themselves in the industry by building customized treadmills that are specifically designed to meet a customer's need. It's one of the main reasons why Tuff Tread is highly rated for customer care.
Performance Series and Peak Performance Series Treadmills
Tuff Tread offers a broad range of treadmill options in their Performance Series and Peak Performance Series.
Treadmills in the Tuff Tread Performance Series are a perfect fit for any setting. These treadmill models are designed for heavy usage and are ideal for facilities like fitness centers, exercise science labs, hotel fitness centers, firefighter/police departments, and home gyms.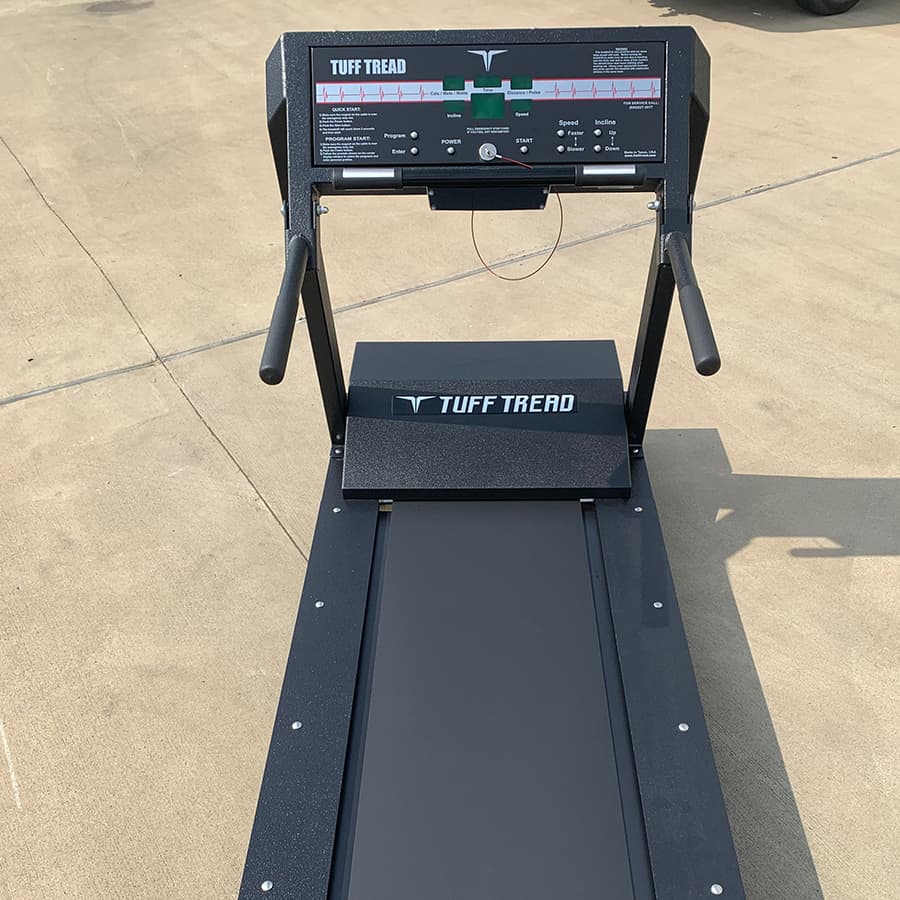 Treadmills in the Performance Series have speeds of 12 or 16 mph and inclines of 15% or 25%. They are available with running surfaces of either 21" x 63" or 21" x 70". There are options for heart rate monitoring and also for assessment using a Gerkin or WFI Protocol.
The Performance Series models are Tuff Tread's "workhorse" treadmills. They are engineered to last longer and, best of all, require almost no maintenance.
Treadmills in the Peak Performance Series are built for training "outside the box." They are designed for more complex movement and training activities such as
high incline training,
backwards walking,
backwards running,
lateral movement training,
high intensity interval training, and
resisted pushing.
Peak Performance models are significantly wider and longer.
Tuff Tread's Elite Model has a spacious 26" x 70" belt. It has a wide range of speed (.5 – 31 mph) and incline (0 to 40%). Because it goes faster and inclines higher, it features a safety-spotting system to harness the user during more intensive workouts.
Many of the features on the Elite Model also make it a great treadmill solution for physical therapy facilities or for exercise science labs. In those settings, the spotting system can be used to provide safety and support for the user. It can even take weight off of the user in five increments, up to a maximum of 40 pounds.
There is another notable innovation and money-saver in the Peak Performance Series. Tuff Tread includes a non-motorized sled push mode in addition to the pre-set program choices. Most companies offer regular treadmills and they offer separate non-motorized treadmills.
Tuff Tread is one of the few companies in the industry that has integrated both into one treadmill.
Their sled push mode adds another element of training and is an excellent supplement to more traditional treadmill training. The sled push feature is an anaerobic-type activity that stresses the entire body, and engages muscles in the shoulders, arms, core, hips, and lower extremities.
You can basically do two types of workouts on a single machine.
They have also reimagined treadmill size with their XXL (5' x 8') and XXXL (8.5' x 11.5') treadmill models. These supersized treadmills incline to an incredible 20% and take treadmill training to the next level. They accommodate multi-directional movements and agility-type activities. Along with the regular programs, they also include the sled push feature. Their large size and weight capacity allow for two users to run, walk, or sled push side by side.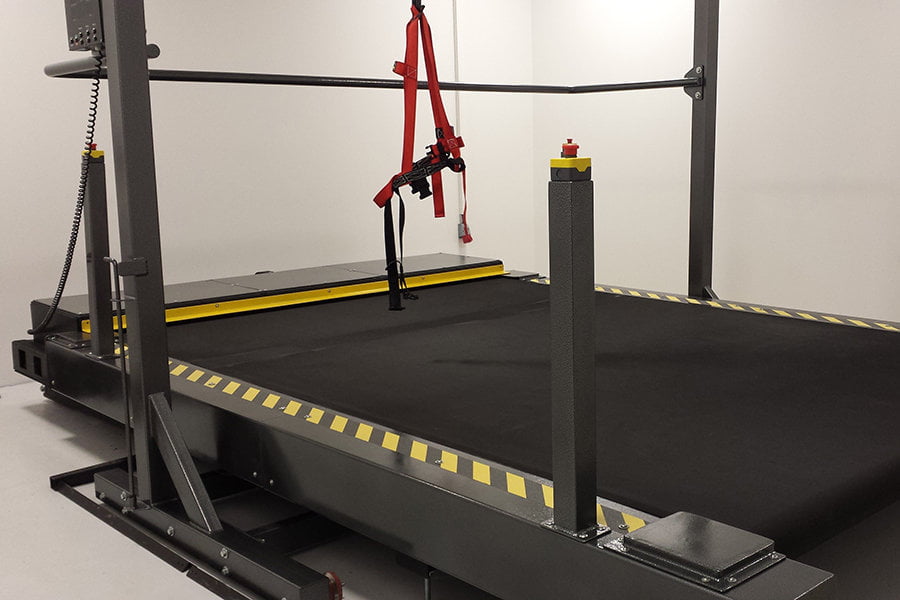 So, if treadmill versatility is what's important, then Tuff Tread's Peak Performance Series is the answer. After all, jogging forward is not always enough!
Custom Built Treadmills
Tuff Tread has established itself as the "go-to" company for customized treadmills. No matter how unusual a customized treadmill request might be, Tuff Tread has probably built that treadmill before.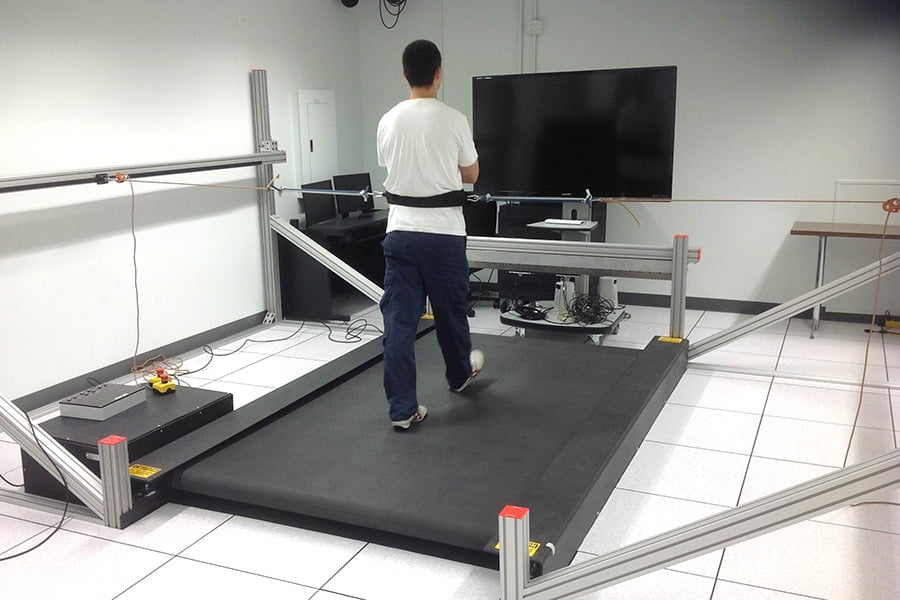 The company has worked on customized treadmill projects with companies like:
Nike,
ESPN,
Marvel Studios,
Paramount Pictures,
NASA,
Boston Dynamics,
Cal Tech University,
Massachusetts Institute of Technology (MIT), and
The Naval Research Lab.
Here are some examples of the amazing things that Tuff Tread has brought to their Custom Performance area:
Start speeds as low as 0.1 mph
Top-end speeds up to 60 mph
Belt widths up to 9 feet
Tread lengths up to 25 feet
Encoder controls
Decline/inclines from -20% to +40%
Lateral incline
Rapid acceleration/deceleration
Custom spotting systems
7.5 HP and 10 HP AC motors
80/20 connectors
Force plates
Custom colors
Quality and Warranty
Tuff Tread claim that they build the "tuffest treadmills on the planet." Every treadmill is made with a steel frame and comes with a black RFT coating that will not scratch, chip, crack, or fade.
Customers can also choose to customize their treadmill with a powder coating, in a custom color, and a logo.
Tuff Tread's motors have plenty of "get up and go" to drive the treadmill belt. Treadmills in the Performance Series utilize a powerful and reliable 4HP DC motor. The Peak Performance Series treadmills boast an industrial rock-crusher AC motor with 5 HP of power. There is a patented force multiplier system that reduces the power load from the motor, cools it, and gives the motor a prolonged life.
Like the high quality in all Tuff Tread components, the push button controls are water resistant and tested to 1 million cycles.
What is even more impressive is that you will rarely need to perform maintenance. You probably have owned a treadmill that required scheduled maintenance. Tuff Tread's treadmills are engineered to be used more heavily and last longer, with almost no maintenance.
They are designed for heavy usage but without the typical maintenance checklist or costly maintenance contracts that are prevalent in the treadmill industry.
For example, their powerful treadmill motor is fully encased and protected from the natural enemies of a treadmill – dust and dirt. This eliminates the need for frequent vacuuming under the hood.
Related: How To Maintain Your Treadmill – The Complete Guide
Another maintenance task that Tuff Tread has addressed is the need to lubricate between the deck and the belt. You can cross it off your list. It never has to be done. They have also lowered the frequency for flipping the deck.
So how do you maintain a Tuff Tread treadmill? The company says, "leave it alone."
Customers know that product quality and durability are Tuff Tread fundamentals. As a result, over its lifetime, a Tuff Tread treadmill will have fewer out-of-pocket costs for maintenance. After the purchase, Tuff Tread stands by the quality of their treadmills by backing them with outstanding warranties.
The heavy-duty frame has a lifetime warranty and the motor carries a 10 year warranty. Parts and electronics are covered for 5 years, wear items for 3 years, and labor for 1 year.
Another indication of Tuff Tread's superiority with treadmill durability is that the company does not pitch a maintenance contract to its buyers.
With all this innovation, Tuff Tread still maintains affordable and competitive pricing. The bottom line – customers enjoy a long term, money saving solution for their treadmill needs.
Wrapping Up
It's easy to see why there is a lot of excitement about the Tuff Tread Performance Treadmill Company. They offer a quality treadmill product with a high level of customer service. Truly a unique company in the treadmill industry.
When you are looking for a treadmill that is built with quality and innovation, I honestly believe that Tuff Tread should be at the top of your list. The outstanding line of treadmills in their Performance Series and Peak Performance Series are the ideal starting point for anyone who is shopping for a treadmill.
Remember, if they don't have it, they will build it.
Whatever your treadmill needs, Tuff Tread is the company that can get it done.