Note: Durability Matters is reader-supported. When you buy through affiliate links on our website, we'll make a small commission, without impacting your price. Thank you. Learn more.
Buying a treadmill can be expensive. It is a large ticket item which costs a lot of money (especially if you want a durable and long-lasting piece of equipment). However, it is also an item which can save you money in the long run. No more gym memberships!
It is also an item of convenience; you can run whenever you want without having to think about long lineups at the gym or lousy weather outdoors. Once you are on, you never have to worry about getting off; at the gym, you can often feel eyes on you.
So, a treadmill, we can all agree, is a worthwhile investment. With that in mind, it makes sense to take care of your treadmill, and have it last for as long as possible.
Here are our top tips to keep your treadmill running smoothly for years.
In This Article
The 5 Most Important Treadmill Maintenance Tasks
Maintaining your treadmill falls into five broad categories:
Lubricating
Vacuuming
Cleaning
Adjusting the belt
Installing a treadmill mat
If you follow our guide and concentrate on all five, then you are going to keep your treadmill working correctly. Each of the points above needs to be completed but some more regularly than others.
Let's take a closer look at what you should focus on within each category, and how often you should be doing each.
1. Treadmill Lubrication
There is a motor inside of your treadmill, and that means a lot of moving parts. When those parts move, they rub together, and that can cause wear and tear. The motor turns the belt and, if it is not working correctly, the belt is not going to move, and you are going to be unable to run. Keeping the belt running is essential to keeping your treadmill working smoothly.
How Often Should You Lubricate The Treadmill Belt?
How often you lubricate the treadmill belt is going to depend on how often you use your treadmill.
The more you use the treadmill, the more you are going to have to lubricate it.
A treadmill belt can crack and become brittle if it is not oiled, and we recommend oiling it every 150 miles. If you are not using your treadmill for extended periods of time, then every 3-6 months is also a good practice.
If you are a heavier user or use the treadmill more rigorously, then you are going to be adding more friction to all of the moving parts. If this is you, then you should lubricate the belt more frequently to ensure that it does not break down.
How To Lubricate A Treadmill Belt
When you buy your treadmill, there will likely be included instructions which you can follow. Often, manufacturers have differing instructions from each other, so it is the best practice to follow the included guidelines.
If you have purchased a used treadmill, and do not have any instructions included, or have lost the instructions, then follow these simple steps:
Ensure that the treadmill is turned off, and no power is supplied to it.
Move your hand under the treadmill belt at the end closest to the motor.
Slide your hand between the deck and the belt, separating the two.
Slide in the tube of lube as close to the center of the belt as possible.
Using gentle pressure, move the tube to apply lubricant from the center to the edge, all the way along the belt. You should use roughly 1/2 oz of lube in this step.
Repeat for the other side of the belt.
Turn the power back on.
Run the belt to disperse the lube evenly across the belt (~4 minutes of runtime).
If you prefer visual instructions, then check out the video below.
What Kind Of Lubricant Should You Use?
When you buy a treadmill, there may be some lubricant included with the treadmill. This is, of course, the recommended lubricant to use. You can also check the manufacturer guide to see which lubricant is recommended if you want to order some more.
Using a lubricant which is not recommended by the manufacturer can void the warranty (in some cases), so it is best to check. You should also never use WD-40, or any other petroleum-based products, as they can ruin a treadmill.
Almost all treadmill lubricants are silicone-based.
If you're not sure which kind of lubricant to use, then we recommend using the Impresa Product's 100% Silicone Treadmill Lubricant. This lubricant is ideal for a wide range of treadmills (including commercial and heavy-duty treadmills) and works with nearly all brands.
Sale
IMPRESA 100% Silicone Treadmill Lubricant / Treadmill Lube - Easy to Apply Treadmill Belt...
Treadmill Belt Lubricant - Prevent a squeaky treadmill from disrupting your cardio workout with Impresa's treadmill lube - perfect for home gyms or public gyms
Keeps Machines Running Smooth and Quiet: Applying treadmill lubricant helps eliminate belt hesitation while significantly improving the lifespan of your motor and reducing the need for costly maintenance and repairs
Easy To Apply - The 4-ounce bottle of treadmill silicone lubricant features a precision twist top on the top, simplifying the application process for your treadmill belt and deck - no extra applicator tip is needed
Be sure to consult the instruction guide but, if you are ever at a loss or which lubricant to use, this one should do the job.
However, not all treadmill belts require lubrication. Some models are coated with a high-performance lubricant before they are shipped from the factory. With these treadmills, a silicone lubricant or any other substance could cause the belt to deteriorate or cause excessive wear. Always check your guide before applying lubricant.
2. How To Vacuum Your Treadmill?
It is essential to vacuum out dirt and dust from your treadmill before they accumulate and cause problems. This is especially critical in the areas in and around the treadmill deck and belt. As dirt and dust accumulate, they will wear down and damage the treadmill belt, leading to a treadmill which does not fulfill its potential.
One top tip to ensure that you are not adding to the dirt and dust is to use a designated pair of running shoes which are not used outside. This way, you will not trek dirt and grime into your home and onto the belt.
When you are vacuuming, first raise the treadmill (if you have a non-folding model) to its maximum elevation before shutting off the power. This lets you vacuum not only the belt of the treadmill but also the underside of the treadmill. Use a small attachment to get into the awkward spots, and a dry cloth to wipe the areas which the vacuum cannot reach.
Vacuuming Under The Motor Cover
If your treadmill has a more open style, then there is a good chance that the motor and cover will eventually become clogged. The motor will suck in everything from dust and dirt to hair. If you leave this and do not clean it, then it is going to take its toll. Think of it like servicing your car engine.
Cleaning the motor and cover is easy, and you should do it every few months (or more frequently if your home has pets or anything else which could contribute to dirt build-up).
First, turn off the power to the treadmill, and then remove the screws. Wipe the front and back of the cover, before placing it aside.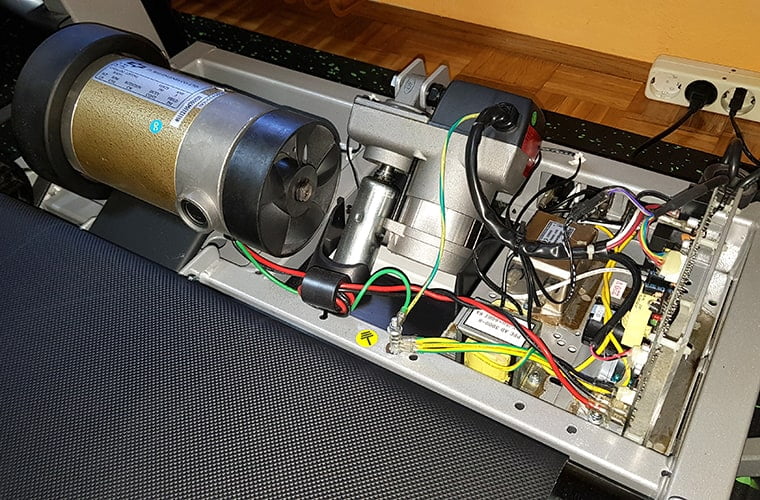 You can then take the smallest attachment on your vacuum, and vacuum out any dust from inside. Be careful to place the tip of the vacuum close to the electronics, but not directly touching them. Vacuum any dust and dirt from the inside edges of the motor housing, and any other places which you can reach.
If the vacuum does not get everything, then use a dry cloth to gently brush any dust from the electronics and motor. Or, you can get a can of compressed air and blow all the dust away.
We recommend not using any chemicals or liquids, as they can get into the motor and short it out, causing you more significant problems.
Here are some video instructions for Cybex treadmills (most other treadmills can be treated the same).
3. How To Clean Your Treadmill?
It is good practice to wipe your machine down after every use (just like you would do in the gym). Take the time to wipe down any part of the machine which you have touched, and any parts which sweat may have dripped on. Sweat and body oils can break down tough materials over time.
Wiping your treadmill after every use also helps to keep the dust off of your machine. Use a slightly damp cloth to wipe the handrails, display, and any other parts which may need to be cleaned.
If you are sharing the machine with multiple family members, then make sure that they wipe down the machine too.
4. How To Adjust (Center & Align) The Treadmill Belt?
Everything shifts over time. Just as your car will need its wheels realigned every so often, your treadmill will need its belt realigned every so often. You may want to factor this into your maintenance schedule, or you may have noticed that the belt is not as straight as it once was, and you need to straighten it immediately.
This is a common issue with treadmills and one which you can fix all by yourself. You will find instructions on how to do this in your user manual, but if you cannot find them, then you can locate the bolts on each side of your machine, and use them to align the belt.
The belt should also be tight, or it can shudder when you are running. If there are vibrations in your belt or if you feel it slipping when you are running, then it is time to tighten it. You can check if it needs tighten by lifting the belt up.
If you can lift it higher than 10cm, then it needs to be tightened.
If you need a visual guide on tightening, check out this video.
5. Installing A Treadmill Mat Under The Machine
A treadmill mat will protect your treadmill but is more about protecting what is underneath your treadmill. A good mat will protect whatever flooring the treadmill is sitting on. It will save your carpet or hardwood from any wear, give some cushioning to the treadmill itself, and stop any sweat from dripping onto the floor.
A mat also makes vacuuming easier when it comes time to do that, and helps to keep hair and dust away from the motor. If you have anyone living below the treadmill, or even if you do not, a mat will help to keep vibrations at bay, lessening the noise the treadmill makes.
By dampening the vibrations from your treadmill, the mat will help to extend the life of your treadmill.
Think about how much longer your treadmill will last, and how much your floor underneath cost, and it makes sense to invest in a high-quality treadmill mat.
One of the best heavy-duty rubber mats for treadmills is made by RevTime. It is the mat which I personally use on my treadmill.
Additional Tips
Following our guide will help to keep your treadmill working for years. But what is that you say? You want the treadmill to last even longer than that?
Well, if you have the dedication to keep your treadmill working perfectly, then here are some additional tips:
Tighten The Bolts Regularly
Your treadmill is like any other appliance in your home and is held together in the same way. A treadmill has a lot of moving parts and vibrates a lot. Because of this, nuts and bolts can loosen over time, more so than other appliances and machines.
Take the time to check your screws and bolts regularly, and tighten them if needed. This is also a chance for you to check if any are corroded and need to be replaced.
Replacing The Belt
It does not matter the quality of your treadmill; the belt will eventually wear out. You can make the belt last longer by oiling it regularly and checking it for wear and tear, but eventually, you will need to replace it.
Before you replace it, you should know how to check the belt for damage or wear and tear. Every three months, run your hand along the underside of the belt and feel if it is worn or rough.
If the belt feels overly rough, then you may need to replace it with a new one. If you do not replace it and continue using it, then you run the risk of wearing out the deck, and that can lead to additional costs. Replacing the belt may cost a little, but it will save you money in the long run.
Unplug Your Treadmill When Not In Use
When you are not using your treadmill, you should unplug it.
Many people use power surge strips to protect their treadmills, much like they would use one to protect their TV or laptop, but this can cause problems with a treadmill.
The power usage of a treadmill varies widely depending on how you are using it. The intensity of your workout and the amount of weight on the belt will affect the power. If a lot of energy needs to be drawn, then the power strip can cut power, thinking that the surge is going to damage the equipment. If this happens, the treadmill can stop abruptly.
A treadmill stopping when you are not expecting it can cause injury to those who are using it. It can also damage the motor and belt of the treadmill.
The best thing which you can do is not to use a power strip and to unplug the machine when it is not being used.
When To Call A Professional
There are times when you have taken perfect care of your machine, and something still goes wrong. If you cannot fix the problem yourself, then it might be time to call in a professional.
If you have the experience and confidence, then you can fix the problem yourself but, if not, then a professional will get your treadmill running again and prolong the life of the equipment.
A professional may be able to spot a problem which you will not, and they will ensure that the equipment is fixed correctly before it is started up again.