Note: We received this product for free. No other compensation was provided, and as always, all opinions are our own. We may earn money from links on this page, but we only recommend products we back. Learn more.
If you're like me, you probably depend on your car for reliable transportation. From getting to work to picking up kids and running to the store, your car is a critical tool for your lifestyle. If you're like me, you rely on your car to get you to and from remote locations—locations where you may not have a cell signal. So, what would you do if your car battery died one morning and no one was around to jumpstart it—or if you're in the middle of the woods and you cannot call a neighbor for help?
The folks at TOPDON wanted to give drivers a way to prevent these situations from ever occurring. And the JS2000 is their solution, a middle-tier power bank, and jump starter. The JS1200 offers similar functionality with slightly lower peak cranking amp power, and the JS3000 offers a brighter flashlight and higher peak cranking amp power.
We tested the TOPDON JumpSurge 2000 over the course of several weeks, charging it, using it, and storing it in the car. This review covers the results of our trial as well as the specs you can expect from this tool.
What's in the Package?
The TOPDON JumpSurge 2000 comes with a nice hard case that zips up. It also has a handle, which can be helpful when you're in a stressful situation or if you want to lash the case to a hiking bag to bring the unit on a hike as a remote power source.
The case holds the power source/battery pack tightly in place while the opposite side stores the jumper cables, instructions, and any other small emergency items you may want to carry. I keep a phone charging cable in the pouch since the unit doubles as a phone charger.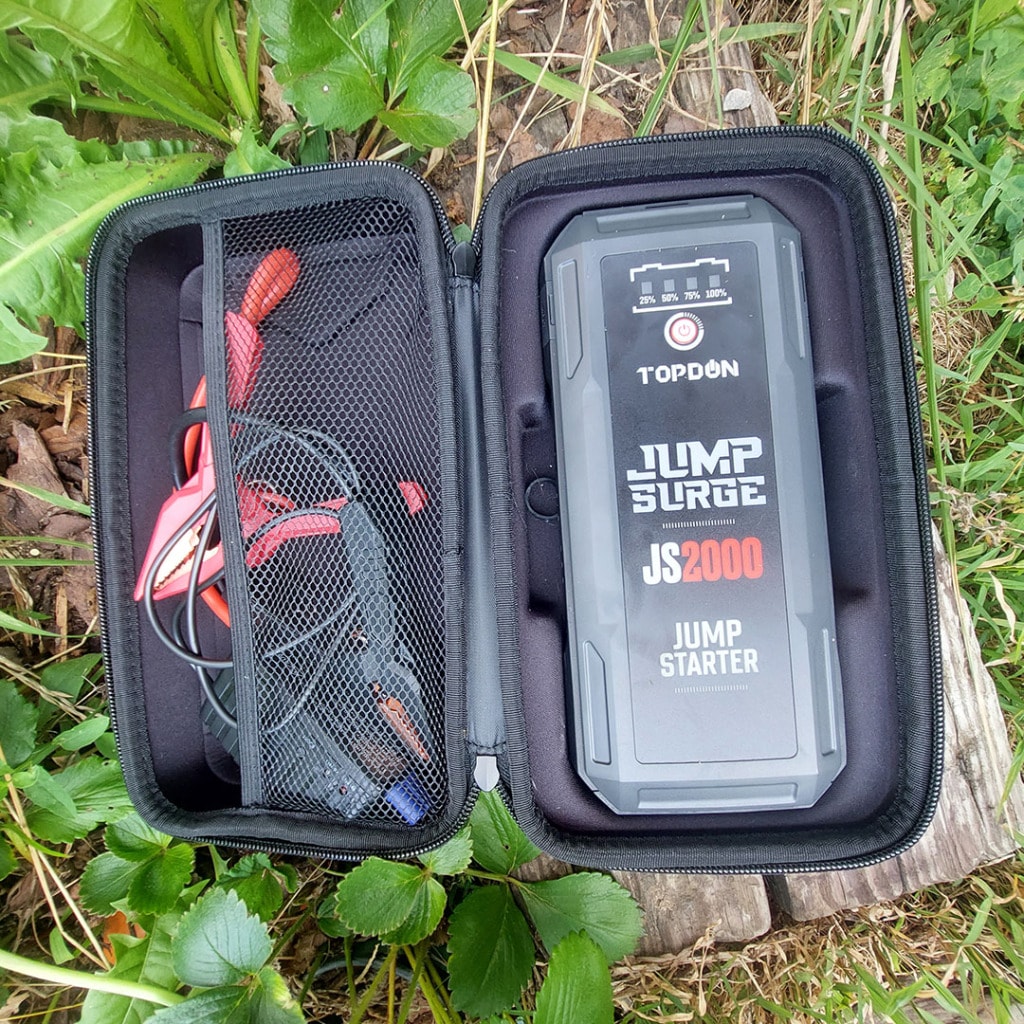 The case zips tightly and easily. This is great for keeping out dust and debris in the back of a car or in the trunk.
TOPDON JumpSurge 2000 Specs
The JS2000 is a well-rounded battery backup for jumpstarting gas and diesel vehicles, offering the following specs:
Peak Amps: 2,000A
Capacity (mAh):16,000 mAh
Start-up Capacity: 8L Gas, 6L Diesel
TypeC Input: 5V 3A, 9V 2A
USB1 Output: QC18W, 5V/9V/12V
USB2 Output: 5V 2A
DC Max 16.8V 10A
Operating Temperature: 14°F – 104°F (-10°C to 40°C)
Storage Temperature: -4°F – 167°F (-20°C to 75°C)
The JS2000 unit is also water-resistant, dust-resistant, and wear-resistant. The charging ports and output ports all close tightly, and I appreciate that when the ports are sealed, the exterior of the unit is streamlined and smooth.
Uses
Since the JS2000 can operate in a wide range of temperatures, it is perfect for cold mornings that can zap your car's battery. It's also ideal for those hot climates that can have the same effect. But if you live somewhere that regularly gets below 14°F (-10°C), you'll want to check the outside temperature before attempting to fire it up.
The JS2000 is also perfect when a dome light or electronic device was accidentally left on overnight or in long-term parking. For those with ATVs, golf carts, or other small engine vehicles, the JS2000 is a great tool to jump-start those batteries that have gone without use for a season or two.
The included USB outputs are perfect for charging device batteries, such as a GPS, phone, or camera.
A 300-lumen flashlight is included for late-night or early-morning situations. This is excellent thinking on TOPDON's part since your car's lights won't work when the battery is dead.
Performance
Over the course of my trial with the JS2000, I charged it, stored it in my vehicle, used it to charge my phone, and used it to jump my Subaru Outback. The overall performance was fantastic. I was never let down by how convenient having this device was and how well-designed it is.
Charging the Device
The JS2000 charges quickly with a USB-C charging port on the left side of the device. While it never 'ran out of juice,' it never took more than an hour or two to go from 25% or 50% to full charge.
Storage
Storing the device, jumper cables, and USB cord in the handy carrying case is easy—no need to squeeze wires into tight bundles or place things in a particular way. The case is small enough to squeeze under a seat. It's probably not a good idea to store it in the trunk unless your trunk can open when the battery is dead (which some modern cars cannot do) or if you have a hatchback.
Use and Design
The jumper cables are long enough to easily reach the leads on your battery, but not excessively long. I measured about 11 inches from the beginning of the wire to the end and 14 inches to the tip of the alligator clamp. The jumper cables attach to the battery unit with a simple plug-and-play socket. The handles/clamp feature holds tight but is not too difficult to squeeze open for those grip issues.
To use the jumper, simply press the power button to turn the unit on. Connect the leads to the battery (red to positive, black to negative). The indicator light should be green – if it's red, that means the poles are reversed (which is a great design feature for those that aren't as familiar with jumping a battery). If the light is red, the cables should be switched. If it flashes green, you need to push the "BOOST" button and wait for the light to be solid green before attempting to start the vehicle.
When jump-starting my vehicle, the unit performed well.
To use the flashlight, hold the power button down for three seconds. The flashlight is plenty bright and comes in handy as a backup flashlight for general use or when assessing your engine or locating your battery terminals.
The unit charged my phone quickly on long trips without issue.
Conclusion
The JumpSurge2000 is a must-have device for anyone who relies on their vehicle for their livelihood. If you have an older car battery or a teenager who is learning how to drive, you'll definitely want to keep one around.
It's also a must-have for those that need an extra power source for their phone or devices when access to electricity isn't available.
Sale
BUY FROM AMAZON