Note: We received this product for free. No other compensation was provided, and as always, all opinions are our own. We may earn money from links on this page, but we only recommend products we back. Learn more.
It's hard to resist cooking out as football season begins and the weather begins to cool. The opportunity to bring a cooker on the go makes camping, football, and family get-togethers even more appealing. The FIREDISC is designed as the ideal way to whip up excellent meals for larger groups, no matter where you are. We tested the Original FIREDISC 24" Tall Portable Propane Cooker over the course of several weeks–and multiple meals. What did we discover? This review will cover the performance of this product, including how portable it is, how easy it is to clean, and, of course, how well it turns ordinary ingredients into extraordinary meals!
First Impressions
The Original FIREDISC was both hit and miss when it came to first impressions. The product is unique and beautiful in many ways, but the packaging's performance through shipping was a bit of a letdown.
Shipping & Packaging
The FIREDISC arrived on my doorstep looking a bit rough. The box was quite banged up, and one of the plastic shipping straps was missing and the other was cutting into the packaging. This was cause for immediate concern. Of course, this may be more of a reflection of the shipping carrier than FIREDISC, but I was worried about damage to the product.
Upon opening the box, my worry was confirmed. The Styrofoam surrounding the stand was busted up. However, the product looked like it didn't sustain any damage. The Styrofoam ended up being a bit of a mess to clean up–static made the Styrofoam bits cling to the disc while other bits caught in the wind.
Product Design
This product is pretty brilliant in concept and design. It's essentially a propane camp stove on steroids with so much more engineering flair. The product is very attractive in design overall.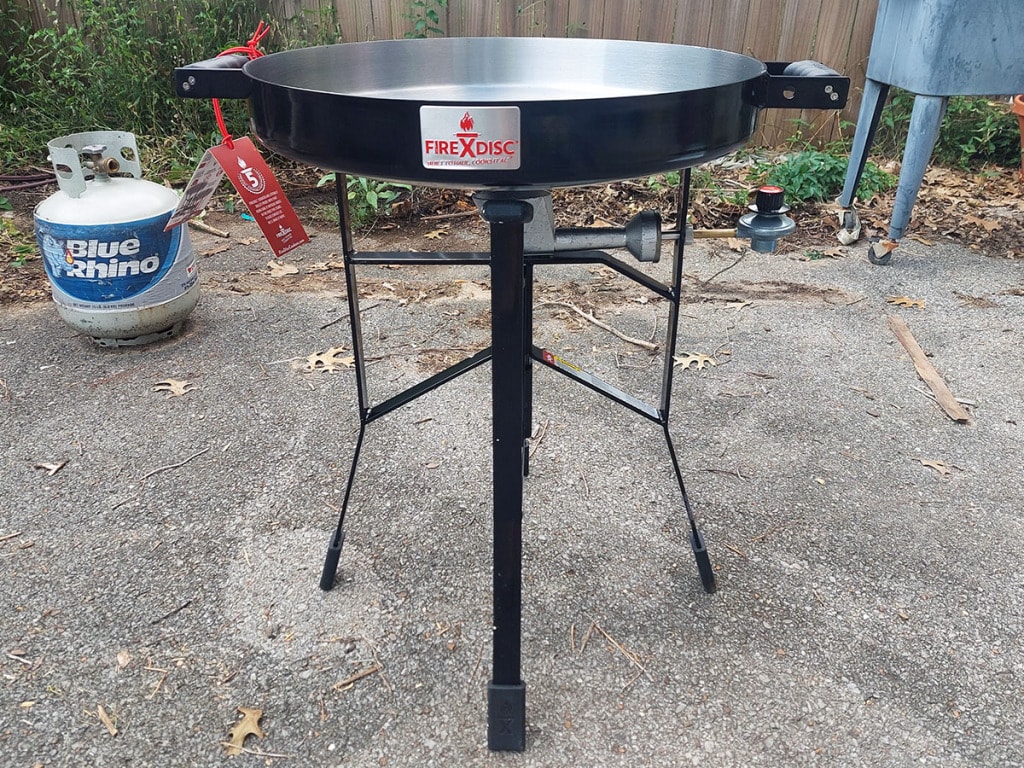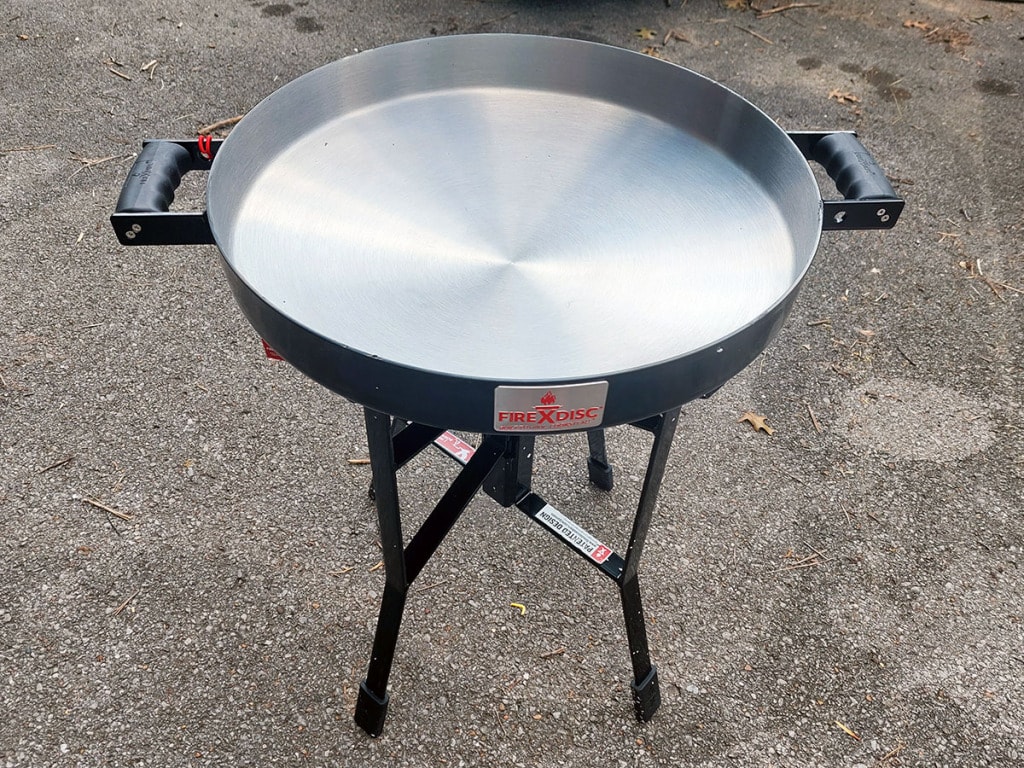 First, I was so impressed with the size of the cooking disc. It's large and could easily accommodate making meals for groups of six or even more. The stand folds up neatly and compactly for easy storage and transport.
I appreciate that this cooker doesn't have one million parts that can be difficult to keep track of and offer a higher possibility of breaking or having issues.
Assembly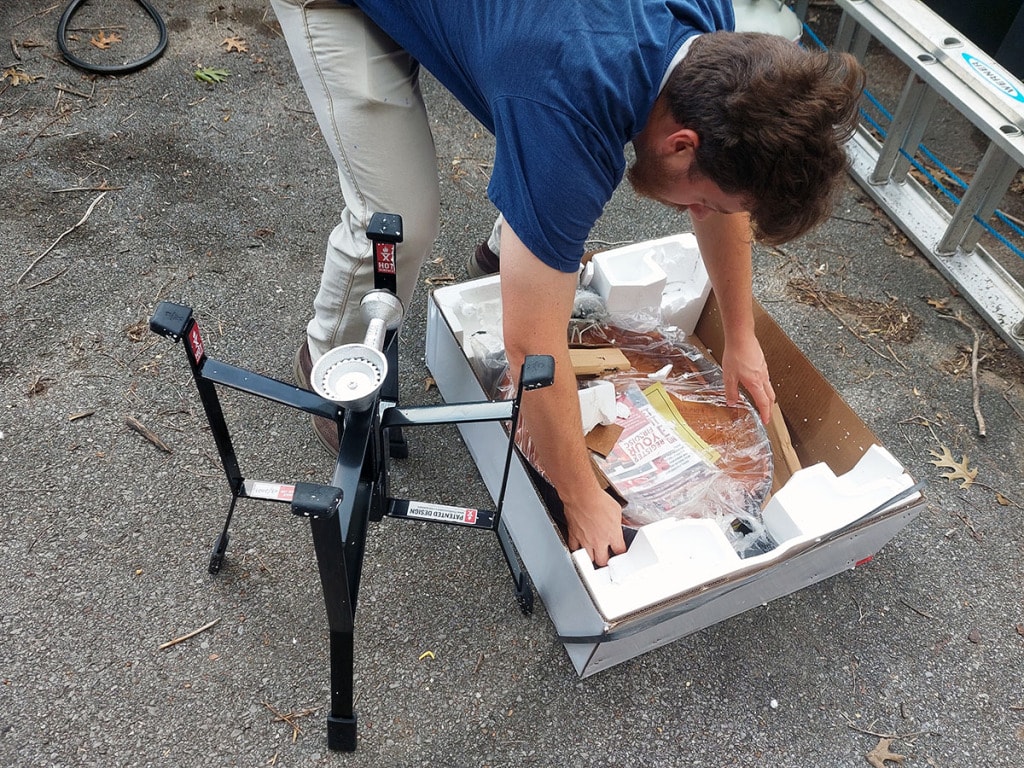 Putting the FIREDISC together was quick and easy. It took just a matter of minutes to assemble the unit. The same goes for disassembly when it comes to packing up for transport or storage. It takes just seconds to slide one of the stand legs into the other. There are no tools needed–no nuts and bolts.
The only thing that surprised me was that I couldn't connect my 20-pound propane tank to the existing fuel regulator. I opted to purchase an adaptor rather than using camp fuel since I already had the tank and because camp fuel can get pricey. Once the adaptor arrived, it was very easy to connect and use.
If you're planning to use the FIREDISC for camping or you need space in your vehicle, the camping propane may be a better option for you, though.
Performance of the Original FIREDISC 24"
We used the FIREDISC to cook several meals–from brats to shrimp fajitas. We even tried some of the recipes on the FIREDISC site. Overall, the FIREDISC offers a lot of perks, however, it does have a few drawbacks.
Quality
The quality of the disc and overall design are apparent in many ways. First, the disc is heavy ultra-high carbon steel. It feels sturdy on the stand–it won't tumble off the stand accidentally or if slightly bumped into.
The disc is also deep without being too deep. There's no need to worry about a few brats or veggies escaping over the rim when flipping and stirring your meal.
The handles are sturdy and the rubber grips feel very durable.
The only demerits this product receives in terms of quality is that it had a few imperfections in the High Heat Powder coating around the rim. Although, I do not think these would affect the performance or longevity of the product.
Cooking on the Original FIREDISC
The first time we used the FIREDISC, we struggled a bit with keeping the flame lit. It kept blowing out and needing to be relit. However, we didn't have this issue after the first use, though.
The FIREDISC heats up quickly and evenly. The surface is hot and ready within just a few minutes of lighting the propane.
The gradients of heat levels make it very convenient to cook multiple types of food at once–keeping foods that need high heat in the center "Heat Ring," and items that need a more low-and-slow approach toward the edges.
Ideal FIREDISC Meals
My favorite meals to cook on the FIREDISC have been burgers and shrimp fajitas. The gradient heat made cooking burgers to differing temperatures easy–you can cook your medium and well-done burgers effortlessly. I also noticed that the resulting burgers had the perfect slight crust on the exterior with a tender, juicy center.
I loved cooking shrimp fajitas on the FIREDISC. I added my veggies and once they were almost done, I added the shrimp–they all turned out perfectly.
Creating one-pot meals prior to cooking seems to be one of the best options for cooking on the FIREDISC. A Cajun boil-style meal or marinated kabobs would both be excellent options. Typical 'grilled' proteins also turn out great on the FIREDISC.
My Cooking Fails
We tried to cook corn-on-the-cob, but haven't perfected that one, yet. We tried soaking the corn within the husk and then wrapping them in foil. They didn't thoroughly cook, but this was when the flame was blowing out–so, we'll have to try this again in the future.
Cleaning the FIREDISC
The FIREDISC promises a 1-minute clean-up with water and a cloth or paper towel. This wasn't quite what I experienced. The residue from burgers was a bit baked-on and needed to be scrubbed off. They also 'stained' the disc.
I did notice that the disc became easier to clean after using it a few times. My guess is that it's a seasoning issue and will continue to become easier and easier to clean over time.
It is also much easier to clean when the disc is still hot. If you're bringing the FIREDISC tailgating or camping, be sure to have access to a hose or bring a few extra gallons of water to wash the unit after cooking.
Storage
This product is SO easy to store. It breaks down into just three pieces and takes up very little space.
Drawbacks
While the FIREDISC can be great for most meals, one-pot or one-pan meals are the best. You'll notice that side dishes other than veggies and diced potatoes can be tricky on the FIREDISC.
Who Will Get the Most Out of the Original FIREDISC?
People who camp or RV, tailgate, have family celebrations at parks or the beach, and those that want to cook out without owning a bulky grill will love this product. This unit can hold a lot of food and can cook meats and veggies quickly, so you can whip up several rounds of food effortlessly for larger parties. However, if you have a large family or cook for big groups often, I recommend the Original FIREDISC 36" Tall model–which has a much wider disc and taller height.
As for couples that camp alone, this product may be excessive – and may not be the best option for the occasional or impromptu cookout since the disc is large and not as easy to clean as it could be. It also isn't necessarily a replacement for a grill. As someone that doesn't like char or smoke flavor, this is a plus, but if you're looking for a compact grill, the FIREDISC is not what you're looking for.
Accessories
While we do not store ours outside, I highly recommend getting a cover if you're bringing yours along for multi-day camp trips or if you're setting up for a longer stay in your RV.
The propane tank adaptor can also be convenient since camp propane can be expensive and more difficult to find.
The lid is also a neat option for meals that could benefit from convection-style heating. This would have been great for our brats, but it would also come in handy for soups and boiling veggies.
FIREDISC sells a wind guard helmet. This seems like it would be very nice if you often cook in open areas or if you anticipate strong gusts of wind. This would have solved my initial frustrations of the flame blowing out.
The Original FIREDISC–24": A Convenient Cooker for Those On-the-Go
Overall, the Original 24" FIREDISC performs well as a portable, large-surface cooker. It will impress you with the volume of food it can turn out and its ease of storage. While the unit is easy to clean–it's not necessarily a blink-and-you're-done process. If you're a tailgater, camper, or cook for family events often, you will get your money's worth from this product.