Note: Durability Matters is reader-supported. When you buy through affiliate links on our website, we'll make a small commission, without impacting your price. Thank you. Learn more.
If you want the best sound, you need the best speakers. How about speakers which are also a work of art?
That is exactly what I found with the Harman Kardon SoundSticks II.
Not only do they give superior sound, but they have also been inducted into the Museum of Modern Art (MOMA).
They were designed by Sir Jony Ive, a British industrial designer who joined Apple in 1992 and remained as VP of design until 2019. He designed some of Apple's most iconic products and became a key influence on the firm's simplistic design.
So, what do he and Apple have to do with Harman Kardon?
Apple ventured into audio when they needed a perfect audio system for their iMac G4 Cube (launched in 2001). Apple did the industrial design and mechanical engineering. Harman Kardon did the rest.
As history has shown, the iMac Cube wasn't much of a success (it was discontinued only after a year it was launched), but it gave SoundSticks II the launching pad it deserved.
Sound As Art
You only need to take one look at the speakers to see why they have been included in the permanent MoMA collection in Manhattan.
The simple, yet elegant, electronics are on display for all to see, thanks to the clear polycarbonate casing. You get the joy which you used to get when all electronics came with clear cases for the novelty value, except this novelty value does not wear off. This is art.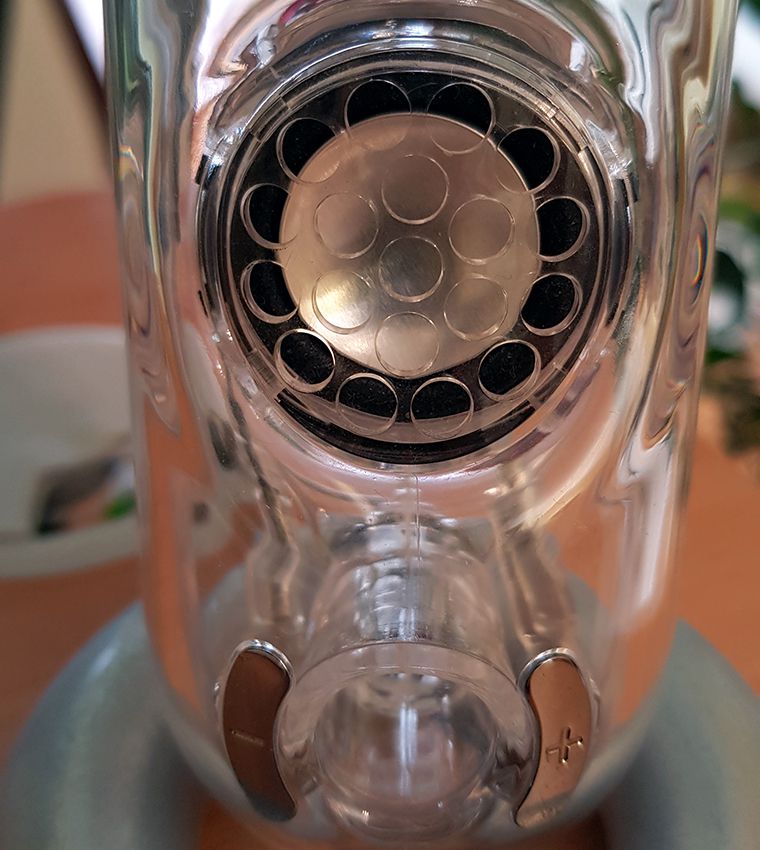 The clear design is further complemented by the sleek curves and futuristic look. This is not a concept design built to showcase what could be. This is the real thing, and it is here to stay.
Performance & Value
Each satellite speaker (which can orbit the woofer mothership, anywhere around the room) has four drivers to give you crisp highs, booming lows, and a great mid-range. The subwoofer blends the three effortlessly to give you amazing sound, no matter what you are using them for.
The strength of the speakers is in their balance. You may not be able to get the rumbling lows of other speakers, but that is not what you are looking for. They are the speakers which will give you consistent sound, year after year, and my speakers are proof of that.
The two tall satellite speakers can also be positioned how you want them. They are attached to adjustable silver bases, and the speakers can be moved to sit upright on the base, or tilted to sit at an angle. This gives you amazing versatility when you position them around your workstation. If you have them on your desktop, you can angle them directly towards your ears. Many speakers cannot do this.
There are more expensive speakers out there which may do a better job but, for the price, you will not find anything better. This is an audio set which gives you nuance and amazing audio.
The speakers were praised across the world, and you can still buy them today.
How many other electronic products have been launched more than a decade ago, remained unchanged, and are still available today?
Today, you can find them used on eBay and Amazon for around $160. I think that I paid less when I bought them new! Brand new SoundsSticks II, according to Amazon, retail for $400. Yikes!
15 Years Later
As you may have guessed by the title of this article, these speakers have lasted me for 15 years and will probably last for many years to come. Let me tell you a little about how I have used them over the years.
Outliving Electronics
Since I bought them, in 2004, I have used them every single day, and they still work perfectly. They are turned on 24/7 and actively used between 9 AM and 9 PM. These speakers have outlived two TVs (I used them as TV speakers for several years) and a few computers.
Time and time again, my electronics have come to the end of their lives while the speakers have kept on going.
Great Sound And Durability
Back in 2004, I was looking for a set of speakers which had a good subwoofer and would produce great-sounding audio at low volumes (this is especially important now that I have a child and have to keep the volume low when I am working – but that hadn't yet crossed my mind back then).
Related: 7 Best Computer Speakers For Audiophiles
I researched many brands, but this set of Harman Kardon SoundSticks II was catching my eye from the start, and I came back to them time and time again. From the start, I was impressed by their performance. I liked the hardwired connection, the RCA male to female stereo cable, which made this speaker set all the more durable.
The thing about hardwired speakers is that the cables often break down over time with use. These cables are still going, but I know that I can replace them at any time without having to take them to a specialist. Those cables also help to deliver high-quality audio from the subwoofer to the speakers.
Use Cases
When I bought the speakers, I set them up in my office and used them when working. I use them to listen to music, and they are great for editing audio files. If I am ever in a conference call, the speakers are up to the task. I often watch instructional YouTube videos, and the sound has never been a problem with these speakers. Even with the wide-ranging audio of video games, these speakers continue to sound wonderful.
The truth is that I have not yet found an audio source which sounds bad on these speakers, and I have been using them for fifteen years. High pitched music or low-bass rumblings all sound crisp and clear on the satellite speakers.
The Next Generation – SoundSticks III
These speakers are the second generation in the Harman Kardon SoundSticks line. The third generation (SoundSticks III) has been released six years ago and now they come with a Bluetooth connection.
Check out the current Harman Kardon PC speaker lineup.
I have not had the chance to try them out yet (my speakers may just last forever), but they have a similar spec sheet to that of the SoundSticks II. The only obvious changes are an added remote control, wireless connectivity and black as the only available color.
The price ranges from $149 to $200, depending on where you buy them.
Sounding Off
If you need a set of speakers for your day to day life, then it pays to invest in quality. There are many great audio sets out there, and the Harman Kardon SoundSticks II are only one of them. If I had bought a cheaper set of speakers, I am confident that I would have had to replace them by now and pay at least twice when I currently have only paid once.
At Durability Matters, that is our ethos. We encourage you to pay a little more to save yourself money in the long run.
When it comes to audio, you deserve the best. If the sound is not high-quality, your ears will pick that up, and it can become annoying. Paying for a premium product does more than just save you money. In the long run, it keeps you happy too.
If you want something high-quality, which is also a work of art, then you know where my loyalty lies.
Update

It's hard to believe, but my SoundSticks II will soon be 18 years old! Yet, they still provide crystal clear sound that surpasses most computer speakers.

My speakers were in pristine condition up until about 6 months ago when a frequently reported (among long-time users) issue happened. The left satellite speaker (made out of two plastic halves) came apart because the glue that holds the housing together became too brittle. Luckily, this was an easy fix. All I had to do was add a few drops of super glue on the seams and close the two halves.

As I mentioned earlier, these speakers have already outlived a few of my computers, and now they are again paired with my new desktop computer. This just might be the final computer I'll ever be using them on.