Note: We received this product for free. No other compensation was provided, and as always, all opinions are our own. We may earn money from links on this page, but we only recommend products we back. Learn more.
A solar setup is a no-brainer in case of extreme weather events. However, it's also a must for those with an adventure-driven lifestyle or off-grid living. With more people choosing to cut the cord and go solar, the market has become flooded with solar options. That, coupled with a heavy price tag can make shopping for a power station and panels daunting. With most solar power stations costing anywhere from a few hundred dollars to about two thousand dollars, you want to invest in equipment you know will last. This is where we come in. We put the EBL Portable Power Station Voyager 1000 through a trial to determine if it's truly worth the investment.
Our goal is to ensure you know exactly what you're investing in when you purchase the EBL Portable Power Station Voyager 1000. To do so, we tested the ease of setup and use, how well the power unit holds a charge, its versatility, and more.
Our Process
We used the Voyager 1000 Portable Power Station along with two Apollo Solar Panels for over a month. They got quite a bit of use over this time as our only power source after electrical outages due to severe freezing in Tennesee. We also used the setup in the backyard for cooking, keeping our chickens warm, and keeping cool with a box fan. In addition to at-home use, we took the Voyager along to the park for some power at a cookout.
First Impressions
I was surprised that the EBL Voyager arrived on a different day than the Apollo 100W solar panels. But everything was very well packaged and arrived without damage.
The Voyager power station box is a bit heavy, but the unit itself is much easier to carry once out of the box.
All parts of the station and solar panels are sturdy and are designed intuitively with clear labels.
Ease of Setup
Overall, setting the Voyage up to charge is easy. The solar panels are plug-and-play, and the cords that come with them offer enough length to be able to shift and reposition the panels with ease.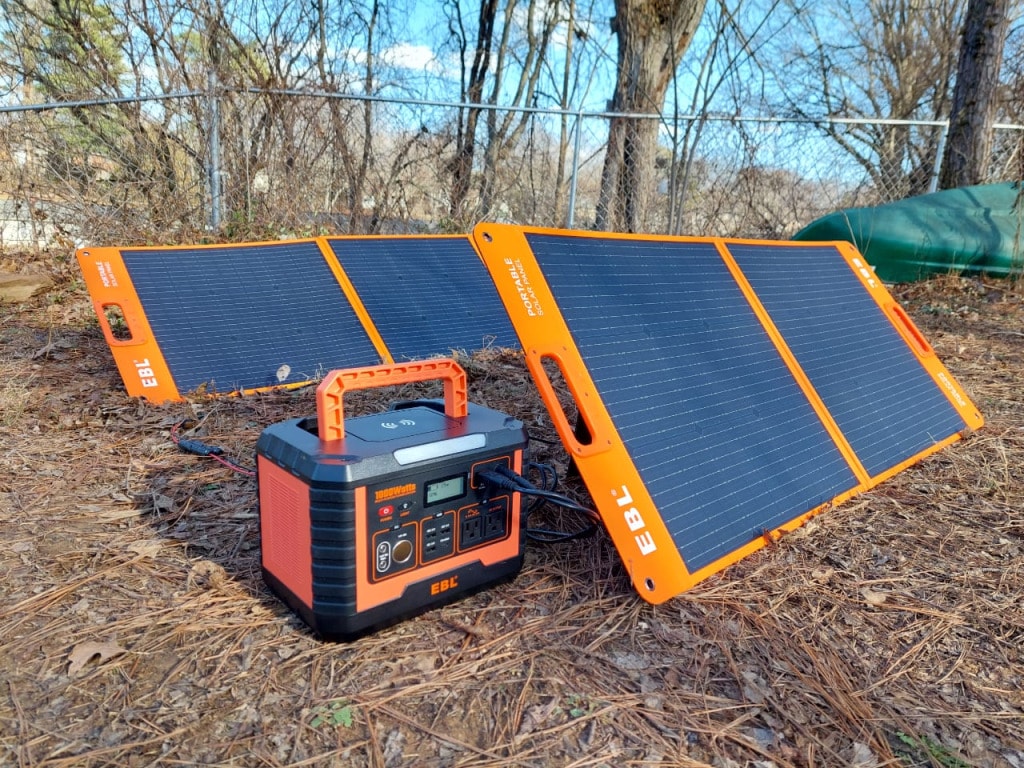 To set the power station to charge, you simply plug one of the panels into the PV input and the other into the DC input (using the adaptor cable that comes with the power station–not the panels). You can also string them together by crisscrossing the PV cords, but this requires purchasing a Y-connector. Please note, that plugging the second panel in was confusing to me on my first setup. I thought the panels would interlink together without an additional cord, but they do not. And this is not clear in the instructions.
You will want to set the panels up on level ground. Their kickstands do the job but don't function well on inclines or uneven ground. They're also very lightweight, which makes them very portable. However, they're not built to withstand high gusts of wind or extreme rain, or sitting water. So, check the weather before you set them up.
Charging the Power Station
The solar panels have a kickstand that velcros closed between uses. The kickstand can only hold the panels up at one angle, which can be slightly tedious if you need to set it up in an odd location.
You want to keep the panels in as much sun as possible for maximum charging. This means you may need to move them from one spot to another as the sun shifts in the sky. Because they're 100W panels, it does take hours to charge the battery.
Best Suited For
Who will get the most use out of the EBL Portable Power Station Voyager 1000? The flexibility and convenience of a portable power station make it a top choice for:
People living the "van life" or RV life
Those who car camp often
People who want backup power without the inconvenience of a generator
The occasional barbecue, picnic, or get-together without access to power
Because the solar panels struggle a bit with stability, we do not recommend using them for a fixed permanent setup (as the name "Voyager" implies). This means those who live off-grid in a fixed location may benefit more from an alternative solar panel style. These panels are not built to stay outdoors in the elements 24/7. You need to set up and break down the panels for charging the battery (and store them between charges), which could become inconvenient. That being said, the power station would be perfectly suitable for off-grid living.
Best Uses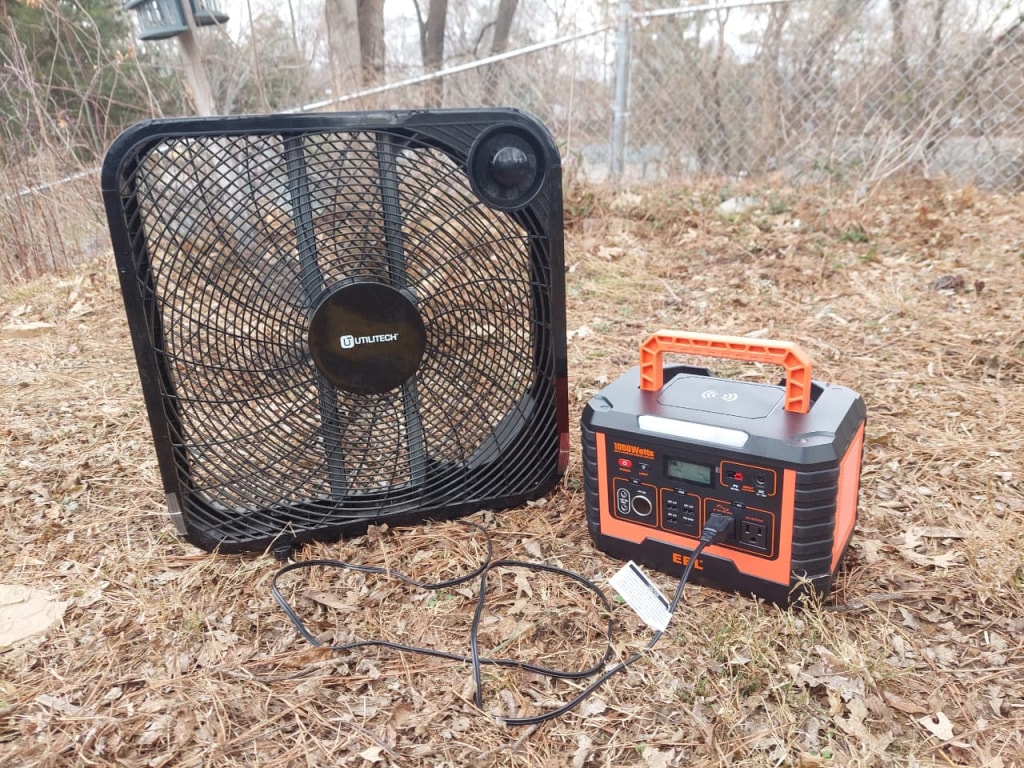 This Power Station can be used with a wide range of plug types (and 10 devices at once), including AC, USB, and even the old-fashioned "car lighter."
It can also be used to charge multiple devices at once. The wireless phone charging is a wonderful feature.
I also appreciate that you can leave your devices plugged in and simply press the button to pause charging. This allows you to keep your cords and devices in one location without draining the Power Station battery.
Like with other solar power stations, the output needed to run a device determines how long the battery will last. This unit offers 1000 Watts with a run time of 999wH x .85 / operating wattage of your device. This technical equation doesn't mean a lot to most people, so we tested the unit on a few common devices to give you a better idea of run time.
A standard box fan on max speed used 2% of the stored energy per hour.
Our chickens' heat pad and water heater used 8% per hour.
An InstaPot gobbled a lot of energy at about 1% per minute.
Overall, I was really impressed with the storage capacity and output. You could run a box fan all night without issue. Heating elements, like those in the InstaPot, are notorious for power consumption, but you could easily cook on an electric skillet or keep a dish warm in a crockpot for several hours.
Smart Design Details
The handle is the MVP! The underside has a rubber grip, making it easy and comfortable to carry. It also folds completely flat, so you can set items on top of the station and charge larger phones without the worry of them slipping off.
The storage pockets in the solar panels are a nice touch.
As you charge a device, the display provides an easy-to-read output level for each of the plug-type sections. It also clearly displays how much battery you have remaining.
The light functions as a powerful, yet energy-efficient lantern. It provides ample light from sunset to sunrise.
Durability
The power station is extremely durable and holds its charge between uses. It's built like a tank. The unit is tightly sealed and made with tough corners to withstand bumps and bangs. It did not show signs of damage whatsoever over the course of my testing.
Solar panels are not as durable as those made to live permanently outdoors. That simply isn't their purpose. So, taking their purpose into account, they will hold up to being toted, stored, and set up time and time, again.
I did not notice any wear and tear around any of the outlets on the Voyager. Nor did I see any obvious wear on the connections or cords of the Apollo solar panels.
Conclusion
If you're looking for a midrange power station for camping, power outages, or van life, the EBL Portable Power Station Voyager 1000 is an excellent choice. The portable solar panels fold up flat and are very lightweight, and the power station charges multiple devices well. Setting up the solar panel and connecting them to the power station is easy after you do it the first time. I appreciate the straightforward nature of the power station as well as the wireless phone charger. Like most batteries, this one drains quickly if you're using something with a heating element, and the solar panels struggle to stand on uneven ground.
At the time of this writing there's a $400 off coupon available on Amazon.