Note: Durability Matters is reader-supported. When you buy through affiliate links on our website, we'll make a small commission, without impacting your price. Thank you. Learn more.
There are many treadmill brands out there, but when you start shopping, there are a few you will come across many times. NordicTrack and ProForm are examples of these, and with good reason – they are two of the most popular brands of treadmills on the market. Both companies offer a broad range of home and commercial fitness equipment, but we will be focusing on their treadmills.
It seems that NordicTrack has been around forever, and indeed, it's one of the oldest players in the fitness equipment game. But ProForm isn't far behind, hitting the scene in 1988. They both make high-quality and commercial-grade machines, but there are some key differences.
In terms of price, NordicTrack's machines tend to be a bit more expensive than ProForm's. NordicTrack often comes with the latest bells and whistles, while ProForm offers great quality and reliability, without breaking the bank.
So, which treadmill should you buy?
In This Article
Brand Overview
Interestingly, despite being each other's largest competitors in the fitness market, NordicTrack and ProForm are both owned by the same parent company, ICON Health & Fitness. This means that there are a lot of similarities between the two brands, such as their inclusion of a one-month membership to the iFIT program (also owned by ICON) with each treadmill, but there are also many differences.
NordicTrack
In 1975, an engineer by the name of Ed Pauls invented and built the ski machine in his garage, in order to train for a local ski race so he could beat his friends. That was the original NordicTrack machine, which is still manufactured today, though it doesn't see the same level of sales as it has in the past.
In 1986, Ed sold his company to CML Corporation which opened numerous retail stores and used the growing trend of infomercials to sell their products. Unfortunately for them, competitors began to emerge, taking away a lot of business from the NordicTrack brand, and the company began to struggle. In 1998, they closed all of their 300 plus retail stores and filed for bankruptcy. Enter ICON.
Since its acquisition by ICON, NordicTrack has grown and thrived, and its product line has expanded to include all manner of household exercise equipment. However, the treadmill is by far their most popular product, and much of their focus has been on perfecting that machine, culminating in their release, in 2009, of the incline trainer, which has become one of their biggest selling technologies.
Of these two brands, NordicTrack is known as the higher-quality brand, producing more durable, more expensive machines, so if you're looking for the highest quality, with price as no issue, NordicTrack might just be the brand for you.
ProForm
By the time ICON Health & Fitness was incorporated in 1994, it already owned ProForm. In those early days, the company placed a significant amount of importance on its treadmill production, and innovated the SpaceSaver® design, allowing the treadmill to be folded away neatly against a wall. Although this is a world-famous and popular design now, at the time, it was highly innovative, giving the brand a boost in the market.
Using modern technological advances, ProForm has continued to produce innovative and convenient home exercise machines, branching out over the years to include stationary bikes, weight lifting equipment, elliptical machines, and much more, all with the focus on providing the most effective workout possible.
As a parent company, ICON has been the driving force behind the success of the ProForm brand, maintaining its level of innovation, and ensuring they stay with the times. ICON currently has 223 patents under its belt, and another 107 pending, showing that they are all for moving forward.
ProForm is a sister company of NordicTrack, and where NordicTrack provides higher quality and more features, ProForm provides more financially accessible products, creating the perfect balance between these two brands.
Entry-Level Treadmill Comparison
NordicTrack C700 vs ProForm City L6
The entry-level treadmill is the most obvious choice for many amateur fitness enthusiasts. If you're just getting into fitness, or you have a gym membership, and you just want an option for working out at home every now and then, one of these entry-level options should be perfect for you.
NordicTrack C700
Price: $999
Workouts: 30-Day Family Membership with iFIT, and 20 onboard workouts
Motor: 2.75 CHP (Continuous Horse Power)
Speed: 0-10 mph
Incline: 0-10%
Tread Belt: 20 x 55 inches
Max User Capacity: 300 lbs
Warranty: 10-year warranty on frame, 2-year warranty on parts, 1-year warranty on labor
The NordicTrack C700 comes with a multi-window LED display for tracking your workouts and your heart rate, as well as two digitally-amplified speakers for sound. An integrated tablet holder will allow you to follow your own workouts on your tablet, and an auxiliary music port and Bluetooth connection will allow you to play music from your own device through the integrated speakers.
The treadmill and all its extra functions are controlled with the OneTouch™ controls. You can enjoy a cool breeze while you run with the AutoBreeze™ Workout Fan, and revel in the softness of the deck with FlexSelect™ Cushioning. This model comes with an integrated Dual CardioGrip™ heart rate monitor, and to top it all off, you can simply fold the treadmill away against a wall when not in use, as it is built with the SpaceSaver® design with EasyLift Assist technology.
ProForm City L6
Price: $599
Workouts: 30-Day iFIT Family Membership
Motor: 1.6 CHP2 Mach Z™
Speed: 0-8 mph
Incline: None
Tread belt: 17.5 x 45 inches
Max User Capacity: 250 lbs
Warranty: 10-year frame warranty, 1-year parts and labor warranty
The ProForm City L6 is an entry-level treadmill with varying speed options, but no incline. The iFIT membership will allow you to benefit from trainer-led sessions right in the comfort of your living room. Because you will be using speed to vary your workouts, rather than an incline, the City L6 is built with a strong, self-cooling drive system that will easily handle the regular speed changes of your workout.
ProShox™ Cushioning will protect your feet and extend the time you can spend on the treadmill, and the 1.6-inch precision-balanced rollers will ensure a smooth ride. The treadmill comes with an integrated tablet holder, as well as a Bluetooth connection and a 5-inch high contrast display. For space-saving convenience, the machine folds up and has roller wheels to help you move it.
Mid-Range Treadmill Comparison
NordicTrack Elite 1000 vs ProForm Carbon T14
If you're looking for something a little more advanced, but not completely top-of-the-range, these mid-level treadmills may do the trick for you. Interestingly, at this range, the two companies' treadmills are the same price, showing how similar these options are.
NordicTrack Elite 1000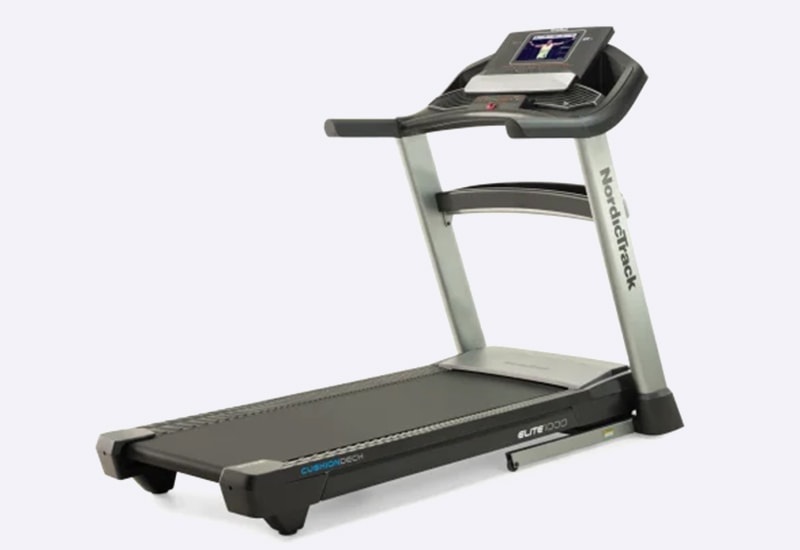 Price: $1,499
Workouts: 30-Day iFIT Family Membership Included
Motor: 3.0 CHP
Speed: 0-12 mph
Incline: 0-12%
Tread belt: 20 x 60 inches
Max User Capacity: 300 lbs
Warranty: 10-year frame warranty, 2-year parts warranty, 1-year labor warranty
The NordicTrack Elite 1000 comes with a 10-inch Smart HD Touchscreen, Bluetooth connectivity, and an amplified sound system. Connect your own device with Bluetooth to play your music through the machine, and enjoy a heart-pumping workout to your own tune.
Connect a heart rate monitor (sold separately) via Bluetooth, and allow the machine's ActivePulse™ technology to automatically adjust the speed and incline of the tread deck to maintain your ideal heart rate. An integrated water bottle holder will ensure that you stay hydrated, and the AutoBreeze™ workout fan will keep you cool. Your feet will love running on the cushioned deck, and when you're done, use the EasyLift™ Assist to effortlessly fold the treadmill away against a wall.
ProForm Carbon T14
Price: $1,499
Workouts: 30-Day Family Membership with iFIT
Motor: 3.0 CHP
Speed: 0-10 mph
Incline: 0-12%
Tread belt: 20 x 55 inches
Max User Capacity: 300 lbs
Warranty: 10-year frame warranty, 1-year parts and labor warranty
The ProForm Carbon T14 has an ISO Flex™ Cushioning system which protects your knees and ankles from injury, while the CoolAire™ Fan will help you keep cool and run for longer.
You can play your own music through the dual 2-inch speakers, or connect your Bluetooth headphones to hear the workouts provided with the iFIT subscription. The 14-inch Smart HD Touchscreen has a high-resolution display on which you can track your progress or follow iFIT workouts.
The ProForm Carbon T14 is perfectly balanced on large leveling feet and has an upright accessory bar for ease of use. Fold the treadmill away after your workout to save space in your home, with the help of the EasyLift™ Assist technology.
High-End Treadmill Comparison
NordicTrack Commercial X22i vs. ProForm Pro 9000
If you're looking for a top-of-the-line treadmill that can help you take your workouts to the next level, then look no further than these two models. Both treadmills come packed with features, and are built to last.
NordicTrack Commercial X22i
Price: $3,999
Workouts: 30-Day iFIT Family Membership Included
Motor: 3.6 CHP DurX™ Commercial Plus
Speed: 0-12 mph
Incline: -5 to 40%
Tread belt: 22 x 60 inches
Max User Capacity: 300 lbs
Warranty: 10-year frame warranty, 2-year parts warranty, 1-year labor warranty
The NordicTrack Commercial X22i is a top-of-the-line treadmill that is perfect for professional runners or sportsmen. Choose running angles from a 5% decline to a whopping 40% incline, and change between all available angles quickly and effortlessly with the Quiet Drive Incline Technology. The NordicTrack Commercial X22i comes with an integrated 22-inch HD touchscreen that can pivot and tilt to match your viewing angle, perfect for workouts that occur on and off your treadmill.
This machine has auto-adjusting speed and incline, as well as ActivePulse™ Technology so you can maintain your optimal heart rate during a workout (the heart rate monitor is sold separately). The machine has recently been redesigned with a lower deck so it's easier to get on and off, and the 2.5-inch precision non-flex rollers will continue to ensure a smooth run.
ProForm Pro 9000
Price: $1,799
Workouts: 30-Day iFIT Subscription Included
Motor: 3.6 CHP2 Mach Z™
Speed: 0-12 mph
Incline: -3 to 12% Grade with QuickSpeed® Button Control
Tread belt: 20 x 60 inches
Max User Capacity: 300 lbs
Warranty: 10-year frame warranty, 2-year parts warranty, 1-year labor warranty
The ProForm Pro 9000 may be very different in price from its larger, high-end counterpart, but it is not so very different in offerings. Where it loses price and ground is in the fact that it has nowhere near the incline of the X22i's impressive 40%. However, in other ways, it has just as much to offer as its big brother. Make use of the 30-day iFIT membership, and see just what you can do with this machine with a little help. Sessions are automatically recorded, and the data is used to improve your future workouts.
Follow your workouts or track your progress on the 22-inch swipeable HD touchscreen, and listen through your own Bluetooth headphones which will connect easily with the machine. Feel the softness of the ReBound Pro™ deck cushioning, and enjoy a cool breeze from the CoolAire™ workout fan. 1.9-Inch precision-balanced rollers will add to the already high level of comfort, and EasyLift™ Assist will ensure you can quickly and easily pack the treadmill away when you're done.
Conclusion
Whether you're a newbie fitness enthusiast who wants to get more exercise or a pro runner who needs more time, there is definitely something for you from these two brands. Which option you choose is likely to depend on your budget, as well as on what you are wanting to accomplish.
Rest assured that both companies produce sound, good quality machines that can last more than a decade if well looked after, and that whichever you choose, you will be getting a workout that gets your heart pumping and your lungs expanding, just as you would when running outdoors.