When you choose countertops for your kitchen, price and aesthetics will often be your top priorities. However, there's more to a kitchen countertop than meets the eye. Coming into contact with water, cleaning chemicals, hot pots, dirt, grime, and more, it's no surprise they can wear, warp, and age quickly.
You will want to choose materials that both look good and last — hopefully until it's time to remodel again, and beyond. You certainly won't want the opposite. Having to remodel sooner than intended, because your kitchen countertops failed to last even a few years, is a pain. Repairs and renovations can be costly, as well as a waste of money, time, and resources.
The good news is that how hard-wearing your countertops are boils down to the materials from which they're made. Some options are much longer-lasting than others. With this in mind, we've listed the most durable countertop options for your kitchen and home, ranked least to most, to help you make the best decision for you and your family.
10. Laminate ($10 to $40 per sq ft)
Laminate countertops are a popular option, being both affordable and lightweight. Because they are manufactured from plywood edged with plastic laminate, there's a multitude of finishes from which you can select.
Faux wood, granite, and stone options are a few favorites, along with solid colors. To prevent the wood base from coming into contact with water, these types of counters often feature full lamination and edging. Any outlying edges, seams, and joints should also be sealed with metal trim and silicone once installed.
Pros:
Lowest-cost durable option
Various finishes available
Lightweight and portable
Edged for extra durability
Cons:
Prone to warp
Can suffer water damage
9. Treated Wood ($20 to $70 per sq ft)
Real wood is another durable kitchen countertop option, with many different colors, patterns, finishes, stains, and types available. Hardwoods, like birch, beech, walnut, meranti, teak, maple, cherry, and oak, are the most long-wearing, though they can be pricey.
However, reclaimed wood and bamboo make solid alternatives, and bamboo comes in attractive composite, chequered designs that will make your kitchen look warm and inviting. In most cases, wood will either be varnished or treated with oil to improve its look and extend its lifespan.
Pros:
Warm, upmarket look
Eco-friendly and biodegradable
Won't disintegrate like chipboard
Affordable wood options are available
Water-resistant once treated
Cons:
Can be expensive
Scratches, stains, and burns easily
8. Solid Surface ($35 to $100 per sq ft)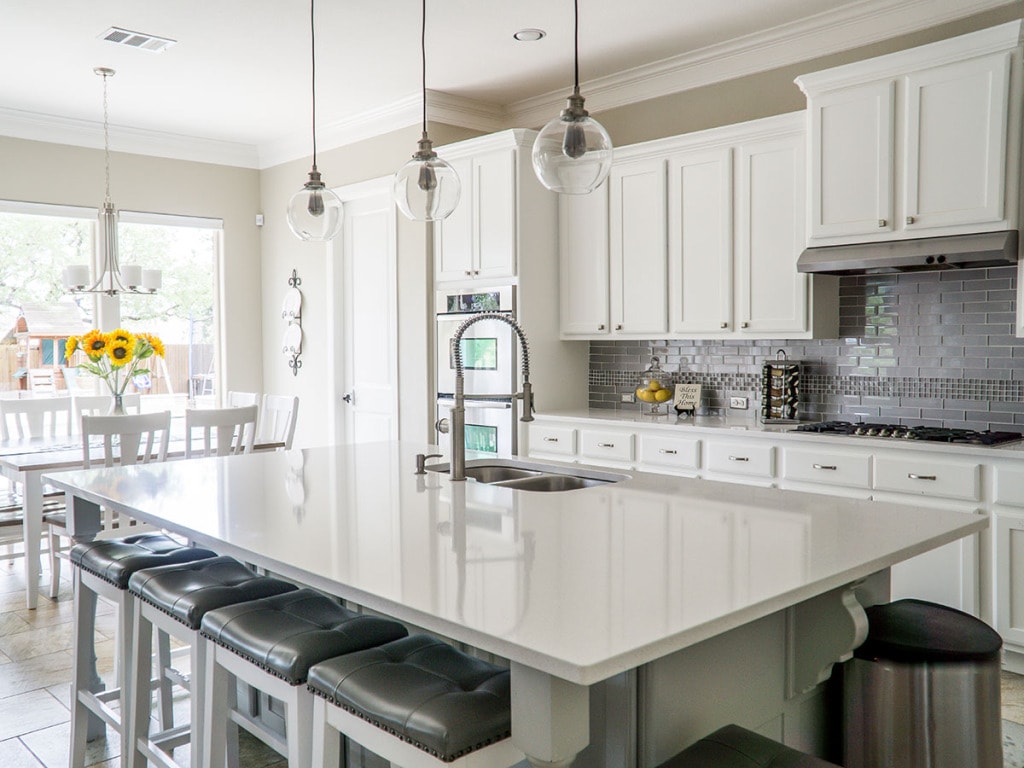 Solid surface countertops are made from acrylic or polyester, or a mix of both materials — meaning they're available in solid colors. Other popular finishes include faux stone, granite, and tile, which feature various color chips suspended in the main color.
Because these types of countertops are opaque and homogenous, they look modern, fitting well into upmarket, urban kitchen designs. Another bonus is that solid surface countertops are completely waterproof, meaning they won't warp or deteriorate from contact with liquids.
Pros:
Modern look
Textured and solid color finishes are available
Inexpensive
Homogenous, nearly non-porous material
Easy and affordable to repair
Cons:
Budget look and feel compared to stone
Scratches and burns easily
7. Concrete ($65 to $135 per sq ft)
Exposed concrete has become a popular finish in upmarket homes, including as a durable kitchen countertop option. You can paint it, though staining and treating is the wisest option if you want it to last longer. Usually, it's necessary to pour this type of countertop, as concrete slabs can be extremely heavy to move and cut.
Pros:
Looks stylish and modern when treated
Opaque and transparent color stains are available
Very affordable
Long-wearing
Cons:
Needs to be poured
Fixed and heavy
6. Ceramic or Porcelain Tiles ($3 to $35 per sq ft)
Tiling has always been a durable option for flooring and splashbacks, but did you know that you can also tile your countertops? Choose from an array of colors, finishes, and styles, including mosaic, small, big, metallic, stone, or decorative tiles. Not only is this type of surface affordable, in comparison to granite or stone, but also similarly hard-wearing.
Pros:
Upmarket look and feel
Tons of colors, finishes, and styles are available
Hard-wearing and non-porous (when glazed)
Heat-, stain-, and water resistant
Low-cost per sqm compared to stone
Cons:
Time-consuming installation
Costly installation
5. Glass ($45 to $190 per sq ft)
Crushed glass countertops are usually made from around 70-85% recycled or new glass chips suspended in cement or resin binders. However, you can also find homogenous solid glass countertops made from melted-down glass, as it can be recycled infinitely.
Naturally, the former is more durable than the latter, as solid glass can be delicate, easily chipping or cracking, but both do have their charms. One shared charm is that they are both completely non-porous, resulting in a hard-wearing, stylish countertop.
Pros:
Modern, upmarket look and finish
Homogenous and terrazzo styles are available
Completely non-porous
Can be recycled or recyclable
Affordable compared to stone
Cons:
Prone to cracks and chips
Limited styles, colors, and finishes
4. Metal ($80 to $225 per sq ft)
A lesser-known choice, metals — such as stainless steel, copper, zinc, brass, and pewter — make for extremely durable countertops. Usually, metal countertops won't be solid slabs, but a piece of sheet metal placed on top of your counters.
Stainless steel, in particular, is an excellent choice for food prep areas, where its scratch resistance truly shines. Copper offers warmth and a unique glow to custom kitchens, though it can develop a patina, as can other metals.
Pros:
Modern, premium look and feel
Ideal for food prep
Available in smooth, beaten, and patinaed finishes
Heat-, stain-, and water proof
Non-porous
Cons:
Acids can etch metals
Can look cold
3. Stone ($50 to $250 per sq ft)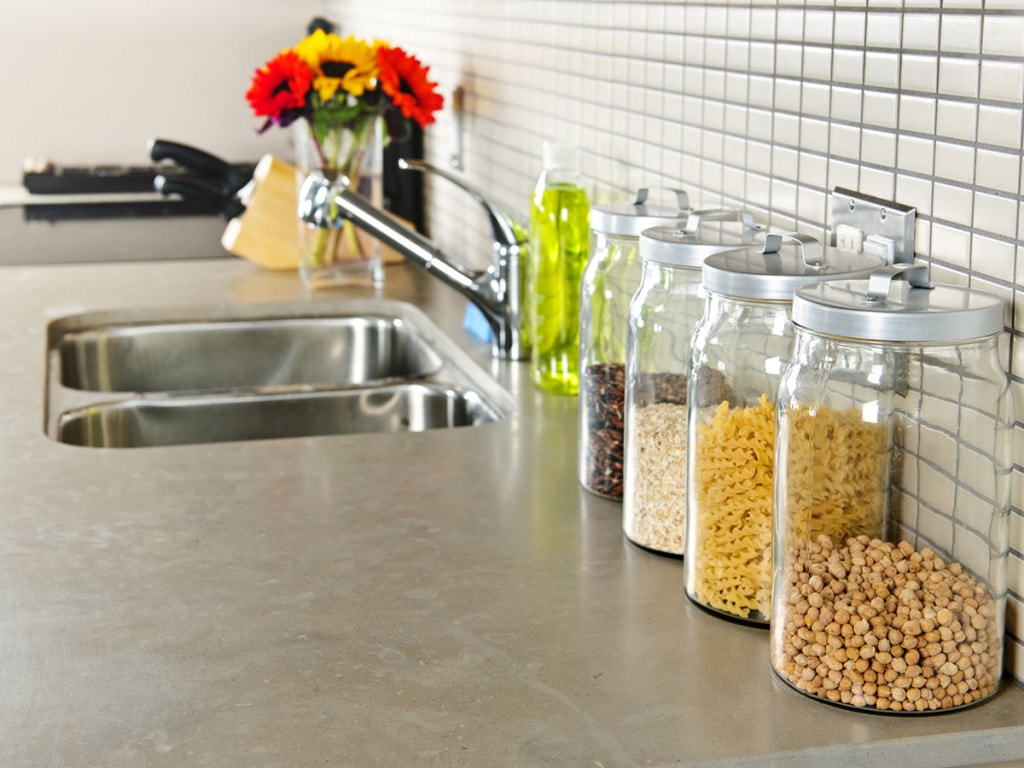 There are few materials as hard-wearing and stunning to look at as natural stone. This special organic material can come in so many patterns, not least because there are so many types of stone from which to choose.
Soapstone, sandstone, limestone, onyx, hard slate, marble, travertine, and gemstone are some of the top options. Just be careful with the coffee and food, as stone can stain, especially if it's not sealed.
Pros:
Upmarket, premium look and feel
Cool to the touch
Tough and hard-wearing
Available in various patterns and colors
Homogenous, solid surface
Cons:
Porous, so it needs to be sealed
Can chip and stain
2. Granite and Quartzite ($35 to $150 per sq ft)
Granite and quartzite are amongst the toughest natural stones, resulting in some of the most durable countertops. While granite typically features dark and light-speckled patterns, quartzite features the gentler feathery patterns that marble does.
It's just a lot tougher and more hard-wearing than marble. Again, avoid spilling food and drink on stone, as it can stain, particularly if the stone is lighter in color.
Pros:
Upmarket, premium look and feel
Cool to the touch
Tough and hard-wearing
Available in various patterns and colors
Homogenous, solid surface
Cons:
Porous, so it needs to be sealed
Can chip and stain
1. Quartz ($40 to $100 per sq ft)
Quartz is one of the most popular kitchen countertop materials around. Unlike quartzite, quartz is actually an engineered stone, which makes it more hard-wearing than almost all other countertop materials. Plus, it's non-porous — unlike almost all natural stones — minimizing the likelihood of stains.
It's made from a composite of stone chips, resin, and pigments, which are combined to form a tough faux stone. As such, it's also available in more patterns, textures, colors, and finishes than almost any other material out there. All this without sacrificing that premium stone look and sheen that homeowners love.
Pros:
Upmarket, premium look and feel
Extremely hard-wearing
Non-porous, unlike natural stone
Affordable compared to some natural stones
Low-maintenance
Cons:
Still pricey
Not heat resistant
Conclusion
Picking out décor, furniture, and fittings for your new kitchen is an exciting experience. However, the types of materials you choose matters, especially in regard to your countertops. Though each and every unique surface requires special care, there are some options that are more hard-wearing than others.
Hopefully, this post helped you pick the most durable countertops, so you won't have to remodel anytime soon.