Note: We received this product for free. No other compensation was provided, and as always, all opinions are our own. We may earn money from links on this page, but we only recommend products we back. Learn more.
Picking the right bed for your dog can be quite a chore. Comparing styles, sizes, brands, and materials can easily become overwhelming. If you've come across the Lucky Dog Elevated Pet Bed (AKA "cot"), you may be wondering if it's the best choice for your best friend. Given the premium materials, reputation of the brand, and convenient features, you are on the right track. However, there's always the question of whether or not your dog will take to a cot. Additionally, we test if this bed truly lives up to its promises and price.
First Impressions
We ordered the 42-inch Lucky Dog® Elevated Pet Bed in gray. We wanted a color that would camouflage mud well, since our yard has clay soil that tends to stick to our dogs' paws. The deep gray is very attractive, and is neutral enough to match a wide variety of patio furniture colors and styles.
The Lucky Dog cot arrives in a compact box. This is nice since, if you're like me, it may take a few days to get to assembling it. As far as weight goes, the box is pretty light – no need to call in reinforcements to lift this steel-framed bed.
All of the contents were tucked neatly into the box with minimal excess packaging. All the bars that make up the frame were free of scratches, dents, or any issues.
What's in the Box?
Lucky Dog includes everything you need to assemble the bed (including a manual) in the box, except for a mallet. They also include a crate training guide and a Lucky Dog catalog.
Ease of Assembly
Putting the elevated bed together was easy. On a scale of 1 to 10, I would say it was about a 3 in difficulty, and it took about 5 to 10 minutes. The instructions do not include any written explanation – just illustrations, which makes paying attention to the details vital.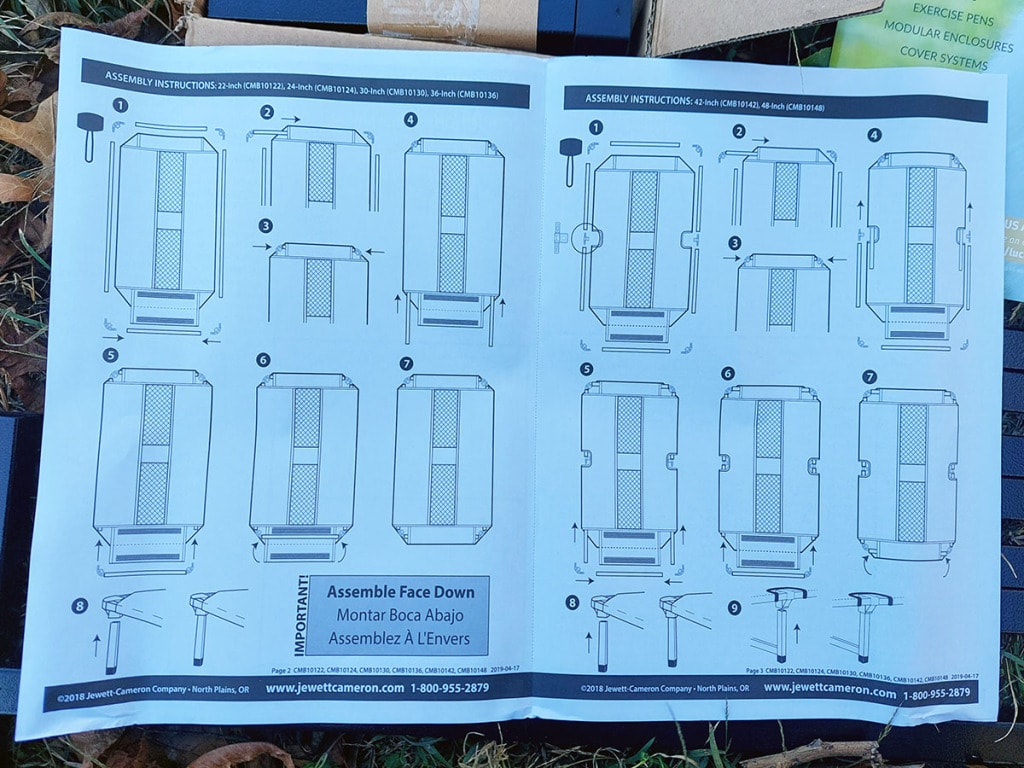 Do you actually need the mallet to put this bed together? Yes. The mallet came in handy for properly locking in the metal frame to the plastic corners. You could potentially use a similar tool, but I would avoid using a typical hammer, since it could damage or break the plastic.
Quality of Materials
I was very excited to get my hands on this bed, since it has some of the highest-quality materials I've seen for an indoor/outdoor dog bed. Did they live up to my expectations? So far, yes.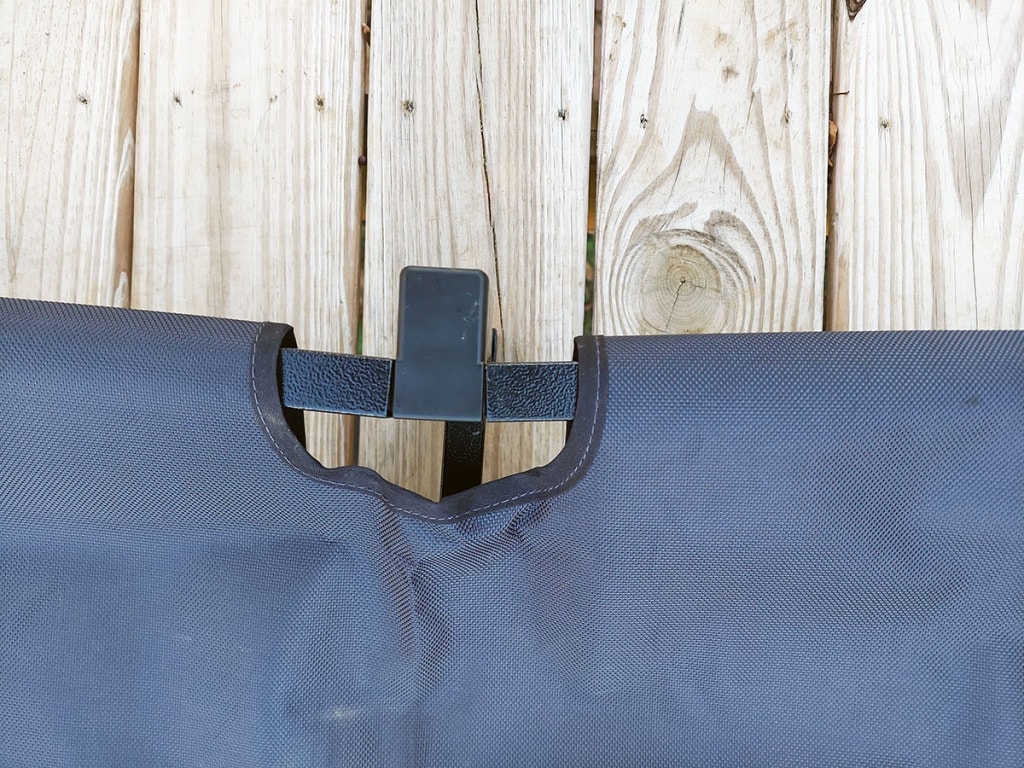 The powder-coated, all-steel frame is very tough, but also light.
The Denier ballistic polyester fabric is thick, but not scratchy – it doesn't have the 'plastic-like' quality that some outdoor fabrics can have.
The mesh feels sturdy, and its weave is tight enough that you cannot see through it easily. This was one concern I had, because dogs can get a bit spooked by seeing through the floor.
The seams and Velcro are heavy-duty, with no frays or loose threads.
Durability of the Bed
We placed the bed on our deck, so it's been exposed to sun, rain, and freezing temperatures. It has held up well – after a few weeks in the elements, there's no sign of mold, weaknesses in the fabric, fading, or tears.
It has held up to regular use by an 85-pound dog and a 65-pound dog.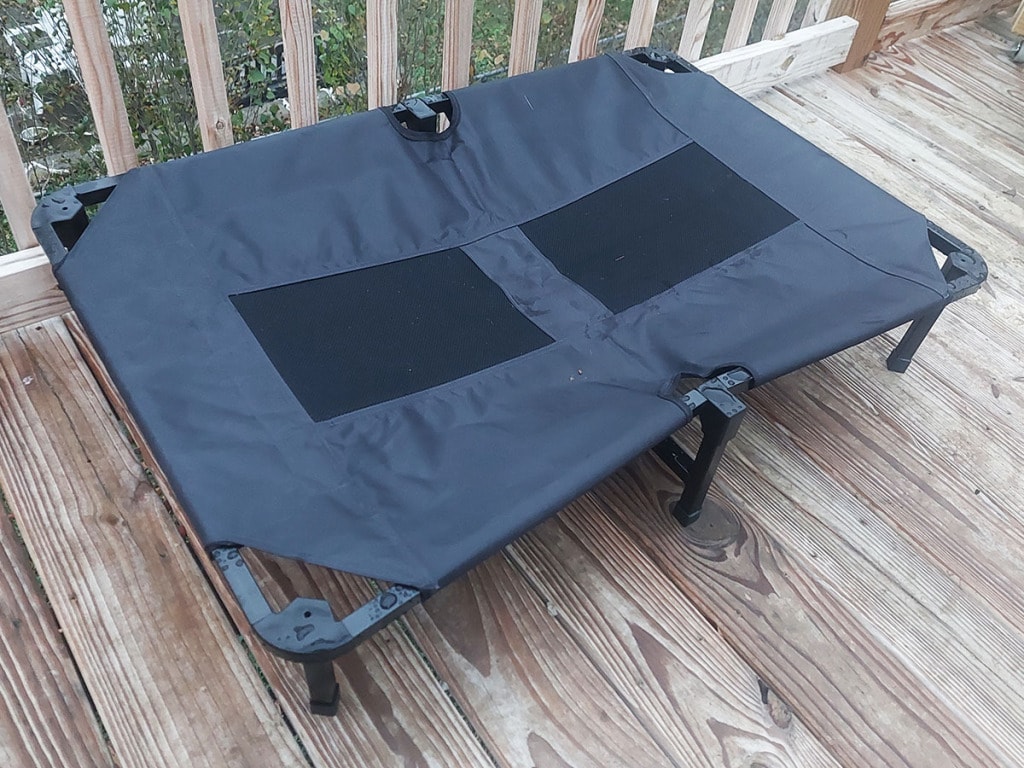 As far as weather-proofing goes, the water wicks off quickly, and the bed feels pretty dry to the touch soon after a downpour.
Comfort and Size
The 42-inch bed is a great size for both of our dogs. While I would say our smaller dog (a Catahoula) fits a bit more comfortably on the bed, our larger dog (a Dutch Shepherd mix) can easily lie down and stretch out a bit on it.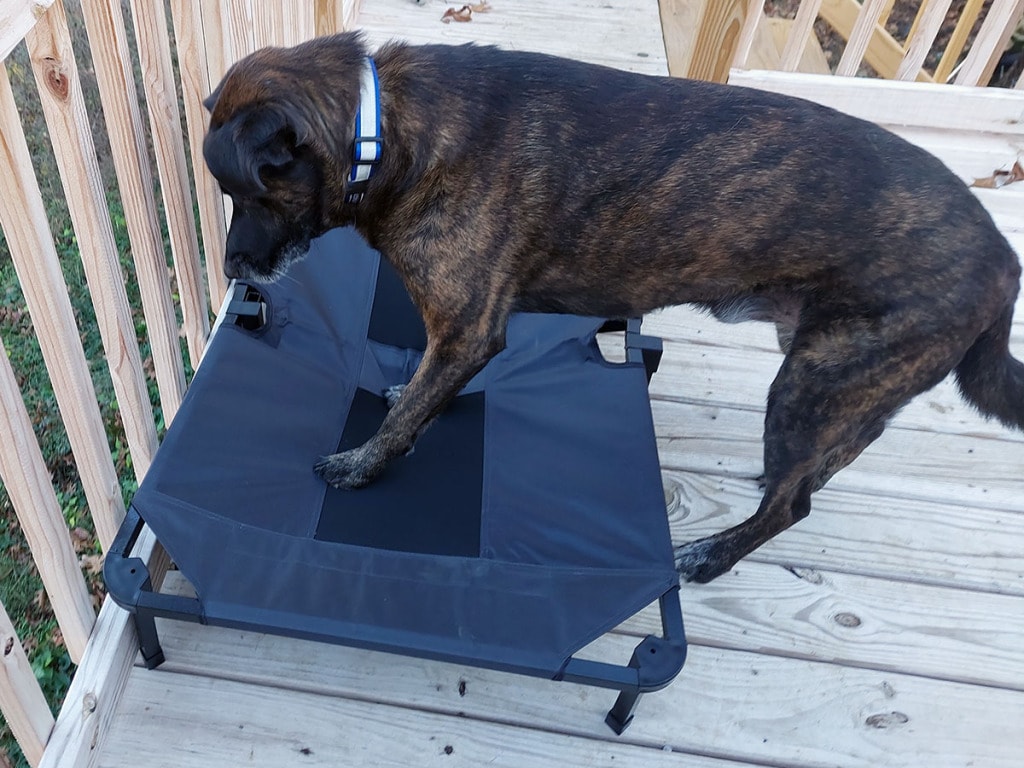 As my dogs stepped onto the bed, the fabric was thick enough to not feel like it was giving beneath their paws. The stiffness of the material provides a nice balance between that 'hammock' effect and not feeling too unsteady to the dogs. Additionally, the bed does not wobble on its feet.
If your dog is in between sizes, I would recommend going a size up.
Will Your Dog Actually Use This Bed?
Our biggest motivation for providing our dogs with an outdoor bed was to reduce the stress on their joints from lying on the bare wood deck. Additionally, our Dutch Shepherd tends to run hot, and we thought the ventilation would be perfect for him. But these advantages can only benefit your dog if they will use the bed.
The verdict: Neither of my dogs readily took to the bed on their own. I had to work with them to get them used to getting up onto the bed, and then sitting or lying down. It wasn't a lot of work, but if you have a puppy or your dog doesn't love following commands, this could be tricky.
One way around this could be to set the bed up inside where your dog's current bed is, and let them warm up to it before relocating it outdoors.
Best Features of the Lucky Dog Elevated Bed
Overall, this bed provides excellent value for its price. Here's why I would recommend it:
The premium materials hold up well to the elements.
Lucky Dog use environmentally friendly practices.
You can remove the cover and run it through the wash if you want.
The mesh provides ventilation without being weak or thin.
It's designed to fit into standard dog crates.
The height is easy for older dogs to climb onto.
Assembly is easy, and the bed is light and easy to move.
The Lucky Dog Cot: A Durable Bed for a Dog Who Loves the Outdoors
If your dog tends to spend more time outdoors than in, the Lucky Dog cot would be an excellent way to keep them comfortable, cool, and clean. I have no doubt that this dog bed will hold up much better than most on the market, through rain and shine. As a product, it lives up to its promises of high-quality materials, while offering a thoughtful design with minimal impact on the environment.