Note: Durability Matters is reader-supported. When you buy through affiliate links on our website, we'll make a small commission, without impacting your price. Thank you. Learn more.
When it comes to keyboards, what makes the Logitech Illuminated Keyboard K810 such a worthy choice?
Is it the wireless connection, a long-lasting battery, minimalistic simplicity, or something else?
The truth is that it is all of that and more.
Many desktop computers are already shipped with a keyboard, and most mid to high-end laptops come with excellent keyboards, so why would you ever need to buy a new one?
It is almost guaranteed that a desktop computer will not be shipped with a premium keyboard. That would increase the price considerably, and, for casual users, a basic keyboard might be enough. For those reasons, stock keyboards are not built to last.
If you are working on a laptop, a standalone keyboard brings many benefits. For starters, an external keyboard lets you position your laptop, so that you can use a stand for better ergonomics, or connect it to a larger monitor and close the laptop completely. Also, if you use software that puts a lot of stress on the hardware (video editing, 3D rendering, photo editing, etc.), your laptop will heat up considerably, and the emitted heat won't feel comfortable on your hands.
Related:
A wireless keyboard also has the flexibility to connect to phones, tablets, and TVs.
Whether you need a physical keyboard or want to replace one, a wireless keyboard is very handy, and I have all the evidence to make a solid case for the Logitech Illuminated Keyboard K810.
Investing In Quality
At Durability Matters, we are focused on investments in quality. That is our foundation and our mission. Now, while investing in quality usually means paying a little extra, it does not mean unnecessary spending.
For instance, if you shop around a little, you can find the Logitech K810 Keyboard for $99 on the Logitech website (update: the K810 is not available anymore, but you can check their current lineup of keyboards). That is the same amount which I paid 6 years ago. Think about that. The keyboard cost me less than $20 a year. And, the longer I use it, the cheaper that yearly cost becomes.
When it comes to electronics, it is hard to measure the life of a product in years. What does that mean?
If you buy a keyboard and keep it in the box for 10 years, has it lasted you 10 years?
No, is the answer.
I have used my Logitech K810 keyboard daily for the last 6 years. It is on 24/7 and used at various times of the day from 9 AM to 9 PM. It does a lot of heavy-duty work – I wrote my master's thesis on this keyboard, I use it for coding, I write articles, I use it for occasional gaming, and, of course, I used it to write up this article too. Even with all that use, I only need to charge it via USB about once a month. And the best part? It shows absolutely no signs of wear. I already hear you say: "Pics, or it didn't happen!"
It's fair to say that my keyboard is under the max stress test that the engineers at Logitech designed it for. And as you can see, the K810 is holding up remarkably well.
Related: How Long Do Laptops Last And How To Make Them Last Longer?
The Best Features of the Logitech K810 Illuminated Keyboard
There are a lot of things that I like about this keyboard, but there are some features which stand out above the others.
Illumination
As the name may suggest, this keyboard has illumination. The lights inside of the keys will lighten and darken depending on the amount of light currently in your room. I often forget to think about my light source when I am writing, so that feature was definitely a big help to me.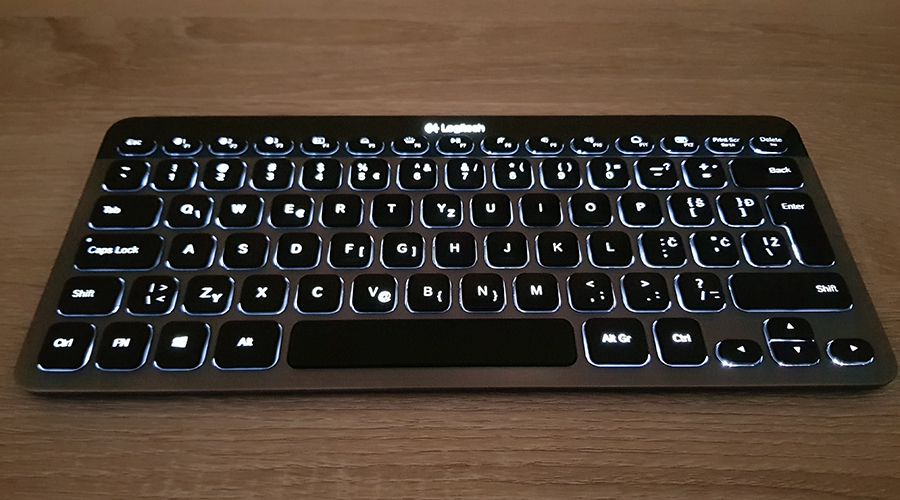 I remember typing through the night when I was finishing my thesis (yes, I was a stereotypical student), and lifting my head to find that it was dark outside (or light outside, depending on when I had started). The auto-adjusting keyboard kept the keys at the perfect illumination-level for me, and probably served to distract me from the time.
Durability
Every product we showcase here has to be durable. This keyboard has lasted for 6 years (at it will most likely last for many more). The keyboard looks almost new. So, what do I put this down to?
For a start, the casing is crafted from brushed aluminum. Not only does this give the keyboard an elegant and stylish finish, but it also makes it tough.
The Logitech K810 keyboard is also small and light. When I was transporting it, it was easy to slip the keyboard into my bag without forcing it. I never worried about the keyboard being crushed or bent.
Functionality
A durable keyboard cannot be only durable, it needs to be functional too, and the Logitech K810 certainly is. One of the best things about this keyboard is the Bluetooth connection.
Not only is the Bluetooth connection fast and reliable, it is also highly compatible.
Now, when you connect a Bluetooth keyboard with a device, it usually takes a sequence of commands to connect it and, when you want to connect to another device, you have to go through the same sequence again.
Not with this Logitech keyboard.
With the Logitech K810, you can connect to multiple devices, and switch between them with the touch of a button. This means that I can now type up and email on my tablet, before responding to a Skype message on my smartphone, and then play a game on my Samsung TV. All with one simple button press.
Wrapping Up
In this modern age, keyboards have never been more important. While we used to learn to write cursive in school, our kids are now learning to type. With such an emphasis on typing; you need to have a great keyboard.
There are many great keyboards out there, but the Logitech Illuminated K810 Keyboard is definitely one of the best.
Update

The Logitech K810 is still being used every single day, but mostly by my wife. I'm now switching between three keyboards – the K810, Das Keyboard 4C TKL, and Dygma Raise.

According to Workrave, an RSI prevention software, I type on average 9,800 characters per day, and my wife types about 8,800 characters per day. This means that together we've approximately made 28 million keystrokes so far! This is an incredible number for a keyboard that uses scissor-switch keyswitches; they are usually rated for 5 million keystrokes. Plus, the battery still works like new.

Logitech has definitely over-engineered the K810, but they stopped selling it in 2019, and they didn't have a worthy successor in their lineup. Luckily, the MX Keys Mini changed that. It was released in 2021 and I had a chance to briefly test it. I hope that we can soon get one for a full hands-on review.