Note: We received this product for free. No other compensation was provided, and as always, all opinions are our own. We may earn money from links on this page, but we only recommend products we back. Learn more.
When it comes to your family's security, getting a motion sensor light is a no-brainer. And when it comes to versatility, a solar-powered light offers homeowners nearly endless possibilities of where they could install a security light.
Over the years, I've tested quite a few solar lights of varying use. I also invested a solar-powered motion light, years before they became as commonplace as they are now. So when LEPOWER reached out and asked if we'd review their 1600 Lumen, solar motion sensor security light, I jumped at the chance.
It's difficult to find affordable, high-quality solar lights that will stand the test of time, and if LEPOWER lives up to their reputation, that is exactly what I expect from this light.
First Impressions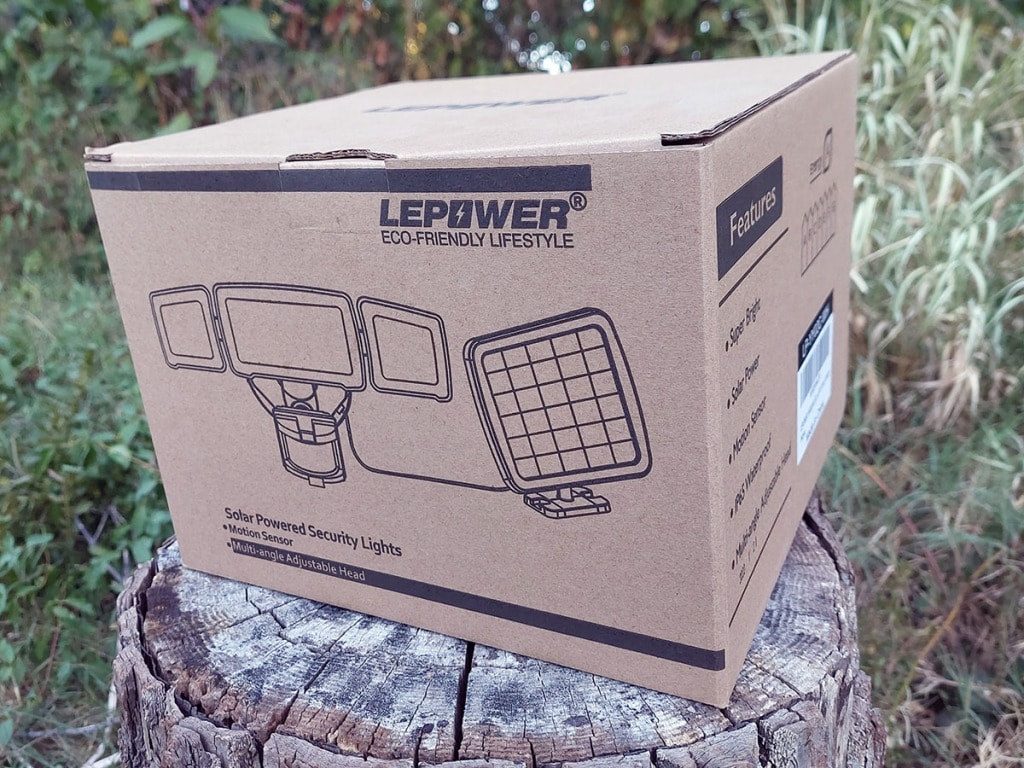 The LEPOWER solar motion sensor light comes in a no-frills box, but the light and the solar panel are well-protected within the packaging. The light and the solar panel are both wrapped in plastic to prevent scratches.
I appreciate that LEPOWER doesn't overly package their products, as this leads to less waste and a smaller carbon footprint. The box easily collapses for recycling, and there is minimal plastic and foam.
What's in the Box?
This solar-powered light comes with everything you need for installation. This includes:
Instructions
The 3-head light with a motion sensor
Screws for installation
The solar charging panel
All necessary cords to connect the panel to the light
Specifications
This light is powerful and bright. It is also well-weatherproofed, and offers excellent versatility with an extra-long cord.
The "Solar Motion Sensor Security Lights Outdoor 3 Adjustable Heads 1600LM" features:
Lumens: 1600LM from all of the lights added together, rather than 3 lights of 1600 lumens each.
Lights: 64 LEDs.
Color Temperature: 5500K – 6000K: This is a very cool-colored light with a bluish hue that is extremely bright.
Battery: 3.7V 2400mAh.
Weather-Proofing: IP65 (dust-tight and waterproofed).
Length of Cord: 15 feet, which means you can place the solar panel in an area that will most effectively collect light, or you can mount it in an area where it'll be less of an eyesore.
Detection Distance: The motion sensor will pick up movement from 0 to 72 feet.
Sensing Angle: 180°
Lighting Time: 0 to 120 seconds.
Lifespan: 50,000 Hours+ (this is the equivalent of about 5 years and 9 months of constant use).
Material: ABS+PC (This is a thermoplastic that is specifically designed for light transmission and heat resistance – this prevents haloing and yellowing of the light lenses).
Installing the LEPOWER 3-Head Solar Motion Sensor Light
You don't have to be Bob Villa to install this light. It's extremely straightforward. I recommend that you charge it up before the initial installation, and set it up with your preferences. This allows you to test the settings beforehand, and reduce your time on the ladder. Additionally, you will want to add your batteries before installation if you choose to do so.
The plate slides off the unit and attaches easily to your installation surface with the screws that come with it.
You can install the light on a wall or inverted under the eaves. The light connects to the solar panel with one simple cord.
The motion sensor should be closest to where any motion will occur. Finally, place or mount your solar panel where it will collect plenty of sunlight. I do not recommend mounting it with screws until you have tested how much light it will receive in the area where you plan to install it permanently.
The instructions suggest that the screws are optional when it comes to installing the solar panel. However, I would definitely recommend securing the panel, since it could easily tip over, be blown over, or fall and break.
Adjustability
I was extremely impressed with how adjustable each light head and the motion sensor are on this unit. Each light moves easily and smoothly, independently of the other two. Tightening the 'neck' or the light and motion sensor heads is also simple and effective. This allows you to choose to illuminate a larger area, or a more precise area, depending on your space.
As I mentioned, the lights are very bright and cool. This can make them very intense, so you may want to angle the light so it won't shine directly into your line of vision.
Operation Settings
This light is very easy to set up. There are two knobs and a switch that allow you to select:
Operation Mode:
On (illuminates for about 50 minutes when fully charged)
Off
Auto (illuminates in response to motion)
Distance for Motion Detection:
10 feet
20 feet
50 feet
70 feet (Max)
Duration of Illumination:
Test (7 seconds)
30 seconds
60 seconds
120 seconds
Performance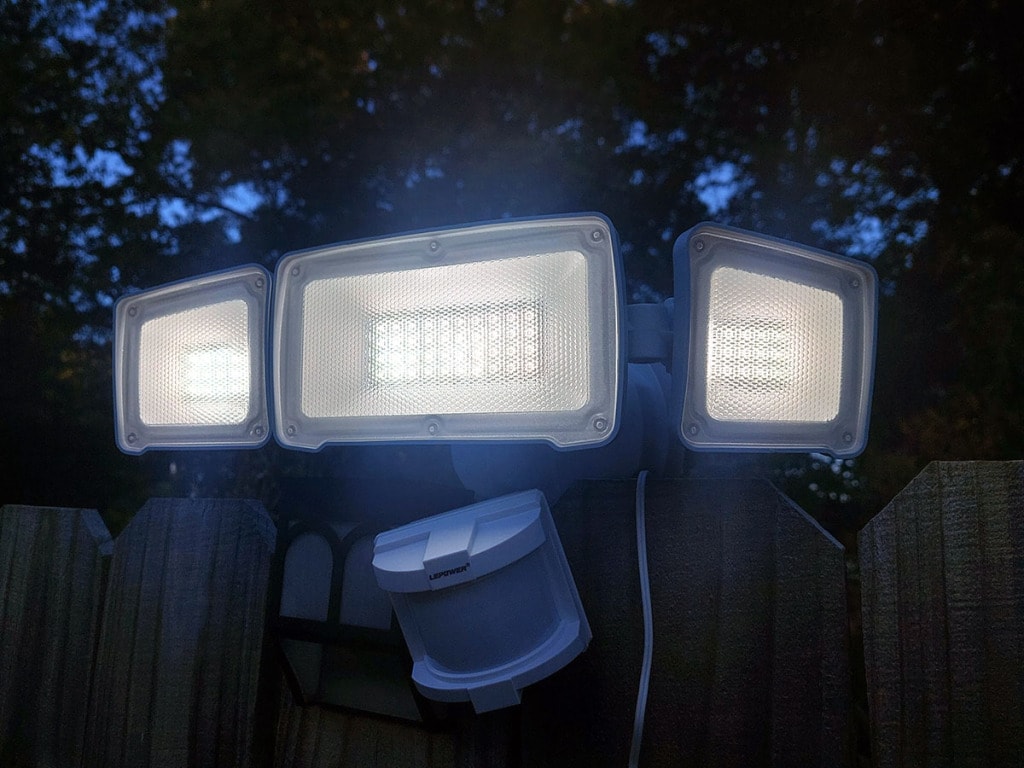 This light is bright and effective. I installed it near my garage for testing, but I am so happy with its performance that I am going to order another to install over my deck.
Related: The 5 Best Solar Security Lights for Your Home
The motion sensor does pick up movement very well. I had it set to 70 feet, and it lit up without issue from motion at that distance. It also doesn't turn on for insignificant motion, such as the swaying of tall grass.
This light thoroughly saturates the selected area. As a security light, it is very powerful. I'm positive it would startle anyone that shouldn't be wandering within range of the motion sensor.
Charging
The unit charged quickly and easily without any issues. I opted not to put batteries in while I was testing it, to determine how well it holds a charge from day to day. It has not failed to perform, and the lights remain bright and responsive through the night.
Even on cloudy days, or as the days decrease in length, the light continues to charge flawlessly. If you live further north (I'm in Tennessee) or in an area where the winters are very gray, you may want to install batteries for backup.
Areas for Improvement
The unit has not had any functionality issues thus far. However, I worry a tad about how thin the cord is between the solar panel and the light. If any damage or fraying occurs, we will update the review to reflect that.
Final Thoughts: 3 Adjustable Heads LEPOWER Solar Motion Sensor Security Lights
If you're looking for a reliable security light that is easy to install beneath your eaves or in an area that doesn't receive a lot of sun, the LEPOWER Solar Motion Sensor Security Light with three adjustable heads is a great option. These lights are extremely bright and reliable. The three heads adjust easily, providing excellent control over the area you flood with light.
Additionally, the motion detector swivels easily and picks up movement effectively. So I strongly believe you get a lot of value for the price of this device. However, I would guess that it won't last beyond about 6 to 10 years (with the replacement of the solar panel).