I enjoy running, but due to bad weather or fluctuating temperatures, I can't always run when I want to. For those and many other reasons, I decided to invest in a treadmill. That was 3 years ago.
Because I'm not a serious runner, I knew that an entry-level treadmill would meet all of my needs. However, that didn't mean that I could just go and buy the cheapest treadmill on the market. I always have durability on my mind because I don't want to waste my time and money on replacing, repairing, servicing, or taking large items to the dump.
I want to buy once and have the product for life.
There are a few good treadmill brands to choose from, but based on my research and after talking to some of my friends who run almost every day, I decided to buy the entry-level treadmill from a German company called Kettler.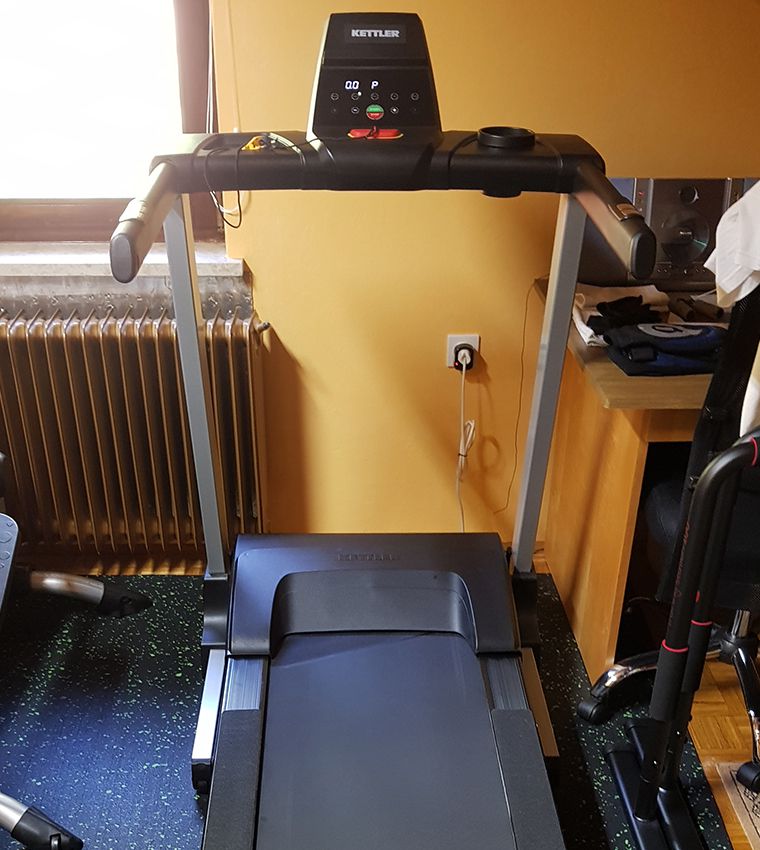 Kettler is a brand that's been around since 1949. They make high-quality exercise machines, fitness equipment, bicycles, outdoor toys for kids, and more. Their products have won multiple awards, so they certainly know what they're doing.
Their entry-level treadmill is the Kettler Run 1. Despite being one of their more straightforward machines, there's nothing entry-level about the price tag. I paid 1.299 USD for my treadmill (most basic motorized treadmills start at $200), but I know that it will save me money in the long run.
So, why is it so expensive when compared to other entry-level models?
Well, let's find out.
Quality
Kettler is known for its obsession with quality.
Every single component on this machine is well crafted, sturdy, and made to last.
And it has to be because treadmills have more weak points than any other fitness machine I can think of. Running on a treadmill puts a lot of stress on:
the motor,
the belt,
the frame,
the deck and its shock absorption system,
and the rollers.
All of these components are expensive, so you definitely want them to last as long as possible.
Safety
Some entry-model treadmills lack an essential safety feature, which is a safety magnet key or a safety insertion key. The Kettler Run 1 has a magnetic safety key. This key features a strong magnet which fixes a metal strip in place; when in place, power can travel to the motor. The key clips onto the user's clothing and, when contact is cut, the power to the machine is cut. If you slip or trip, the machine stops instantly.
I wouldn't want to use a treadmill without such an important safety feature.
The Motor
At the heart of the Kettler Run 1 treadmill sits a 2 CHP (1.6 HP) motor. It's a relatively quiet motor that allows speeds up to 10 MPH (16 KPH). More basic models max out at 6 MPH (10 KPH).
A powerful and durable motor is especially crucial for low speeds (the lowest speed for this treadmill is 0.5 MPH or 0.8 KPH) and for larger users.
Related: 5 Best Heavy-Duty & High-Capacity Treadmills
The maximum weight for this machine is 264 lbs / 120 kg while cheaper models can usually handle only 220 lbs / 90 kg. Even if you're not on the higher end of the machine's limit, a higher weight limit means a better and a more durable build quality.
The Running Area
The running deck on Kettler Run 1 measures 52" x 18" (132 cm x 45 cm). This makes it suitable for walking, jogging, and running. Cheaper models mostly feature running decks that are at most 43" (109 cm) long and 15" (39 cm) wide. For walking and jogging that's a large enough area, but it's on the small side for running.
The Functionally
At first glance, the LCD backlit console offers minimal options. You have physical keys for setting the incline, speed, time, and distance – and that's about it.
I have seen more keys and functions on basic models, but as it turns out, the Kettler Run 1 features are "unlocked" with two mobile apps for your smartphone.
The first one is S-FIT Technology, and the most exciting feature is virtual races. That's right, you can actually race other Kettler runners. There are some alternatives included like the "Challenge" (you run on various realistic routes and challenge yourself to beat your previous runs), "Fun" (you choose a meal or a drink and work off the calories), and "Expert" (detailed data logs for athletic training).
The second app is Kettler World Tours that tracks and plans your indoor and outdoor training. This is an extensive piece of software that will benefit the most top athletes.
The remaining features on this treadmill are electronic incline and decline adjustments (while the machine is in use) which range from 0 to 10%. You also have pulse grip sensors for heart rate measurement and wireless connectivity with chest straps.
Warranty
Kettler Run 1 comes with a 3-year warranty on parts and labor, while other basic models usually come with a 1-year warranty. The more extended the warranty, the more confidence the manufacturer has that the product will last.
My Experience After 3 Years
I use my treadmill predominantly in the winter months because running outside in the freezing cold, mud, and snow isn't any fun for me (not anymore, at least).
In the three years that I have own this treadmill, I've clocked up 262 miles (421 km). I mostly do 20-minute runs at various speeds and incline rates. The running shoes I use are the same that I use outside (I clean them, obviously, before the indoor use) despite them being made for trail and off-road running.
So far, I haven't had any issues with the treadmill. The belt, the motor, the deck, and everything else still works like it did on day 1. Once a year, I take off the plastic cover that shields the motor and electronics, and I vacuum out all the dust. I also lubricate the belt and the deck every 3 months (using Kettler oil). I fully expect this treadmill to last at least 5,000 miles (8,000 km) before I need to replace anything.
The Kettler Run 1 is now discontinued and is replaced by Kettler Track S2. It's priced about the same as mine was, but it looks a lot more modern and advanced. If you're buying an entry-level treadmill, I can highly recommend one made by Kettler.