Note: Durability Matters is reader-supported. When you buy through affiliate links on our website, we'll make a small commission, without impacting your price. Thank you. Learn more.
Anyone who works a desk job, spending 40 hours or more each week in an office chair, knows how important it is for that chair to be comfortable, and at the very least, not cause pain. An office chair might seem like a solid and hardy piece of equipment, but with all the hours we spend in them, a significant amount of wear and tear occurs over time.
A good quality office chair will not only help you to have a comfortable and productive day at work, but the best chairs are ergonomically designed, and will even help to relieve back pain. A high-quality chair won't wear out fast, but nothing lasts forever, and eventually, your trusty office chair will need to be replaced.
Replacing an office chair, you've been comfortable in for years is a daunting task, and you may wonder if you'll ever find one that fits you so well. In this article, we will tell you how to recognize that it's time to replace your chair, and we'll tell you about the three top brands that you should consider, due to their quality, service, and strong warranties.
How Long Does an Office Chair Last?
While shopping for a new office chair, you may begin to wonder just how long one of these expensive but necessary pieces of furniture should last you. There are many factors that contribute to the answer to this question, but a good way to know how long a particular office chair might last is to look at its warranty.
A chair with a warranty of five years should last you at least 7 to 8 years, while a chair with a longer warranty, from 10 years and up, should last you 12 to 15 years, and hopefully longer.
A warranty implies quality – after all, no company will have a warranty on an item if there's no way that item will last that long.
Bear in mind that these warranties are based on the chair being used for a certain number of hours each month, and being kept in a clean and neat state. If your office chair will be used for a double shift, or if it will be constantly sitting in a dirty and dusty environment, the lifespan of the chair may be lower than you might expect.
Certain types of textiles are significantly longer lasting than others, and good-quality office chairs will generally be made out of such materials. Look for chairs made from durable materials that are resistant to dirt, tearing, and general wear.
When shopping for your new office chair, you may come across options that can be upgraded to suit your situation. If you know you'll be putting your chair under a lot of strain by working excessively long hours, keeping it in a dusty environment, or using it for shift work, look for upgrades like heavy-duty components and a ballistic textile backing.
How to Know When It's Time to Replace Your Chair
Having an office chair that is comfortable, and good for your back and posture, will increase your productivity and ensure that you can get in a full day's work without constantly wanting to get up and stretch or move. If you find yourself starting to feel uncomfortable in your chair, it may be time to replace it.
This is a big decision, as it will change how you feel in your seat until you get used to the new one, and it will cost you some hard-earned cash. Before you decide to go out and start shopping for chairs, you will want to be absolutely sure that it's time to replace yours. Here are some things to look for:
How does it look? If the appearance of your chair matters to you or your organization, have a look at its appearance and decide if it looks too worn and old to match the image you want to project. Re-upholstery may be an option, or it could be time to upgrade.
Is it still comfortable? Do you find yourself getting up more often to ease your back or hips? Are you losing productivity as a result? If your chair is no longer comfortable and is affecting your productivity or health, it is definitely time to replace it.
Is it falling apart? Do you find the odd screw on the ground, or are the wheels not gliding across the floor the way they used to? If pieces are coming loose or just not working as well as they should, it doesn't necessarily mean that the chair must be replaced. Certain components are cheap, easily accessible, and easy to install – see if you can perform a bit of routine maintenance to improve the chair.
How is the foam holding up? The foam of your chair is the softest component and may be the first thing to go. If you have a high-quality chair, see if the manufacturer will replace the foam for you, or start looking for a new chair.
How do you feel sitting in it? If you can't identify why your chair no longer feels good, perhaps you don't need to explain yourself, and it's time to treat yourself to a new chair, simply because it will make you feel better.
What Brands Should You Look at, and How Good Are Their Warranties?
Not only does the warranty of a chair give you an idea of the quality you will be getting, but it also tells you how confident the company is in its product. The companies offering the best quality chairs will have the best warranties, so be very wary of chairs with warranties that have too many limitations and component exclusions.
Herman Miller
Herman Miller is one of the world's oldest and largest office chair manufacturers. In business since 1905, Herman Miller is a publicly listed company and has been a leader in the field of office seating solutions for decades.
This company offers a very long and strong warranty, with no limitation on the hours their chairs should be able to withstand, and no exclusions on components, such as casters and cylinders. They also offer in-the-field repairs by their team of technicians or free shipping and repairs at their factories.
Enjoy absolute peace of mind with a 12-year warranty on seating and components, and five to 12 years on fabrics. These chairs are warrantied for round-the-clock usage and up to 350 lbs. of user weight. Herman Miller also offers a broad range of fabric choices that are covered by the 12-year warranty.
Steelcase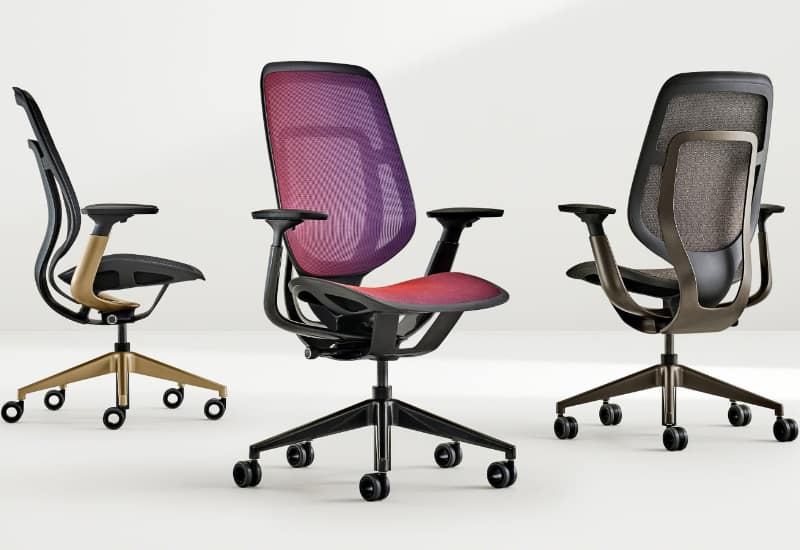 Steelcase is officially the largest office furniture manufacturer in the world, with annual revenue of $3 billion on the New York Stock Exchange. Unlike most manufacturers, Steelcase is willing to refund purchases that are sent in for repairs, if they conclude that repairing or replacing the chair are not viable options from a commercial perspective.
Steelcase offers an excellent warranty for 24/7 usage by up to 400 lbs. of weight, with no exclusions on components. They offer a lifetime warranty for seating, 12 years for components, and five to 12 years on their wide range of fabrics.
The only downside to Steelcase is that all their repairs are done in their factories, not in the field, which means you will have to send your chair in for any necessary repairs. However, they do pay all shipping and repair costs for chairs still under warranty.
Humanscale
Humanscale are well known for its exceptional customer service, sending teams of technicians to affect repairs in the field, and covering all shipping and repair costs for chairs that have to go to the factory.
Founded in 1983, Humanscale has long been a world leader in the production of ergonomic office chairs, and their extremely long warranty shows their pride and confidence in their product. For seating and components, they offer a 15-year warranty with a 24-hour rating, and up to 300lbs of weight. There are no exclusions on components.
Unfortunately, they have a far shorter and weaker warranty on their arm and seating foam, as well as their fabrics, all of which are warrantied for only five years and a single, eight-hour daily shift. Perhaps the advantage of their incredible customer service and extra-long warranty on seating and components is enough to make Humanscale worth considering.
To Summarize
Choosing to replace your trusty old office chair may be a difficult decision, but it may also be a necessary and welcome one. Look your current chair over carefully, and decide if it really needs to be replaced, or if a little bit of TLC might do the trick, giving it a new lease on life.
When choosing to purchase a new chair, consider your options carefully, and be sure to buy something of a high quality that will last a long time, and that has a good, strong warranty to secure your peace of mind. Also, be sure to buy something that works for you – the most expensive chair in the world will do you no good if you don't feel good in it.
Look for brands that are well-known as industry leaders, as they will most certainly provide you with the highest quality chairs, and the longest, strongest warranties. Beware any office chair with a short warranty, or one that has too many exclusions and limitations – these are a clear indicator that those parts of the chair are unlikely to last as long as they should.