Note: Durability Matters is reader-supported. When you buy through affiliate links on our website, we'll make a small commission, without impacting your price. Thank you. Learn more.
I love to buy clothes. My wardrobe is full of purchases; some of which I wear and others which have been lost at the back and not put on for years. Why do I still have them? Well, there is a chance that I will wear it at some point, right? The other reason is that the clothes last.
That's right; when I buy clothes, I buy them with the intention of keeping them for a long time.
Sure, it costs a little bit more to purchase high-quality clothing, but I cannot tell you how much money I have saved over the years by not having to replace clothes all the time. Durability matters when it comes to a lot of things but none more so that clothes. We wear them all of the time, we like how they look, and we want them to last. So, how do we make that happen?
In This Article
How To Find Quality Clothing Brands At Affordable Prices?
There is no point in going out and just buying whatever you see. Of course, if you see a great bargain, then feel free to buy it.
Take Your Time And Wait For The Discounts
Getting the right clothes is a process, and you should be prepared for it to take time. Remember, the clothes are going to last you for a long time, so there is no real rush to get them. It is easy to go into a high-end store and buy their clothes in bulk but who has the money to actually do that. If you want quality on a budget, then go slow.
This is not to say that you should not spend some money on clothing which you love. If you find a piece and fall in love with it, and you can afford it, then why not treat yourself to it.
And, if you are patient, then many stores have regular sales, seasonal promotions, and discounts, so you can find lots of high-quality items at a low cost too.
How To Recognize Quality?
You come across a piece, and it looks amazing, but is it actually durable? Some brands you will recognize for their quality, but some you will discover and know nothing about. Grab your phone and see what you can find out.
Another other option is to look at the piece of clothing.
Is the material high-quality and built to last?
Are the seams stitched securely?
Is the thread tight?
How are the hems?
Are buttons secured?
Is there some amazing detail?
You can often recognize a high-quality piece of clothing by the look alone. If you think that it is durable, then trust yourself and buy it.
If you want to become an expert at recognizing high-quality clothing, then I highly recommend that you watch this in-depth video by Zoe (who is a fashion designer and university fashion teacher). It's the best video that I've found about spotting quality clothing.
You might also want to check out this video from Bright Side, where they show you how to recognize low-quality clothing.
Check The Competition
If you are having trouble spotting long-lasting and high-quality products, then visit a store where you know that the products are just that. Go to a high-end boutique and look at their clothing. Try it on and see how it feels. You will notice a stark difference between quality clothing and regular.
Use that knowledge to check the look and feel of any garments which you find in any other stores. Once you know what quality feels like, you will be able to find it wherever you go.
What Do I Mean By "Affordable"?
When people hear the word affordable, they usually think 'cheap' and get excited at the notion of a bargain. But, I want to make the assertion that cheap and affordable and two completely different things.
Cheap is poorly made, sub-par materials, shoddy workmanship, and a lack of focus from the brand.
Affordable is more of a subjective notion. In fact, affordable can be more expensive, but only because the product lasts longer over time.
When we look at affordable clothing brands, we look at those that are going to save you money, and that could mean spending a little more at the outset for a piece of clothing that is going to outlast everything else in your wardrobe. When you buy once or buy for life, suddenly the clothing is affordable without being cheap.
9 High-Quality and Affordable Clothing Brands For Women
There are some amazing brands out there for women, and a wise choice can leave you with fantastic clothes that will last you a lifetime. The following brands not only have a reputation for quality, but they are as stylish as they come.
Everlane benefits from being an ethical clothing brand, along with a high-quality and affordable one. Now, the prices are not the cheapest out there, but you know that you are getting clothing which is going to last and which is ethically made.
Related: 10 Best Slow Fashion Brands
They sell men's and women's clothing, and their clothes are stylish and practical. They have everything from classic t-shirts to evening dresses. Whether you want something casual or you want to dress up for an event, Everlane has something for you.
High-quality clothing does not need to come at the expense of everything else. Amour Vert is another brand that cares for the environment as they create exciting and thoughtful pieces. Every time that you purchase an item of clothing from Amour Vert, they will plant a tree in North America. That sentiment has planted over 220,000 trees to date.
And, those trees are going to continue to be planted for the clothes are some of the best out there. The clothes have the look and feel of high-end pieces while discarding the high price tag that usually follows. Everyone can buy from this collection.
Along with planting trees, they produce their clothing in limited runs, sticking to high-production standards, and focusing on waste elimination. This cuts their carbon footprint without sacrificing quality.
If you want clothing that lasts, pay a visit to L.L. Bean. They began back in 1912, with a focus on quality back then, they have carried that through to the present day. All of their pieces are classics, last for ages, are functional, and are ready for adventure.
If you spend a lot of time in the great outdoors, then this is the clothing brand for you. The clothing is rugged and durable, and L.L. Bean has a focus on swimsuits, hoes, and other outdoor and fitness gear. With a beautiful aesthetic, you can look good and work hard.
Want to put an end to generational poverty? Well, buying from Able may not solve that problem, but it is a good start. The brand has a focus on bringing economic opportunity to everyone, specifically women, and wants a world where people are actually able to provide for themselves.
Able create their amazing range by paying a fair wage to women from all around the world. The ethical brand employs and empowers women, as a solution for ending poverty, all while focusing on quality and style.
With investments in training, education, and empowerment, they aim to break the cycle of poverty while creating clothing that you will be excited to wear.
Cuyana is all about being better. They believe that, when you look at your wardrobe, less should be more. Their clothing is durable and stylish, allowing you to have fewer pieces that last longer.
The beautiful pieces in this collection are made with care, with ethically-sourced materials, safe working conditions for employees, and smart integrated features in the garments, this is a company that makes amazing clothes while caring for the people and environment.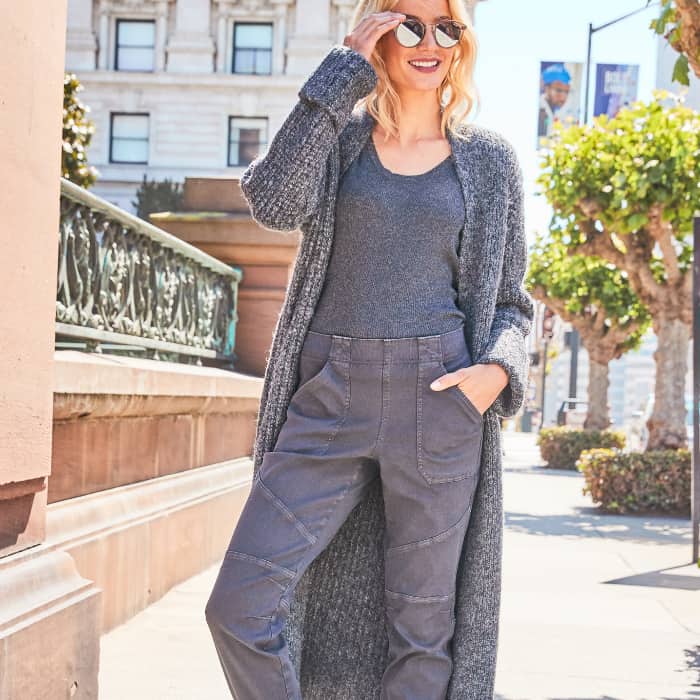 Though Spanx is not often seen, being worn under the clothing, it is still worth investing in. Spanx is all about body shaping to create confidence and enhance the look of your other clothes.
They are an affordable company, mainly based on their durability. Clothing worn against the skin takes a lot of wear, and these items are close to indestructible. Even the tights last longer than most other brands.
For the best in shaping, Spanx will do the job.
Outdoor Voices is a company which specializes in activewear. They want to get people outside and doing something active. They are also a company which specializes in recycled materials and ethical production. They have the drive to find sustainable fabrics which can hold up to the most vigorous exercise.
With active clothing for men and women and fabrics like recycled polyester and sustainably-produced Merino wool, there really is something for everyone. The products are durable, affordable, stylish, and will help you to exercise. You really do not have an excuse anymore.
Quality clothing is out there, and you no longer have to pay an arm and a leg for it. Take the time to know what you want, shop around, and find the perfect new wardrobe.
"Desigual isn't a brand. It's a group of people who believe in the power of creativity as a way of life." One of the most popular Spanish brands today, Desigual is famous for its playful patterns and bright colors. They have stores in 107 countries, and to think, it all started in 1984 when Thomas Meyer designed a jacket that is now considered one of the fashion world's first upcycled products.
The origins of Desigual are drizzled with creative energy as filmmakers, illustrators, sculptors, and architects allowed their imaginations to create a brand that is unlike any other: "no es lo mismo," which means "it's not the same."
Over the years the Desigual brand has made bold moves to maintain its bright, colorful and playful reputation. In 2011, customers were invited to 'walk in naked, walk out dressed'—a campaign that saw stores giving a free item of clothing to anyone brave enough to enter in only their underwear.
Despite the naysayers who were skeptical of Desigual's bold designs and colorful patchworks, the brand has been able to attract tremendous public interest through its unique style. The brand's director, Manel Jadraque declared that their aim was "to put at least one Desigual item in each wardrobe of the world."
Kotn is a clothing brand which creates clothes for both men and women, using incredibly soft Egyptian cotton to do so. They are committed to creating comfortable, affordable, and fashionable clothes in a safe and fair environment.
They work directly with the cotton farmers to ensure that they are paying a fair price, and are actively promoting a switch to organic practices. When you buy from them, you know that you are helping the world out a little bit.
The amazing thing about this company is that their clothes feel amazing. Not only is Egyptian cotton extremely soft but it is breathable too. Each piece is created with quality in mind, and you will have a feel and fit like no other. They have some basic items, like classic tees and sweatshirts, which are stylish and affordable.
9 High-Quality and Affordable Clothing Brands For Men
The world of men's fashion has grown a lot in recent years, and the typical man is becoming savvier towards style, longevity, and sustainability. By seeking out the best of the best, you can become a style icon and stay one. Here are some of the best brands for doing just that.
If you are looking to upgrade your style, then Everlane is the place to go. The best part is that it won't break to the bank.
Everlane is a brand that is easy on the wallet while offering elegant clothing for the discerning gentleman. They are the perfect brand for creating your casual work outfit, with multiple options to combine styles and layers, and each piece is easy to wear.
With a real focus on ethics, the worldwide factories strive for streamlined production and low costs without withholding a living wage from employees, and the savings are passed on to you.
Bonobos came about through necessity. The founders could not find clothes that fit well, trying pants that were either too tight or boxy, until they decided that enough was enough and they would just create their own clothes. They started with pants and soon moved into shirts and suits too.
The fix for the pants was a curved waistband for more comfort and a natural fit. They also focused heavily on the online experience (for the guys who are not as interested in physical shopping), and are now the biggest online clothing brand in the US.
If you have found comfort lacking in your clothing, check out Bonobos.
Clothing is not always made responsibly, and this is where American Giant saw a gap in the market. They used new technology to create smaller supply chains that cut out a lot of the middlemen, selling directly to the customers online. Not only have they created responsible clothing, but the garments are affordable too.
The ingenuity and invention created the notion that they could do better, and that is exactly what they did. They started with hoodies and moved onto jeans, t-shirts, and more.
American Giant focuses on human values, creates durable not disposable clothing, the straightforward style is built to last, and fewer items of clothing end up in the landfill.
If you want affordability, then you have come to the right place. They are competitive with price when compared to most budget high-street brands, but the similarities end there. Where you will often find that high-street affordability is disposable, the clothing from Uniqlo is built to last.
With a range of clothing that stretches from shirts to shoes, there is something for every dapper gentleman out there. The styles are timeless, keeping you fashionable for the foreseeable future.
Founded in 2013, Buck Mason is a relatively new brand making waves in California and beyond. A garage, a website, and an idea started it all, and that led to a collection of jeans and tees and an obsession with quality.
The team worked closely with a local family factory to create small batches of high-quality clothes, using old school manufacturing techniques and modern technology. The result is a clothing line that is stylish, fun, and long-lasting.
The simple pieces are built to last well beyond a single season, using American classic clothing as inspiration, creating consistency in fit, fashion, and fabric.
Ably was founded by Raj and Akhil Shah with the firm belief that clothing can fit well and still be functional. They are all about the active lifestyle and wanted to create a brand that would cater to those who have the time to be active but not necessarily the time to focus on style. By purchasing from Ably, you can have it all.
The clothing is eco-friendly, quick-dry, and stain-resistant. You'll want to keep it stain, moisture, and odor-free, too, for it looks pretty darn good. The clothing is designed to be easily cleaned and worn a lot, perfect for the gym, and even drinks after.
When it comes to affordable quality, Quince is a name to take note of. With their humanitarian and environmental conscience and their drive to produce luxury items at affordable prices, Quince can be trusted with our needs and desires, as well as with our planet.
The company has pledged to make all its product packaging 100% compostable and completely eliminate its usage of virgin plastics as soon as possible. They also ensure that they only work with factories that are absolutely in line with global standards for workplace and wage fairness.
Quince offers a broad product range that is shipped directly from the factory to your door and includes clothing, linens, curtains and rugs, jewelry and other accessories, leather wear, and baby clothing and linens, among other things. They believe that quality shouldn't be a luxury, and their concern for their customers proves that they are willing to do what they can to support this belief.
From an idea that blossomed in Boulder, Colorado, Pact is a basic clothing company with a focus on price, comfort, and fair trade.
The real win from this company is in the comfort. 100% organic cotton is used in many of the garments, and that brings unbelievable comfort to you. If you happen to be looking for undergarments, then we cannot recommend Pact enough.
That goes for all of their clothing, and they have proven that comfort and style can go hand in hand. Add in some Fair Trade-certified factories, and the comfort that you will feel is in more than just the feel of the clothing.
We know you care about durability, but do you care about the environment, sustainability, and fair labor practices, too? Then Outerknown is the brand for you. Founded in 2015 by Kelly Slater and John Moore, Outerknown is a brand that proves that fashion and sustainability can exist under one roof.
The brand boasts a 90% usage rate of organic, recycled, or regenerated fibers in their clothing, and full accreditation with the Fair Labor Association. They are so committed to their cause that any pair of jeans you buy from them that wears out, they will repair, or replace and recycle, to prevent them from ending up in a landfill. So if you're looking for durability with a side of social and environmental responsibility, look no further.