Note: Durability Matters is reader-supported. When you buy through affiliate links on our website, we'll make a small commission, without impacting your price. Thank you. Learn more.
When it comes to hanging pictures on the wall, it can be tempting to bang in a nail or put in a screw, but is it going to last? What you need is a heavy-duty picture hanger. These sturdy picture hooks will hang your paintings on the wall without them ever coming down. The great thing is that they are easy to use and install.
Hanging a picture should never be a hassle, and never will again. Nails may work fine, but there is a chance that a picture can slip off from it. With a picture hanger, you do not have this problem.
I use picture hangers a lot. That may have something to do with owning too many pictures. I have used my fair share, and over the years I have gained insight into what works and what doesn't.
In This Article
6 Best Heavy-Duty Picture Hangers
The heaviest pictures deserve the best hangers, and that means heavy-duty hangers. The same goes for your valuable artworks. Even if they are light, you want to protect them, and that means a small investment in the best. Here are the hangers which are never going to let you down (literally).
1. PairMount Heavy-Duty Dual-Hooks
The dual hooks act like two side-by-side hangers that prevent your framed mirror or picture from shifting, swiveling, or slanting. That means no more skew pictures hanging on your wall.
Each dual hook can support up to 45 pounds on drywall, plaster, or wood wall. The picture hooks are made of durable plastic that will not scratch and dent the surface or corrode and stain your walls. The plastic plate is 1 ½" wide and requires two nails.
These PairMount Picture Hangers are easy to mount. Simply hold the hanger against the wall and place the nail inside the inclined hole which cleverly holds the nail in position. Then using a hammer, tap the nail into the wall.
You can use this wall hanger to hang anything from mirrors and paintings to shelves, tools, bikes, or anything that weighs less than 45 lb. The hanger is suitable for indoor and outdoor use.
2. Picture Hang Solutions Heavy-Duty Picture Hanger
These picture hangers are the same ones that are used in museums and art galleries around the world. If you have an important artwork to hang, these are ideal. Each Picture Hang Solutions hook comes with three nails and can hold up to 100 pounds; much more than a regular painting or artwork.
With three nails, there could be some worry about damaging the wall behind the picture. The three nails are pointed and sharp to minimize the damage to the wall. When you pull the picture hanger from the wall, you will only see three small holes that are easily patched. The nails are also crafted from hardened steel, so there is no chance of then bending or breaking.
You get 10 hangers in this pack, though if you have a lot of pictures to hang, you can opt for the 100-pack, and save yourself some money.
If you have professional artwork to hang or something heavy like a mirror, then this hanger will get the job done.
3. BigTeddy French Cleat Picture Hangers
The BigTeddy French Cleat Picture Hangers are great for all types of artworks, especially the oddly shaped ones or those which are hard to hang. In this set, you get four hangers, and that means eight pieces. One piece screws to the back of your artwork and the other attaches to the wall. You then slide one piece into the other. For heavier artworks, you can use two to mount on the wall.
The hangers are crafted from aluminum alloy for toughness and come with all of the hardware you need to mount your paintings or pictures. They are easy to use and install, and all you need is a drill and screwdriver.
The great thing about these hangers is that you can slide your pictures from the wall in a matter of seconds. Great if you want to clean behind your picture. As they are permanent fixtures, the paintings do not sway when on the wall, like they might do when suspended by a wire.
Greet hangers for all of your artworks.
4. Picture Hang Solutions Super Heavy-Duty Sawtooth Hanger
Sawtooth hangers are one of the best types of hangers for heavier artworks. They need to be attached to the back of your artwork, so make sure that you have some wood for them to go into that is at least one-inch wide. The other thing to think about is what you hang the sawtooth hanger on. This is a sturdy and heavy-duty hanger; it needs to hang on something sturdy and heavy-duty too.
The best thing about the Picture Hang Solutions Sawtooth Hanger is that it is unbreakable and unbendable. The steel is thick and durable, and your other hardware is going to break down before this does. The steel is 14-gauge and 1/16" thick — a solid hanger.
When you purchase this product, you get a pack of ten. Each sawtooth hanger can hold up to 250 pounds, making it a hanger that can support almost any artwork. If you are ever worried about it not being able to support the weight, then you can also double them up for more capacity.
A solid and durable picture hanger.
5. Command Picture Hanging Strips
Picture hanging strips are great if you need to hang your artworks without damaging the walls or using nails. These attach to the back of your artwork and then to the wall, sticking your picture without having to pierce the wall and repair it at a later date.
With many picture hanging strips, you are left with a residue on your wall when you peel it away. The Command Picture Hanging Strips are designed to leave no residue or mess should you decide to move or remove your pictures. The other benefit is that you never have to search for a stud to attach your hardware to.
12 strips mean 24 pieces. Each strip comes with two parts, one which attaches to the picture and one which attaches to the wall. These two strips then bond together. Each strip can hold up to 4 pounds in weight, so they are definitely for smaller pictures and artworks, though you can combine strips, putting one at each corner, for instance, to up the capacity to 16 pounds.
A great system for no-hassle hanging.
6. Heavy-Duty D-Ring Picture Hangers
These large D-ring hangers are perfect for any wooden picture frames. The D-rings screw into the back of your picture and then hang on any nail or screw. Each D-ring can hold up to 40 pounds, enough for all of your artworks, and you can double and triple-up the D-rings if you want to hang a heavier painting.
The thing we most like about the Picture Hang Solutions D-Ring Hangers is how simple they are to use. The D-rings come with the screws to attach them to the back of your artworks, and all you have to do is make sure that you are attaching them in the correct spot. The pack comes with the screws, so there is no need to source any.
The D-ring features a doubled-over strap, so there are no weak points in the hanger. When they say it will hold 40 pounds, they mean it, and even though it is rated for 40 pounds, it will hold a lot more, though you are taking the risk if you use them to hold more than the recommended weight.
Easy to use and long-lasting. These simple hangers will get all of your art onto the walls.
3 Best Heavy-Duty Picture-Hanging Kits
Sometimes you do not know what you need, both now and in the future. You may have multiple artworks, and one method may not work for all of your pictures and frames. What you need is a kit. A picture-hanging kit gives you options. It is your one-stop-shop for all of your hanging needs. From hooks and screws to wires and brackets, kits give you it all.
1. Hongway Heavy-Duty Picture Hanging Kit
Hanging picture frames is touch and go. While some wall hooks may suit, others may not. This Hongway heavy-duty picture hanging kit comes packed with enough selection to get it right. Hooks include 20-, 30-, 45-, and 75 lbs. load hook options with matching screws. With a gold finish and machined shape, they look good alone, even when no frames are hanging from them.
D-rings, sawtooth hangers, ring hooks, and a 10 ft coil of steel wire are also included for setting up frames. Plus, a handy gradient level to help you make sure they hang flush and even when it's time to hang them. All hooks are made from high-quality carbon structural steel for extra durability and strength.
Overall, the set is very affordable, even coming in a handy clear plastic organizer to make hanging a breeze. All you need is a manual or electric screwdriver and a reliable stepladder to get started displaying your art or photos!
2. Sutemribor Heavy-Duty Picture Hanging Kit
We really like that this set comes in its own storage container, but what we love most is the picture on the inside of the container. At a glance, you can see what you have in your container and how many of each hanger there are. It also means that you can easily put pieces back in the container if they have been used, and you need to store them again. It is the ultimate in organization and storage.
When you do come to use the Sutemribor Picture Hanging Kit, you will have 185 hangers at your disposal, and 315 pieces of hardware, giving you 500 pieces in total. If you want to, you could hang up to 185 pictures, with the hangers able to hold up to 40 lbs. You have it all with this set, including sawtooth hangers, D-rings, triangle rings, and more. You also never have to look for the hardware to attach the hangers to the artwork.
The hangers are heavy-duty and will last for a long time, and, with so many included, you will almost never be at a loss for a hanging solution.
3. Stepcool Heavy-Duty Picture Hanging Kit
If you want to go big, this hanging kit gives you all that you need to hang multiple items on your wall, and you can even hang artworks up to 120 lbs.
There are 50 lbs, 80 lbs, 100 lbs, and 120 lbs hangers for a wide variety of hanging objects, and you can combine two or more of the hangers to hang even bulkier items. The thicker material used means that the hangers are hard to bend, even with your bare hands. That means that they will retain their shape over time, and secure their loads.
Add to the hangers some steel wires and a mini gradient tool, and you have everything that you need to hang anything. There are also hooks matched with nails, and everything in the case is labeled so that you can find what you want with ease.
If you are not happy with the Stepcool Picture Hanging set, you can get your money back within 30 days, no questions asked. A versatile hanging kit that you are sure to love.
What To Know Before Buying Picture Hangers
Let's take a look at what you should know before buying one.
Weight Rating
This may sound like a no-brainer, but you should always check the load capacity of your hanger before you buy it. This means checking the weight of your picture, which can be hard to do, but a quick guess should give you enough information to go on.
Most picture hangers and picture hooks are rated in pounds. This gives you the number of pounds which they can hold and, while they usually can hold more than they state, we do not recommend straying close to this threshold.
Most regular pictures will not weigh more than twenty pounds but some bigger ones, especially the ones with the more elaborate frames, can weight twice or three times as much.
Check the weight of your picture and choose a heavy-duty picture hook based on that. If you cannot find a picture hanger that can take the weight, then you may have to use multiple hangers.
How Do They Connect To The Wall?
The way in which the picture hanger connects to the wall is important to get the best out of them. You should always follow the installation instructions that come with your picture hooks so that you get the correct capacity.
Many picture hangers come with angled hooks to balance the weight of the picture which you are hanging. We always recommend putting the hooks into a stud where you can for sturdiness (though, follow the instructions on the package).
'No-damage' picture holders, like strip hangers, are great for those who do not want to damage any walls (renters, for instance). Instead of putting a hole in the wall, these ones stick to the wall. They may not have the capacity of other holders, but they can still hold some weight.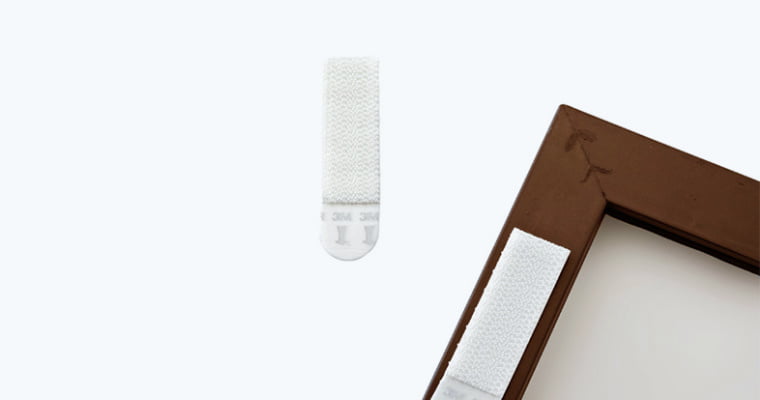 You can also find picture hangers that are designed to be used without a stud. These hangers go into drywall and then open up behind the drywall to secure the hanger. These ones allow you to hold a lot of weight without using a stud.
You will also be able to get picture hangers with masonry nails or screws. These are heavy-duty picture hangers which cost a little more but will hold a lot.
As with any product, you always get what you pay for. Do not be afraid to pay a little extra for quality (especially when most picture hooks are affordable).
What To Look For In A Hook?
Now that you know how the picture hangers connect to the wall, you should be thinking about how the picture connects to the hanger. Not all hooks are created equally, and a little more money spent can ensure that you get a durable and sturdy hook.
A cheaper hook will bend easily and, while it will hold the stated weight, it can give way after a few months or years. You want your picture to stay up for life, so you should invest in a quality hook that will not need to be replaced.
Look for ridges on the hook. A hook without ridges bends easily while one with ridges will be reinforced. Look for thicker hooks which will carry lots of weight.
How Much Should You Spend?
You should not be too worried about the cost of your picture hanger as they are all pretty affordable. There is not a lot of price difference between a cheap hanger and an expensive one. If you follow the guidelines above, you will get a great picture hook at a low price. Invest a little once and never replace them again.
How To Hang A Heavy Picture?
Watch the video below to learn how to hang heavy pictures (and mirrors).
When To Use Sawtooth Hangers?
If you do not have any hardware on the back of your artwork, then a sawtooth hanger may be what you need. They are generally made of metal and are small strips with holes for screws, and a sawtooth-design on one side.
A sawtooth picture hanger is attached to the back of an artwork with the sawtooth side pointing downward. The sawtooth hanger can then be used to hang your artwork on any screw or nail. Just be sure to use a nail in a stud or a screw with an anchor.
Tips For Hanging Pictures
Always remember to use a hanger rated for the correct weight.
Put the nail or screw into a stud if you can.
Always follow the instructions that come with your hanger.
Hang your artworks at eye level where you can.
Measure the hanging spot carefully and do not be afraid to adjust it if it looks wrong.
Make sure to leave space between your artwork and any furniture.
Keep important paintings out of direct sunlight.
Space multiple paintings for a more even look.