Note: Durability Matters is reader-supported. When you buy through affiliate links on our website, we'll make a small commission, without impacting your price. Thank you. Learn more.
Sometimes, you just need to shred some papers. If you want to do that professionally, then you need a heavy-duty shredder.
When you want to shred papers, be it legal documents, files with your personal information on it, or anything else which you do not want prying eyes to see, a shredder will take care of that for you. A heavy-duty shredder is what large companies use to shred all of their documents, and you can have one too.
The good news is that heavy-duty shredders have never been more affordable. With a relatively small investment, you can have a great shredder which can last for a very long time.
In This Article
The Best Heavy-Duty Paper Shredders For Small And Home Offices
These paper shredders are great for small & home offices that need fast, reliable, and long-lasting paper shredders.
1. Fellowes Powershred 99Ci
If you are looking for something which can shred a lot of sheets of paper at the one time, then you have found it. With this heavy-duty shredder, you can shred 18 sheets of paper at once. You can also shred CDs, DVDs, staples, credit cards, paper clips, and more. This shredder will cut through almost anything which gets in its way.
When you get started, you have 30 minutes of constant run time before you have to let it cool down for 40 minutes. If you are only using it a little at a time, then you will never have to stop to let it cool down.
The Fellowes Powershred 99Ci is 100% jam-proof, powering through most jobs, and reversing the papers if there ever is a chance of them becoming jammed.
A great shredder for up to three users.
2. Bonsaii EverShred C149-C Shredder
This is one heavy-duty shredder. With 60 minutes of run time, you can cut through almost anything. Throw in 18 sheets of paper at once, and never worry about any staples or paperclips which have been left in there — shred packs of junk mail or your credit card.
This is also a shredder which shreds at a low decibel level. At only 62 dB, this shredder will not annoy anyone in your office or home. You also have 4 casters on the bottom, so the Bonsaii EverShred C149-C does not need to be confined to one place. Move it to where you need your shredding done.
With a 6 gallon basket, you can also shred to your heart's content with infrequent emptying — a great shredder for a large office or home.
3. Wolverine Super Micro-Cut Heavy Duty Shredder
This is the kind of shredder you would want to have on hand in any workplace. And thanks to its super-quiet noise profile, you can. The shredder operates at only 56 dB, so it will not blow any eardrums in your office.
The shredding teeth are super strong too. They can cut through 15 sheets of paper at once, including staples and paper clips. One excellent feature of Wolverine Super Micro-Cut Shredder shredder in particular is how small it shreds, guaranteeing your sensitive documents or credit cards will unrecoverable.
There is also a second slot for non-paper shredding, though the paper slot can handle almost anything. When you need to destroy CDs or the like, the second slot comes in handy with the ability to cleanly cut a CD into three pieces.
If your office is lacking a powerful shredder but you do not want to put up with the noise of one, this shredder is the perfect choice for you.
4. Boxis AF110 AutoShred Shredder
If you need a lot of papers shredded, or need to shred at a high-volume, then this is the shredder for you. This commercial shredder can handle up to 110 sheets of paper at one time and shreds the paper at 11 feet per minute. With 20 minute run time, you can shred a lot of paper before you need to give it a rest.
The Boxis AF110 AutoShred also has a large capacity, so you do not need to worry about emptying it often. You also get micro-cut shreds, great for all of those sensitive documents.
This is the perfect shredder for a large office environment.
5. Bonsaii C222-B Micro-Cut Shredder
When you have a lot of shredding to do, you need a heavy-duty shredder than can handle a lot. This shredder can do just that, thanks to its fast speed and large capacity. The wastebasket can hold up to 6.6 gallons of shredded paper, so you can chew through documents with having to break your workflow.
You can shred up to 16 pages at once in Bonsaii C222-B. It can run for around 20 minutes of continuous shredding, and with its efficient shredding speed, this means you can destroy around 1700 sheets of paper before the shredder needs to cool off. It operates at only 60 dB for a comfortably quiet workplace.
The shredder also has an LED to alert you when it is overheating or overloaded. Combine that with its reverse function and paper jams will never take you by surprise, and when they do happen, they are easy to clean up.
The Best Commercial-Grade Paper Shredders For Large Businesses
Large businesses constantly need to shred old paperwork, sensitive documents, credit cards, and much, much more. High reliability, security, and speedy shredding are a must. Here are some of the best commercial-grade paper shredders for fast and efficient work.
1. Fellowes Powershred 425Ci
When you need to shred sensitive documents, this elegant shredder will help you. You can pass 30 sheets of paper through the shredder at a time, and it will shred each sheet into 503 cross-cut particles, giving a P-4 security level.
The extra-wide throat allows you to shred full documents, and the shredder can also handle staples, paper clips, credit cards, CDs, and more. The Fellowes Powershred 425Ci also sits at waist height, so if you are shredding a lot of documents, it is easy to do so without having to bend or put yourself in an awkward position.
The jam-proof system eliminates those annoying paper jams, allowing you to power through your shredding and get the job done. There is a large-volume, 30-gallon removable basket and, when it is full, an LED light will come on to alert you. You also have SafeSense technology, so the shredder will stop shredding when hands touch the paper opening.
Wholly designed and assembled in the US, this is a robust and high-volume shredding system.
2. Ideal. 2445 Cross Cut Commercial Paper Shredder
With continuous operation, and no need to worry about overheating or paper jams, the ideal. 2445 Cross Cut Commercial Paper Shredder is an absolute winner. It shreds 11 to 13 sheets of paper at a time, which adds up to 199 sheets per minute, and will obliterate any paper clips or staples that aren't removed. It can also shred CDs and credit cards.
The 9-gallon bin will ensure that you don't have to get up every 5 minutes to empty it, and the best part is that it is eco-friendly, and can be used without a bin bag.
This paper shredder is designed for an office of 3 to 4 users and is equipped with P-4 level security. It is HIPAA and FACTA compliant, so your or your company's private information will always be protected.
The device weighs 21 kg and measures 11.46 x 15.55 x 25 inches. It operates at a very low 55 decibels, which is the volume of a normal conversation. The power switch functions as an emergency stop button and an electronically controlled, transparent safety shield will ensure that your fingers, tie, or hair cannot get pulled into the shredder. Last, but not least, the hardened steel cutting shafts are covered by a limited lifetime warranty, for your peace of mind.
3. Ideal. 4002 Strip Cut Centralized Office Paper Shredder
For the larger offices, this shredder can handle it all. You can have 15 dedicated users, though that will scale that up if the shredding is not continuous. The shredder is also big and bold enough to cut through 1,482 sheets of paper every minute. That is a lot of paper!
With quick shredding, minimal downtime, and a powerful single-phase 1 3/4 HP motor, you can cut through over a thousand sheets of paper in a minute, and also handle tougher jobs, like staples, paper clips, credit cards, and much more.
There is jam-prevention technology, eliminating those annoying paper jams and any unwanted downtime, along with a capacity indicator, so you never have to stop halfway through a job to empty the basket. The transparent safety shield on the paper feed helps to protect your fingers and hands.
Being on wheels, you can bring the Ideal. 4002 to your piles of papers instead of the other way around. Shredding should not be back-breaking work, and this shredder ensures that it is not.
What To Know Before Buying a Heavy-Duty Paper Shredder
Shredding By Cut Type
One of the main ways in which shredders are classified is in how they shred the paper fed into them.
Strip-Cut Shredders
Strip-cut shredders cut the paper into strips. The advantage of this type of shredder is that they are fast and affordable. Cutting paper into strips is relatively inexpensive to do and does not require a lot of components. The downside is that the resulting shreds are not as secure as what you get with some other shredders. If someone is dedicated enough, they can piece the shreds together.
Cross-Cut Shredders
Cross-cut shredders are more secure than strip-cut shredders. They cost a little more due to the parts inside, but they cut the paper into smaller parts. They still cut the paper into strips, but those strips are thinner and shorter.
Micro-Cut Shredders
Micro-cut shredders cut the paper into the smallest pieces, making them extra secure. They cut the paper into small diamond-shaped pieces, kind of like pieces of confetti. This makes them great for secret or confidential papers, and it is almost impossible to piece them back together.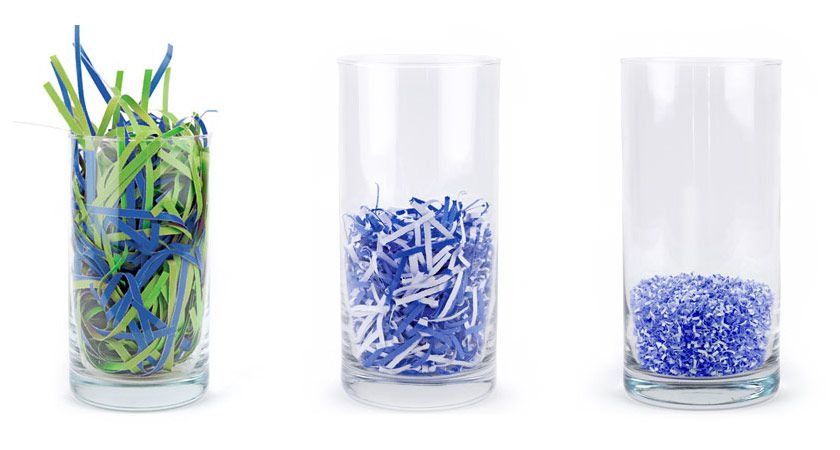 Shredder Security
When it comes to shredders, one thing which you should be concerned about is the security they give when shredding papers. The security depends on the smallness of the paper and is determined by an internationally recognized standard (DIN 66399).
The security standard runs from P-1 (insecure) to P-7 (most secure). In most office settings, you will find that most of the shredders are rated around P-4. For more sensitive information, a rating of P-5 will usually suffice. P-7 would be used for top secret documents which cannot be seen by any prying eyes.
When you are looking for a heavy-duty shredder, think about how much safety and security you need and base your choice on how small the shredder will shred your paper.
Things To Look Out For
When you are shredding your papers, there are a couple of things to think about which will enhance your shredding experience.
Sheet Capacity
Gone are the days where paper could only be shredded one piece at a time. Welcome to the world of multiple shredded sheets. Not only does this make the shredder more heavy-duty and durable, but it also saves you a lot of time.
Most basic shredders will shred between 1-3 sheets of paper at one time. We are not looking for basic shredders; we want heavy-duty ones. We recommend that you look for a shredder which can handle at least 3 sheets of paper and up to 20 or more sheets at once.
Tough shredders can also shred more than just paper. If you get a high-quality paper shredder, you can shred your way through credit cards (great for security), staples (in case you forget to take them out), and CDs (if that mixed CD from a previous relationship is causing you emotional pain). A tough shredder can also cut through thick envelopes of junk mail.
Run Time
If you have a lot of papers to shred, then you need your heavy-duty shredder to last for a long time. When we were choosing the best shredders, we only chose the ones which could keep up. So, how long should they run for?
Most shredders can shred for around 20 minutes before they need to cool down. For most of your jobs, this will be enough time but, if you are doing larger jobs, you will need to choose a shredder with a longer run time.
Heavy-duty shredders can run for up to 60 minutes before needing to cool down. If you are doing large jobs, it can be annoying to have to wait while the shredder cools down. Look for a shredder with a long run time and as short a cool-down time as possible.
Shredding Speed
The speed is partly based on how many sheets of paper can be fed through the shredder but also depends on the capacity of the feeder basket.
The more sheets which can be fed into the shredder, the faster you can work, but you also need to think about the size of the basket. If you can shred multiple documents, but the shredder can not hold much, then you can shred quickly, but you are going to spend a lot of time emptying the basket before you can shred more.
You also need to think about the run time and the cool-down time. If you can only shred for a few minutes and then have to let the machine cool down over a long period of time, then you are going to be slowed down a lot. You may be able to shred quickly, but you are not going to be able to shred a lot.
So, if you want a shredder which is fast, you need to look for one which can shred multiple pages, has a large capacity, runs for a long time, and has a short cool-down time. If you are only looking at some of those things, then we would recommend a large capacity and a long run time.
Unit Size
A larger shredder usually means a larger basket, but that is not always the case. When looking at heavy-duty shredders, you are likely going to have a shredder which will take up a lot of space, but that does not mean that it has to take up too much space.
The best shredders are the ones which compact their shredding capabilities into the smallest space possible. You want a large shredding capacity with as small a footprint as possible, and this is what we have looked for in our choices.
The shredders on the list will get the job done without taking up a massive amount of space.
Jam-Proof
One of the biggest problems with shredders is paper jams. Most durable shredders come with anti-jam technology. This built-in technology prevents the paper from becoming jammed and stuck.
Related: How To Properly Maintain Your Shredder
This is usually achieved with sensors in the unit, which will reverse the shredding process and stop the paper from becoming too caught up once it starts to jam. This technology can save you from a lot of headaches.
Noise
Shredders cause some noise through the shredding process, but some are better than others. Depending on where the shredder is going to be used, you may want to invest in a shredder which has a lower noise level.
A decibel level below 55 dB will not cause too much noise in a public setting.
Auto-Lubrication
To keep your blades in optimum condition, you need to oil them regularly. There are two ways to do this: automatically and manually.
If you do not have the time to oil the shredder blades or if you are worried that you are going to forget, then you should get a shredder which automatically oils the blades for you.