Trucks and 4×4's are indispensable for heavy-duty tasks like towing, hauling, and transporting loads. If planning to put a vehicle to work, then brake rotors and pads that match up are a necessity. The stock brake components it comes fitted with may not be strong enough.
Extra strain and payloads reduce the functionality of brake systems, perhaps even rendering these ineffective in an emergency braking situation. Costly damage to a vehicle's components and accidents due to brake failure may result from not upgrading to an adequate set.
Quality, heavy-duty, durable brake pads should be a top priority for a driver, their vehicle, passengers, and other motorists' safety. With this in mind, we've researched and selected the best heavy-duty brake pads for trucks and 4x4s for towing and hauling.
Our Top Picks
Trucks and 4×4's, in general, can tow and haul. However, ensuring a vehicle's load doesn't exceed its tow rating is critical. Besides doing so, upgrading to a heavy-duty brake rotor as well as pads such as one of the options listed below is a necessity.
1. NRS Premium Friction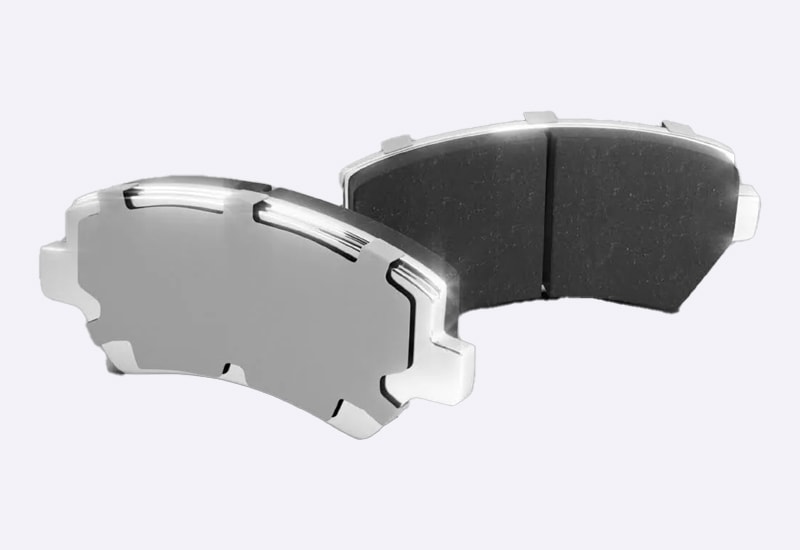 The NRS Premium Friction brake pad range offers superior stopping power and longevity. Its pads' ultra-rough friction material helps your vehicle stop sooner and more effectively. Each pad is designed to minimize dust, offer superior cooling, and generally keep brake noise around 80 dB or below. These brake pads work at a variety of temperatures, from cold to hot.
Featuring a galvanized, hooked safety zone between the friction material and backing plate, they're also designed to last longer. Minimal delamination results, meaning less frequent pad replacement and less noise and vibration. These pads are also environmentally-friendly, being 100% copper-free, recyclable, and meeting US environmental manufacturing standards.
The Premium Friction range comprises pads suitable for a wide variety of applications. However, the NRS Premium Friction Extreme Duty brake pads are the best option for heavy-duty use. These pads are designed for light to medium duty trucks, sport utility, and fleet vehicles—tow trucks, police vehicles, taxis, and ambulances, included.
2. Bosch Severe Duty Brake Pads
As the name implies, Bosch's Severe Duty Brake Pads are designed to handle heavy-duty tasks. Created specifically for large payloads and stop-and-go applications, they're ideal for hauling and towing in trucks and 4x4s. Overall, these pads excel when it comes to fit, noise reduction, and efficiency.
Featuring Advanced Aerospace Alloy Transfer Layer Technology in their formulas, these innovative pads offer top-class performance. With a copper-free formulation, they're environmentally friendly and ultra-durable. Another bonus is how quiet these brake pads are, thanks to a few clever additions. The Severe Duty brake pads are designed with OE-replicate slots and chamfers, providing a better fit, therefore, less noise.
With equally well-designed OE-style multilayer shims, the pads are more resilient and corrosion-resistant. Each set includes pads for two wheels and a packet of lubricant to complete the application. Ceramic options and hardware are also available for or with select Severe Duty brake pad sets.
3. Wagner SD Severe Duty
Wagner SD Severe Duty brake pads are top-performers when it comes to heat and endurance. Each pad is designed to withstand extreme environments, temperatures, and demands. Ideal applications include Police Pursuit Vehicles (PPVs), fleets, taxis, 4x4s, trucks, and vehicles that are gear hauling, carrying heavy payloads, or frequently braking.
These brake pads don't just claim to withstand demanding tasks but are also tested and certified to do so. They currently meet or surpass the stringent quality testing standards for most fleet and municipality vehicles. Featuring semi-metallic carbon-based friction material and durable stainless-steel hardware, they're one of the most heavy-duty options in the Wagner range.
OE-style chamfers, shims, and slots also offer superior performance, noise-reduction, and fit compared to other aftermarket parts. These pads are also environmentally-friendly, featuring a proprietary Wagner OE25™ zero-copper friction formulation. Overall, an excellent upgrade choice or option for vehicles requiring heavy-duty brake pad replacement.
4. PowerStop Z36 Truck & Tow Brake Upgrade Kit
SUVs and 4x4s aren't just heavy-duty vehicles. They are often car-owners' regular vehicles, used for commuting and shopping just as often as off-roading and hauling. When it comes to versatility between everyday and heavy-duty driving tasks, the PowerStop Z36 Truck & Tow Upgrade Kit is a winner.
These proprietary, carbon-fiber reinforced ceramic brake pads offer the best of both worlds and don't sacrifice usability for heavy-duty stopping power. The low-dust ceramic pads operate well in almost any condition, while the carbon-fiber reinforcement adds that extra strength and longevity. The pads' durable, corrosion-resistant stainless-steel shims and chamfers also work to reduce braking noise.
Note that the Z36 Carbon-Fiber Ceramic brake pads are sold along with the other brake components in this upgrade kit. When paired with the drilled, slotted, zinc-plated rotors included, maximum heat-dissipation and cooling are achieved. The set also includes Hi-Temp brake lubricant and comes with a 36-month/36,000-mile warranty.
5. R1 Super Heavy Duty Series Brake Pads
R1 Concepts' Super Heavy Duty range is a force to be reckoned with, designed for heavy-duty use and vehicles. Overall, this range is one of the best long-wearing brake pad choices for heavy-duty tasks. Trucks and SUVs hauling, towing, off-roading, and carrying heavy payloads can benefit from an upgrade to a set of these long-lasting brake pads.
Made from a semi-metallic, asbestos- and copper-free formula, these brake pads are both durable and eco-friendly. Besides being durable, they're also designed to minimize brake rotor wear. Featuring OEM-inspired technology and manufacturing processes as well as rubber-coated steel shims, noise-reduction, vibration, and dust are reduced.
The brake pad's friction material is scorched, positively molded, chamfered, and slotted, to further improve brake pad durability, efficiency, and cooling. Hooked backing plate technology reduces delamination, which generally leads to increased vibration and noise. Lastly, a thermal barrier underlayer keeps heat away from the caliper, lowering the risk of fluid boil.
Reasons to Upgrade Your Trucks / 4x4s Brakes
There are many valid reasons to upgrade a brake system, including brake pads, to heavy-duty options. As heavy-duty brake pads are built to withstand larger payloads, they're more efficient and safer compared to many basic stock options. Furthermore, whether planning to haul large loads or not, the value of a powerful braking system is undeniable.
Limiting Strain to Your Vehicles Braking Components
Towing or hauling heavy trailers and loads can strain your vehicle, particularly if these loads are near its tow rating. Brake components will take a beating in demanding scenarios. It's advisable always to tow loads and trailers within a tow rating. However, even if within limits, upgrading brakes is also recommended to improve safety and limit brake wear and damage.
Road Safety
When towing or hauling heavy trailers, vehicles, or payloads, this cargo also increases the strain on a vehicle's brakes. A heavy-duty set of brake pads and discs is better equipped to handle the demands. Thus, reducing the chance of brake failure and potentially fatal or costly accidents for a driver and nearby vehicles, as a result.
Improved Braking Power & Efficiency
Heavy-duty brake components are built for demanding jobs like towing and hauling. While stock brakes may be able to handle the task, there is no doubt that a heavy-duty system is better-equipped. Heavy-duty brake components increase the efficacy, including speed and sharpness of vehicle braking.
Reduced Braking Noise & Vibration
In order for brakes to work efficiently, brake rotors or discs need to be balanced. Though stock brakes generally are, adding unusually heavy or uneven loads may affect the equation. When upgrading brake rotors and pads to heavy-duty options, technicians can ensure optimum balance for larger loads.
Extended Brake Pad & Rotor Lifespan
Brake pads and discs will wear down faster under heavier loads. Heavy-duty components are usually thicker or hardier than stock brakes, increasing their lifespan comparatively. As a result, heavy-duty brake system components, including rotors and pads, need to get replaced less often. Carbon-fiber ceramic and semi-metallic brake pads are examples of longer-wearing, durable, heavy-duty components.
Realted:
Improved Cooling When Braking
Increased friction and heat often result from braking with heavier loads. Heavy-duty brake components, including rotors and discs, are custom-designed to offer superior cooling under these conditions. Some heavy-duty brake rotors and pads, for example, feature drilled holes or slots that cool by reducing the brake surface area and improving airflow.