Note: We received this product for free. No other compensation was provided, and as always, all opinions are our own. We may earn money from links on this page, but we only recommend products we back. Learn more.
UPDATE: Generark was the brand name under which this unit was originally reviewed. Generark has since rebranded itself as Geneverse – everything else remains the same.
There is perhaps no product that I have been more excited to try than the Geneverse Solar Generator, which consists of a portable battery (HomePower ONE) and solar panel (SolarPower ONE). I am an avid fan of off-grid living (and power), and the battery and solar panel was shipped to me just in time for my last camping trip of the year, the perfect chance to try it out.
Before receiving the battery and solar panel, I checked out the reviews on their website and Amazon, and they were all extremely positive. My excitement levels went up. At the time of writing, I have not used the set to its full capability, but I have fallen in love with it. This is a great product that I will be using for years to come.
Unboxing and Unwrapping
If you look on the website, you will see that the basic set ships with one battery and two solar panels. When you scale it up, you double the number of batteries and solar panels. I was shipped the battery and one solar panel. What does this mean for me? Simply, the same battery capacity but slower charging. That was not going to be an issue for me, and I didn't need two solar panels to test the product fully.
When the Geneverse Solar Generator arrived, it was packaged well in two boxes. The solar panel was in one, surrounded by bubble wrap, and the battery was in another, boxed up with protective styrofoam.
I was excited to open both and opened the solar panel first. It has an elegant design, and I unfolded it immediately to check it out. I don't know a whole lot about solar panel technology, but I could tell that this was a step above regular solar panels (or a few steps above). The magnetic closure is a nice touch and holds the panel in place when you fold it in half.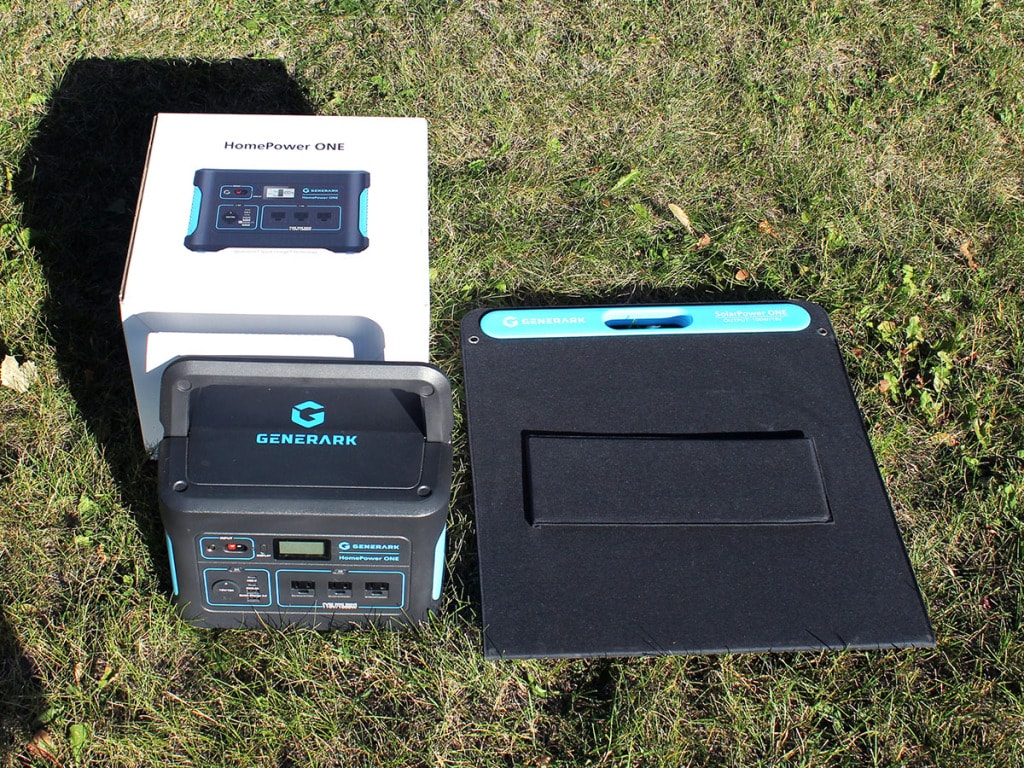 On one side of the solar panel, there is a zippered pocket, and that contains the cable (permanently attached on one side to the panel) that connects it to the battery to charge it. There is also a splitter, allowing you to connect two solar panels to the battery at the same time.
The box with the battery was heavy (not heavy so that I could not lift it), and that gave the first impression that it was going to be durable and able to hold a good charge (again, I am no expert, so I am not basing this on experience).
I had checked out the battery on the website, and it looked exactly as shown. Everything is located on the front—the inputs, outputs, and display, and there is a robust handle on the top, making carrying it easy.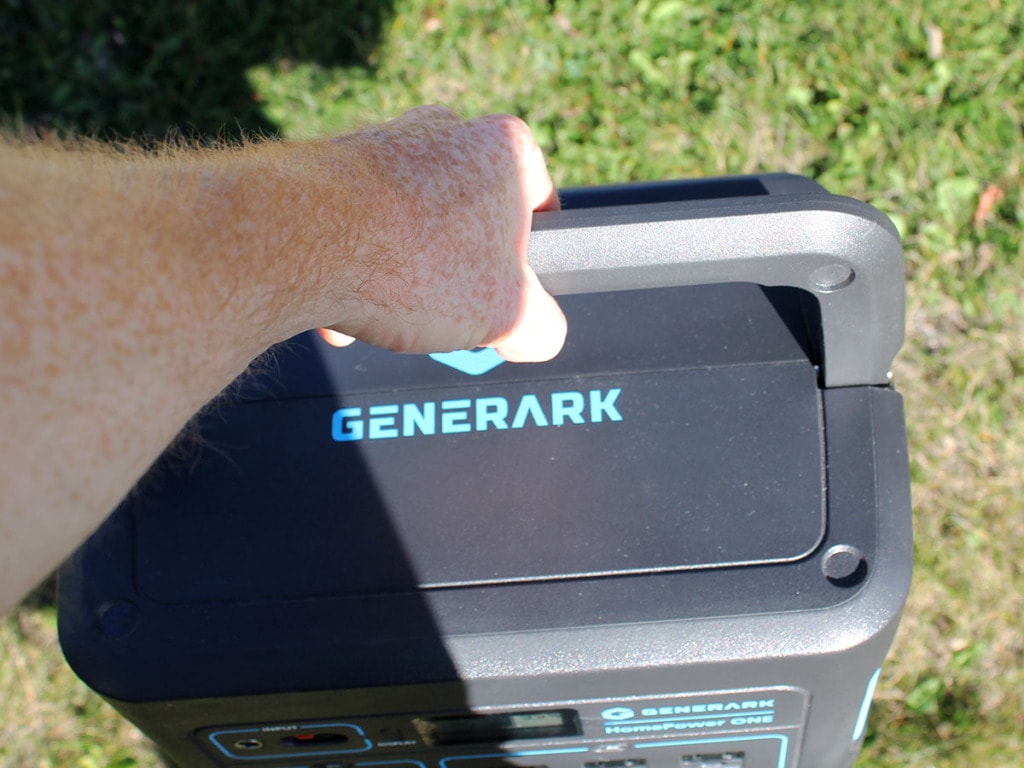 Also included were a charging cable for mains power and one for a vehicle outlet. Both of those are welcome, but I hope to rely mostly on the power of the sun for charging. There was also a pamphlet, but no real instruction manual, though I am not sure that step-by-step instructions are needed.
First Impressions
My first impressions were only positive.
The battery looks and feels sturdy. It is a lithium-ion battery surrounded by hard plastic. I don't expect it to hold up if dropped from a height, but it is certainly going to take knocks and bumps in its stride. This is not an item that is going to take a lot of wear and tear through regular use, so I expect it to last for a long time.
Everything is located on the front, and I pressed the display button to check the charge level. It was sitting at 97% on delivery. The input connector matched the cable on the solar panel, and all of the outputs are ones I have used before. Everything looked intuitive.
The thing I liked most about the solar panel (before using it) was the magnetic closure. Fasteners are usually weak points, but there is not one here. The main body of the panel looks to be constructed from the same plastic as the battery, and it feels extremely durable too. When it is folded, there is a handle on the top for easy carrying.
First impressions were excellent.
Specifications
Geneverse HomePower ONE Backup Battery Power Station
Capacity: 1,002 W
Battery Type: Lithium-ion NMC
Cycle Life: > 500 cycles (drops to ~80% after ~500 cycles)
Inputs:
8mm charging port: 200W max
Anderson charging port: 200W max (I only used the 8mm charging port—the Anderson port was not needed)
Outputs:
3 AC Outputs: 110V, 60Hz, 1000W (2000W surge power)
1 Car Outlet: 12V, 10A
2 USB-C: PD 18W, 5V/3A, 9V/2A, 12V/1.5A
1 USB-A: 5V/2.4A
1 QC 3.0 USB-A: Qualcomm Quick Charge 3.0, 5/6.5V/3A, 6.5-9V/2A, 9-12V/1.5A
Charge Time
AC Outlet: 7 hours
Solar Panel: 8 hours (2 panels)
Car Outlet: 14 hours
Protection: Over Charge, Over Discharge, Short Circuit, Over Current, Over Voltage, Over Temperature
Other:
Dimensions: 13.07" x 9.15: x 9.57"
Weight: 23.37 lbs
Geneverse SolarPower ONE Portable Solar Panel
Cells: Monocrystalline
Number of Cells: 32
Efficiency: ~23.4% (50% higher than traditional solar panels)
Power: 100W
Outputs: 8mm port, USB-C, USB-A
Protection: Short Circuit, Over Power, Surge
Dimensions (folded): 24" x 21" x 1.38"
Dimensions (unfolded): 48" x 21" x 0.2"
Weight: 9.1 lbs
How To Use
I didn't read a manual before setting the solar panel and battery up, and I didn't need to. Everything is intuitive and easy.
The panel folds out, and there is a stand on each half that also folds out to prop the panel up. I took the cable from the back of the solar panel and plugged it into the only input on the front of the battery that it would fit. The panel started to charge the battery. It was as simple as that.
When it came time to use the charge in the battery, I plugged into the output on the front (the first time was string lights into the AC output), and they came on. I then tried the solar panel and lights plugged in at the same time.
The one thing to be sure to do is to press the output button above the output (AC or DC) so that you can draw power.
By pressing the display button, I could see the inputs and outputs. My lights were drawing 8-14W, and the panel was charging at 87W when in the sun. When it got dark, I put the solar panel away, and the lights remained on for 4 more hours before I unplugged them, taking the battery from 100% to 97%.
On my second day of camping, I found that there was a USB port on the back of the solar panel, and I charged my phone straight from the solar panel, not using the battery at all. I thought that was pretty cool.
Extended Use
You can check out the graphics below for more information about how long you can run certain appliances and electronic devices, and I tried a few to see how long the battery would last.
Laptop
Website estimation: ~8 charges (7 days use, 1-8 hours a day)
I have a 2014 Macbook Pro. I was able to charge it 9 times over a week, and there was still 20% charge left in the battery.
TV
Website estimation: 1 day – 2 weeks (1-6 hours a day)
We ran our TV continuously for 12 hours a day for 6 consecutive days.
Microwave
Website estimation: 1-7 days (3-10 times per day, 10 minutes per use)
We used the microwave (800W) for defrosting meat, 15 minutes at a time, on 3 separate occasions, and there was 87% left in the battery.
What Else?
Warranty
The battery and solar panels have undergone 52 reliability and safety tests and are covered by a 5-year warranty.
At the time of writing, the Geneverse Solar Generator is the only Solar Generator on the market that offers a 5-year warranty.
Pure Sine Wave
Not knowing a lot about solar power or batteries in general, I didn't know about pure sine wave power, but a friend mentioned that this was the best type of power for a battery.
I found out that sine wave inverters have better conversion of DC to AC, power loss is minimized, and there is greater efficiency.
Who Is This For?
To be honest, this is for everyone.
This is not the cheapest solar kit on the market, but I do believe that it is one of the best, and I always try to look for products that are going to last. The battery and solar panel are amazing, and I fully expect them to last for a couple of decades. There is an investment needed, but it does give value for money.
So, who might use it?
If you are worried about the power ever going out, this is going to hold enough charge to keep the essentials running until the power comes back on.
If you have any sort of home, condo, or apartment, this can be invaluable should there be power cuts. You can also scale up your solar generator setup by purchasing additional batteries and panels depending on the size of your home and power needs.
Power outages are rarely foreseen, but the HomePower One can hold a charge for a year, so you will never be caught out. And, you can quickly set up the solar panel and have instant power if you are caught unaware.
That can be especially important for those who work at home. You can charge your devices and continue to work during power outages. Worried about the stuff in your fridge going to ruin? Plug into the battery. It gets dark, and you have no light? Where's that battery?
While I have not used it in my yard yet, I fully expect to. You can use it to run lights or any other devices that you want to use in your yard without running a cable out there. The best part is, for indoor or outdoor use, you are basically getting free energy. It will actively cut down your utility bills.
We have had some power outages before, not usually lasting too long, and I will definitely have the HomePower One ready with charge at all times. It's also going to be a welcome addition to our camping and road trips. I made a road trip across Canada a few years ago, and I worked while I did. Wi-Fi wasn't an issue but charging my laptop was. I could have done with this kit.
Related: 5 Best Portable Solar Generators For Off-Grid Living
We used it on a recent camping trip to power lights, and we have plans to buy an electric stove to replace our butane one, saving on energy costs when tenting.
I can think of 1,001 uses for this power generator.
Conclusion
I hope that it came across in the review, but I love this Geneverse Solar Generator.
The battery and solar panel are well made, it charges efficiently and quickly, and gives a lot of power. They are both easy to carry and pack in my travel gear, and I know that they are going to last for a long time. They are two of the few products that I own and expect to be BIFL (buy it for life) products.
I am going to use the battery and solar panel a lot. The main use is going to come during the warmer months when we are on road trips or camping, but there has been a couple of times over the last year when the power has gone out, and they are going to come in handy then too. Each year, we try to observe Earth Day without using power, and the Geneverse Generator is going to be a welcome addition.
This is a professional setup with a price to match, but I also firmly believe that you get value for money. I would recommend this product to anyone, and I already have a few jealous friends who want to help me to 'test' it more.
I love everything about it.
Long-Term Update (July 2022)
My Generark Solar Generator has gone through one major change in the time I have been using it. Generark has rebranded as Geneverse, so I can now call it the Geneverse Homepower One, even though it still has the Generark name emblazoned on it.
I can't talk about wear and tear, because there is none, and the same goes for any drop in productivity or functionality. I can't claim to use this product every day, but I have used it a few times and it still works as well as the day I unboxed it.
I took it camping again (and forgot to take any photos). But, there is really nothing to document. The battery and panels are durable and have taken no damage or wear in either transit or use, and there is no drop in capacity or increase in charging time.
I have had the Geneverse Solar Generator for 10 months and have had no problems. It is an exceptional piece of equipment, and I look forward to using it more over the coming years. I especially look forward to finding out how long it lasts.