Note: We received this product for free. No other compensation was provided, and as always, all opinions are our own. We may earn money from links on this page, but we only recommend products we back. Learn more.
For people who live on the go and spend more time outdoors than inside, not just any wireless Bluetooth speaker will live up to their expectations. The wear and tear of an adventurous lifestyle puts strain on any product, but that's where Fugoo comes in. The Fugoo brand promises speakers that will go anywhere, and hold up to the abuse of worksites, campsites, the lake, or really, wherever life takes you. But the proof is in the product – and that's where we come in.
We tested the Fugoo Element and the Fugoo Tough 2.0, to determine if these products will really prove to be as durable and portable as they claim. And, of course, we will dive into their audio fidelity for all those audiophiles out there.
In This Article
First Impressions
I've owned a few wireless Bluetooth speakers made by popular brands, but this was my first experience with Fugoo. Their packaging made a great first impression – the exterior box is colorful, and really captures the nature of the Fugoo brand: playful, yet serious about the design and durability of their speakers.
The exterior box slides off to reveal a fun and funky white box beneath. This gives the product a bit more "wow" factor, and builds the suspense of getting to the speaker within. If you're considering buying one of these speakers as a gift, this makes the product feel higher-end and a bit more fun to unwrap.
In addition to the packaging, the speakers themselves make a great impression. They feel sturdy and strong. The Element isn't heavy, but it does feel substantial in your hand.
What's In the Box?
The Tough comes with the basics: a charging cord (USB to mini-USB), a quick start guide, a user manual, and the speaker, itself.
The Element comes with a charging cord (USB to mini-USB), a quick start guide, a user manual, an auxiliary cord, and the speaker, itself. The speaker also features a wrist strap that is already connected.
An Added Bonus
We felt it essential to mention that these speakers can be paired together very easily, meaning that you can get twice the sound from the same source if you have two Fugoo speakers.
Diving In: The Fugoo Element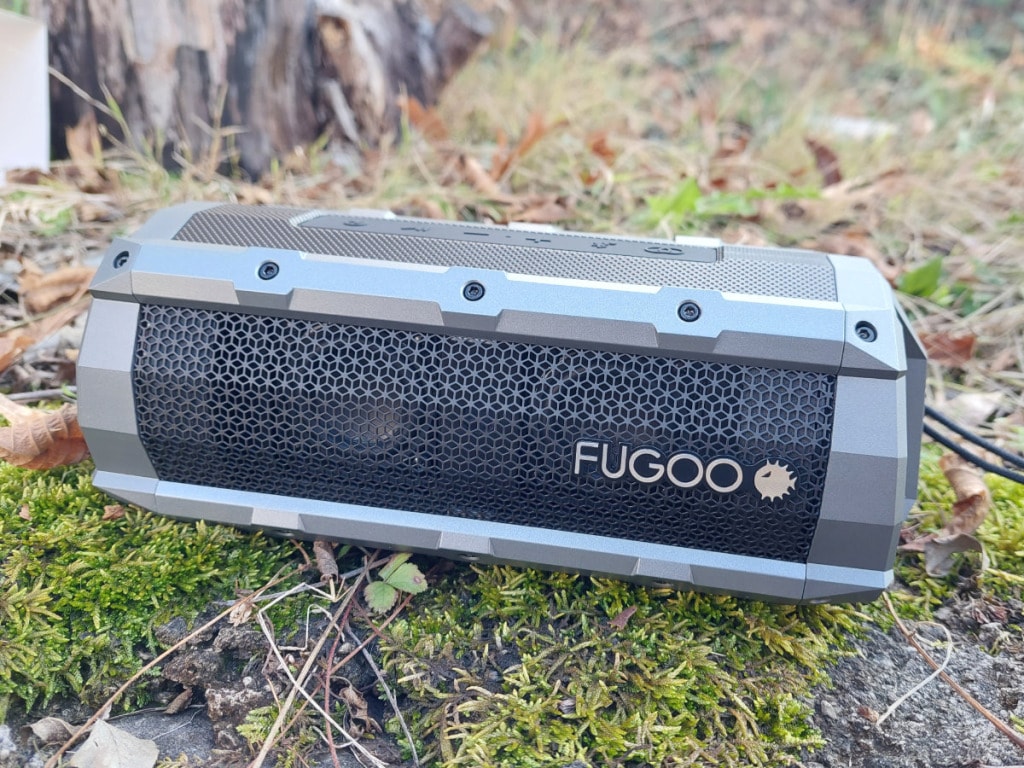 This speaker is ideal if you're the aquatic type. It is designed to float, making it perfect for fishing and boating, or even the pool. While it weighs only about ¾ of a pound more than the Fugoo Tough, I did notice that this speaker feels heavier. It's not a brick by any means, though.
This speaker has a wrist strap, which is a great addition. It offers reassurance that you won't drop the speaker in the water while walking around a boat or paddling a canoe. You can also attach the strap to a hook in your canoe or kayak, to prevent it from slipping into the water – or hang it from a hook on your boat.
Sound Quality
Before really diving into the specs, I assumed that the Element would be louder and have greater clarity than the Tough, but that was not the case. They're pretty much comparable in frequency range, but the Tough has a crisper sound quality.
That being said, the volume and clarity of the Element are not lacking. This speaker is powerful, with 4 acoustic drivers that are much larger than those of most other wireless speakers.
Sounds Specs
The Element boasts:
A Sound Pressure Level (SPL) of 105 dB at 1.5 feet.
4 acoustic drivers with neodymium-magnet 1.75" drivers and 2.5" passive radiators.
25-watt audio output.
Frequency Range – 50Hz – 20KHz.
Setup and Connectivity
The Element pairs seamlessly with your phone. The Bluetooth range is great, staying connected for about 30 to 40 feet. Of course, if you're kayaking or canoeing, this means you must bring your phone along in a dry bag, unless your phone is waterproof. I highly doubt you could surf or paddle board and still keep your phone within range, though.
The Element also sounds great when connected via the auxiliary jack.
Charging
The Element has a phenomenal battery life. I used it for a number of consecutives days at work without needing to recharge it in between. It does take a bit of time to fully charge, so I usually leave it plugged in overnight when it needs it. You can easily check on your smartphone how much battery life is left.
Durability and Waterproofing
The Element does live up to its reputation, and it's IPX7 rating. It floats well, and doesn't get fried when dunked in water.
After a bit of abuse, the speaker still sounds and looks great.
Testing the Fugoo Tough 2.0
This speaker is small but mighty! It isn't as big or as heavy as the Element, but it is Tough, and sounds great. If you need to pack light, this is the speaker for you.
Sound Quality
I was very impressed with the clarity of sound from the Tough 2.0. Not only does the speaker deliver crisp, clear sound, but the speakers on the front and back of the device bring out a depth in the music that really brings the notes to life.
Because the drivers distribute sound evenly and upwards, this speaker fills a room with rich audio. As for using the speaker outdoors, the sound carries well, and seems to cut through the wind, not struggling to compete with background noise.
Sound Specs
The Tough 2.0 offers:
5 acoustic drivers.
A Sound Pressure Level (SPL) of 108 dB at 1.5-feet.
The secret sauce: audio drivers tilted at 8 degrees upwards.
Full Range Frequency of 60Hz to 10KHz.
Setup and Connectivity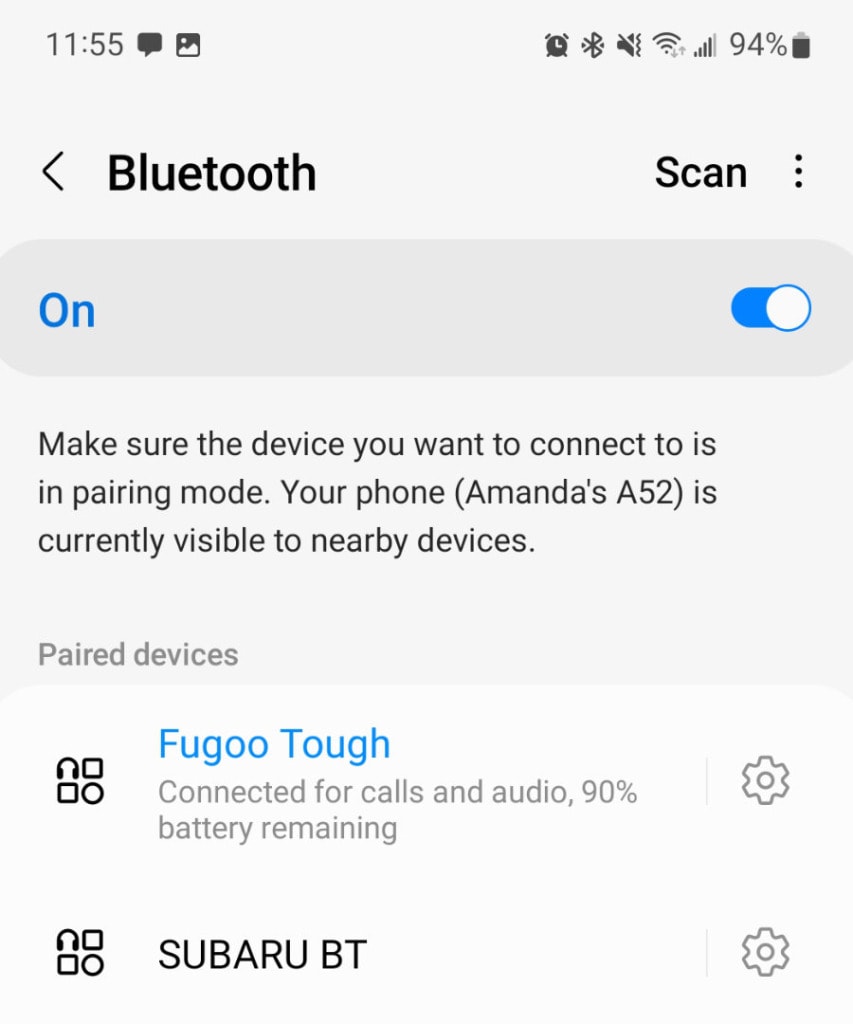 Connecting the Fugoo Tough 2.0 to my phone was a cinch. The speaker will tell you that it's pairing and connected, which a lot of other speakers do not.
The speaker also gives you quite a distance from the Bluetooth source before it starts to fade out – I estimated it at about 30 to 40 feet.
When you leave the Bluetooth range and then re-enter it, the Tough reconnects automatically.
Charging
This little speaker charges easily, and has a convenient indicator light that flashes while it charges. It also stays charged for hours – I can use it throughout the workday without needing to plug it in. You can also keep track of the remaining battery life on your phone.
Durability
This compact speaker is a tank. The aluminum exterior with reinforced resin can take a drop, and keeps the elements at bay. Because it has an IP67 rating, I had to test the device's waterproof capabilities. The result: it didn't drown.
Related: 7 Best Rugged Bluetooth Speakers
Microphones
This feature is the one I used the least on both speakers. I did have a few conversations on each, via my phone – the audio quality was excellent, and the people I was talking to could hear me just fine. I did not test how they performed on a conference call.
Fugoo: Making Waves in the World of Adventure Audio
If you're looking for a speaker to take on the water, the Element will not disappoint, and for those who want ample sound as they explore the world, the Tough will do the job. The verdict is that Fugoo's durable, rugged, powerful speakers offer great value for the price. They're intuitive to use, and stand up to nearly anything you can throw at them.