Note: We received this product for free. No other compensation was provided, and as always, all opinions are our own. We may earn money from links on this page, but we only recommend products we back. Learn more.
Have you acted on the thought that getting a height-adjustable standing desk could be a smart move, but soon realized that standing still for long periods of time can be just as uncomfortable as sitting?
You might have started to experience pain in your legs, heels, and back, and you may find yourself slouching after a while. If you're experiencing these problems at your standing desk, it's because static standing can cause the same issues as sitting for too long.
And as if that's not enough, you probably just spent a few hundred dollars on that desk.
I've been using a height-adjustable standing desk for nearly 10 years, but I was never able to stand for more than a couple of hours each day. The FluidStance® Plane® Cloud changed that for me, proving to be the answer I had been looking for all along.
I used the Plane Cloud board daily for a solid 3 months before writing this review, because I knew I had to give it some time before I could evaluate it properly (including its durability). Keep reading to find out about my experience with this balance board.
In This Article
Unboxing
The Plane Cloud arrived in a recyclable cardboard box, which also contained a "Thank You" note, short usage and cleaning instructions, and a privacy cover for a webcam.
The note briefly explains the story of FluidStance, the benefits of using their balance boards, their dedication to sustainability, and their pledge to donate 1% of their profits to First Descents.
While the webcam privacy cover is a nice touch, especially in this age of online security concerns, it isn't compatible with my external webcam or with the webcams on our two laptops (from Dell and Lenovo), so this may be a rather superfluous extra for some buyers.
The Plane Cloud is the company's entry-level model, so there are no other accessories included, but you do get a carry bag with The Level® board, and The Original ships with a Challenge Cap, which makes balancing on the board more of a workout than a simple balancing act.
The Rundown
For a relatively simple and "low-tech" product like this, there's a surprising amount to cover, so let's get to it.
What is FluidStance® Plane® Cloud?
The FluidStance Plane Cloud is an entry-level balance board that can be used with or without a standing desk. After The Original ($397) and The Level ($249), the Plane Cloud is the more affordable version requested by FluidStance's customers. The affordability of this product doesn't come at the expense of its functionality, but the design is slightly less sophisticated, the board has a smaller footprint, and it's made from different materials.
The Plane Cloud is 24" long x 12" wide x 2.5" tall, which makes it 2 inches shorter than both The Level and The Original. It's recommended for users up to 250 lbs / 114 kg, while The Level can withstand 300 lbs /136 kg and The Original, 350 lbs / 158 kg.
All FluidStance boards are made in the USA, and all come with a lifetime warranty, which speaks volumes about their quality.
What Does it Do?
According to FluidStance, their balance boards will make your workspace healthier, happier, and more productive, and it's not just marketing talk. The Mayo Clinic and Heeluxe Lab (a biomechanics testing facility in Santa Barbara, CA) tested their balance boards, and the claimed benefits are presented in a white paper.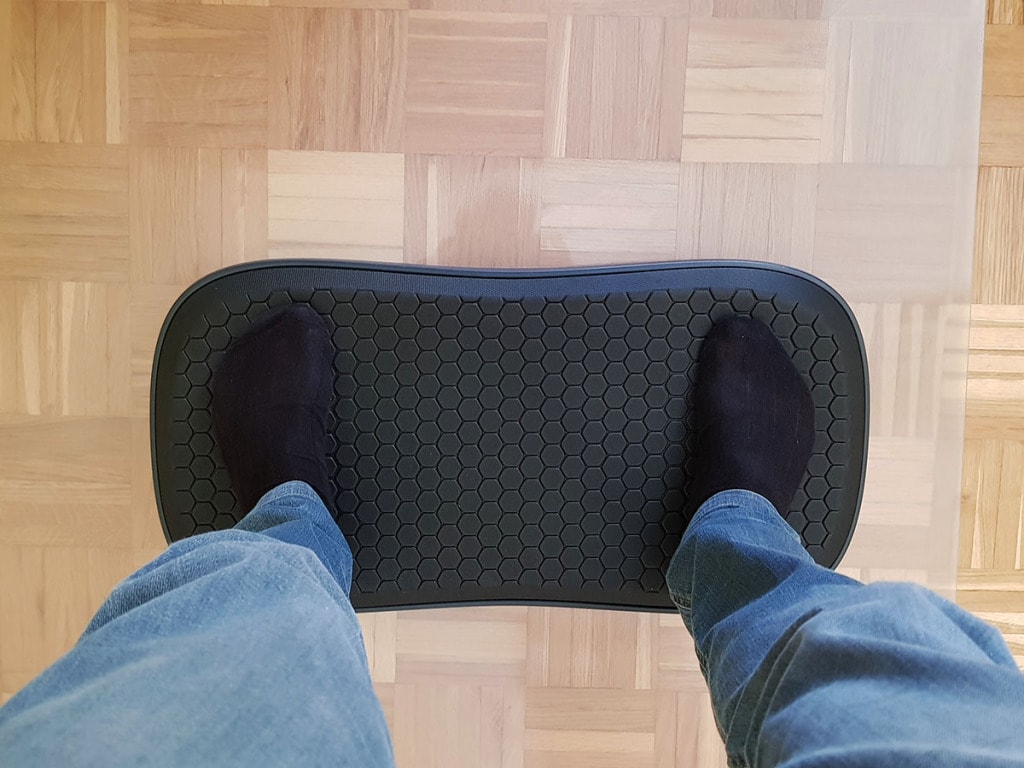 What did the research find? In short:
FluidStance boards mimic walking: Each board's convex shape enables three-dimensional motion, which isn't found on standard balance boards (they can be unstable and difficult to balance on). The FluidStance boards are designed to promote subtle movements at angles that are comparable to walking and are within our natural range of motion.
FluidStance boards increase heart rate and energy expenditure: The heart rates of the participants in this study were 15 percent higher when standing, compared to sitting. This led to an increase in energy expenditure that was 19.2% higher than while seated.
FluidStance boards increase comfort while standing, and increase standing time: A survey of customers revealed that when using a FluidStance balance board, they stood longer, felt happier, and were more productive.
Materials Used & Design
The Plane Cloud board is made from 100% recycled materials, and is almost 100% recyclable. It has a textured foam top as a standard (made from recycled low-emitting rubber tires), which adds comfort and has anti-microbial properties that prevent odors from developing (when using the board barefoot or in socks). The base is made from recycled industrial plastic waste.
The functional geometry of the board is the same as that of its pricier counterparts, and the design is very similar, as well.
When I first stepped onto the board, I noticed that it tends to flex a little under my weight, but at 161 lbs. / 73 kg, I'm way below its limit. This is the "budget" version, but at $189, it's not cheap, and I wish it had more rigidity. Both The Original and The Level have aluminum bases (the Original's is military-grade) and bamboo or wooden top decks, so I'm sure that they offer a more premium experience.
However, the slight flexing is just a subjective low point, and the board's functionality remains identical to that of their pricier models.
My Experience After 3 Months of Daily Use
I've been using the Plane Cloud daily for a little over 3 months now. It usually only takes us a month to complete our reviews, but I knew that I would need more time to fully assess the Plane Cloud. In the same way as the Dygma Raise keyboard, this product has fundamentally changed the way I work.
I spend most of my workday standing
I used to alternate between sitting in my office chair, sitting on an exercise ball, and standing at my desk. However, I never stood for more than an hour at a time, or for more than two hours per day, because static standing would stiffen up my legs and my back.
FluidStance suggests that you slowly ease into using their boards by spending 70% of your time sitting, 20% standing, and 10% on physical activities as a start. They recommend gradually increasing your activity level as you get used to the board.
I started using the balance board for an hour or two each day, gradually increasing my time on it. Now, I only sit for an hour at the start of the day; the rest of the time, I'm up and about on the Plane Cloud. While my body is tired at the end of the day, it's not from stiffness, but from using my muscles to balance myself.
My core and gluteal muscles got stronger
I do a variety of workouts 3 to 4 times per week, and I consider myself to be in good physical condition. Yet, just by standing on the balance board throughout the day, I can feel a difference in my core and glute muscles. I do all kinds of moves on it, including twisting, rocking back and forth, "around the world", side-to-side, etc. Sometimes I even do a 360. Check out the GIF below for a sample.
My productivity has increased
When you're not feeling your best, it can be tempting to slouch in your chair and take it easy. But on a balance board, you can't really do that. I find the gentle rocking stimulating and energizing, which helps me focus and concentrate more. This is especially true in the later part of the day, when I'm already starting to feel tired. In a way, the balance board forces me to finish my work sooner.
The study mentioned above found that many people reported feeling happier while using the balance board. I can't say that I feel happier while using the balance board, but I can say that I definitely feel better. I also need fewer pauses. I use a free and open-source program called Workrave, which reminds me to take 5-minute breaks every 20 minutes (you can customize to your preferences, but this is my preferred schedule). When I was sitting for most of the day, I used the pauses to walk around, do light stretching, or do a quick exercise, and I really needed all that. But now, I can easily do longer stints, as I don't stiffen up as I would just by sitting in my chair or standing still.
The board works best on a hard surface
I have a rug under my desk, and a protective plastic mat on top of that. On the hard plastic surface, the board is more fun and challenging to use, plus you can extract the full 360° motion that it was designed to offer.
The board is also usable on carpet, but the range of motion will be more limited – the thicker the carpet, the less motion you'll have. The only advantage to using the board on a carpet is that it is less likely to move out of your desired position. If you are using the board on a hard surface, it will eventually move from your ideal spot. To fix this, you can either pick it up and place it back in its original spot, or do a few bunny hops until it returns to your desired position.
Either way, in most cases, you'll probably need some kind of protection for your floor or carpet. You can buy a wooden board or a plastic protector, but if you want to keep everything in the same style, you can get the Base Mat from FluidStance, instead.
What Are the Cons?
From an objective standpoint, I see no flaws. The board is well-constructed, durable, and easy to use. I've used it for over 400 hours and it's still in great condition. There are a few superficial scratches on the bottom of the plastic (which is to be expected), but they don't seem to be getting any worse. The foam top is still in perfect condition – there's no wear and tear (I've only used the board barefoot or with socks) and it still feels supportive.
Subjectively, I'd prefer it to be more rigid. The flexing doesn't give me the premium feel that I hoped I'd get, but then again, it's not a big deal, and it's something you'll quickly forget about as you grow accustomed to the board.
Related: The 5 Best Balance Boards for Your Standing Desk
I looked into Amazon reviews to see if there were any common complaints, and some people seem to think the board isn't challenging enough. However, if you want to use the board for a significant portion of the day, making it more difficult to balance on would make little sense, in my opinion. The balancing act must be done unconsciously (so you can focus on your work), and this board is not marketed as a workout device.
Conclusion
If you own a standing desk, a balance board is most probably something that you need. Until you try it, you don't really know what you're missing out on. I certainly didn't. I've been using my standing desk for all these years and just accepting the fact that the experience is not what I had hoped it would be. If you own a standing desk, you know what I'm talking about.
The Plane Cloud is more expensive than its competitors, but you get a product that is made in the USA, has a lifetime warranty, and has been tested and confirmed by Mayo Clinic and Heeluxe Lab. Additionally, FluidStance is a carbon-neutral company that is actively involved in making our society better. Those seem like good selling points to me.
If you want the ultimate experience, get The Level or The Original. This is literarily a once-in-a-lifetime purchase – it'll last you for life, while simultaneously improving the quality of your life.
If you're on a budget or just want to make sure that you won't spend your money needlessly, get the Plane Cloud. It offers the same benefits, but without the high-end looks.