Note: We received this product for free. No other compensation was provided, and as always, all opinions are our own. We may earn money from links on this page, but we only recommend products we back. Learn more.
I'm all about ergonomics when working at the computer, but I never really considered buying a split keyboard. The selection was always relatively small, the designs were kind of weird, and they were very pricey. I couldn't justify spending so much money on something that was – to my mind – probably only a gimmick.
After using the Dygma Raise for almost two months now, I've completely changed my mind. The Raise is beautifully designed, its split layout makes typing a lot more pleasant, and the price for such a keyboard suddenly seems acceptable. The Raise is not only designed for better ergonomics, but for increased productivity, as well. It fundamentally changed the way I work at my computer.
This is exactly what its founder and CEO, Luis Sevilla, and his team were aiming to achieve. Before retiring and starting the Dygma Lab, Luis was a professional gamer and eSports coach for the two-time LEC champions Fnatic. During his gaming career, he noticed that many gaming professionals develop repetitive strain injury (RSI), and suffer from back, neck, and wrist pain which, in some cases, even forced them to retire in their 20s. The same issues are common among typists and other working professionals.
After all, when typewriters and the QWERTY layout were designed in the late 1800s, the focus was not on ergonomics and productivity, but simply on creating a machine that would work without jamming. A staggered keyboard with a QWERTY layout is still, by far, the most used type of keyboard, simply because we got used to it.
The Dygma Raise set out to change all that, and it did. Although it was primarily designed for improving the performance, health, and comfort of professional gamers, it started to become popular among other working professionals, too, especially programmers.
Let's explore what makes the Dygma Raise so special, and what makes it unique in comparison to its competition.
In This Article
Design
The Dygma Raise is a 60% keyboard, meaning that it has no dedicated number pad, F keys, navigation key cluster, or arrow keys.
While this might seem like a disadvantage at first, it's actually quite the opposite. A standard, full-sized keyboard needs to be very wide to accommodate all those keys (104 of them). As a result, it's basically impossible to position it in a way that would be ergonomic for your body, especially for someone with a smaller frame. When you try to position the space bar on a full-sized keyboard towards the center of your body, your mouse will be too far away. This will inevitably create unnecessary strain on your shoulders, wrists, and elbows.
I've been using 60% keyboards (68-key layout) for almost 10 years, so I'm used to the small form factor, but if you compare it with a ten-keyless (87-key layout) or full-size keyboard, you'll quickly notice how compact it seems in comparison.
You can get the Dygma Rase in black or silver. I chose mine in black, simply because it fits better with my overall setup, but I think it looks even more premium in silver.
The body of the keyboard is made out of double-coated, anodized aluminum. It feels nice to the touch, looks premium, and is very rigid.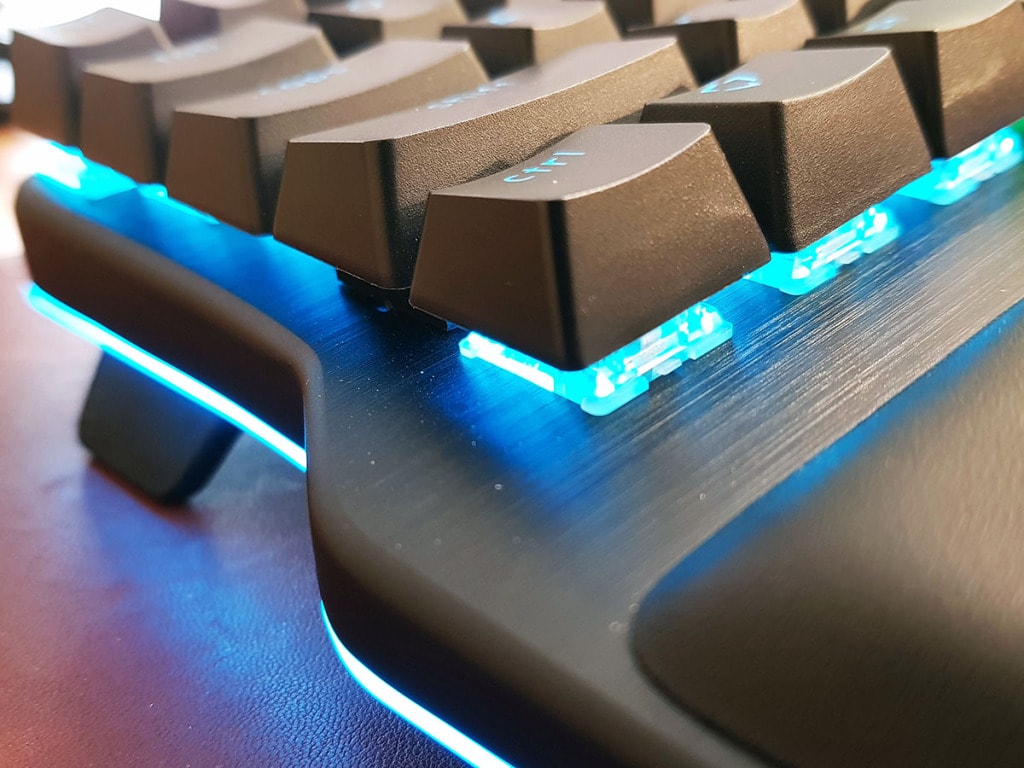 You can switch between the standard QWERTY layout and the split layout. The pin connectors (with magnets on the inner sides) make attaching and detaching the two halves of the keyboard simple and easy.
The standard layout is great when you're starting out because it lets you get used to the keyboard. Once you get comfortable, I'd recommend splitting the keyboard, because it offers better ergonomics.
RGB Lights
The RGB lighting is very well done, and the under glow is evenly diffused. Like almost everything else on this keyboard, this was an engineering challenge on its own.
The lighting on this keyboard is not just for show; it actually helps you be more productive. When you switch layers, the color of the lights will change too. And if there's ever a lighting setting that you don't like, you can easily adjust it for each individual key.
Keycaps
The Raise comes with 60 standard OEM keycaps and 8 customized "thumb keys." The thumb keys for the so-called 8-bar are custom made, because there was nothing else like this available on the market. They are specifically designed for thumb use, so the height, the profile, and the width are adjusted for optimal use.
The keycaps for English layouts (US and UK) are made from double-shot PBT plastic, which makes them extremely durable. The keycaps for the German, Nordic, Spanish, and French layouts are made from ABS plastic (smoother to the touch and shinier looking) with laser-etched legends, which ensures durability, even under extended use.
If you would prefer to use a 3rd party set of keycaps, you are able to do so by exchanging the 60 standard OEM keycaps with any other set you choose. Alternatively, Dygma offers their own black or white keycap sets that you can use to customize the layout of your keyboard.
Mechanical Switches
There are 8 different mechanical switches to choose from when you order your Dygma Raise.
Included in the original price, you can choose between:
Kalih Speed Copper
Kalih Speed Bronze
Kalih Speed Silver
For a $10 upcharge you can get:
Kalih Silent Brown
Kalih Silent Pink
For a $26 upcharge you can get:
Cherry MX Brown
Cherry MX Red
Cherry MX Blue
I chose the Cherry MX Brown switches, because they have a firm press and standard travel, which makes them well-balanced. They are suitable for both typing and gaming.
No matter which type of switches you choose, you can always swap them out later, because the board is hot-swappable. You can even use different switches for different keys, if you want that extra bit of customization.
The Enhancement Kit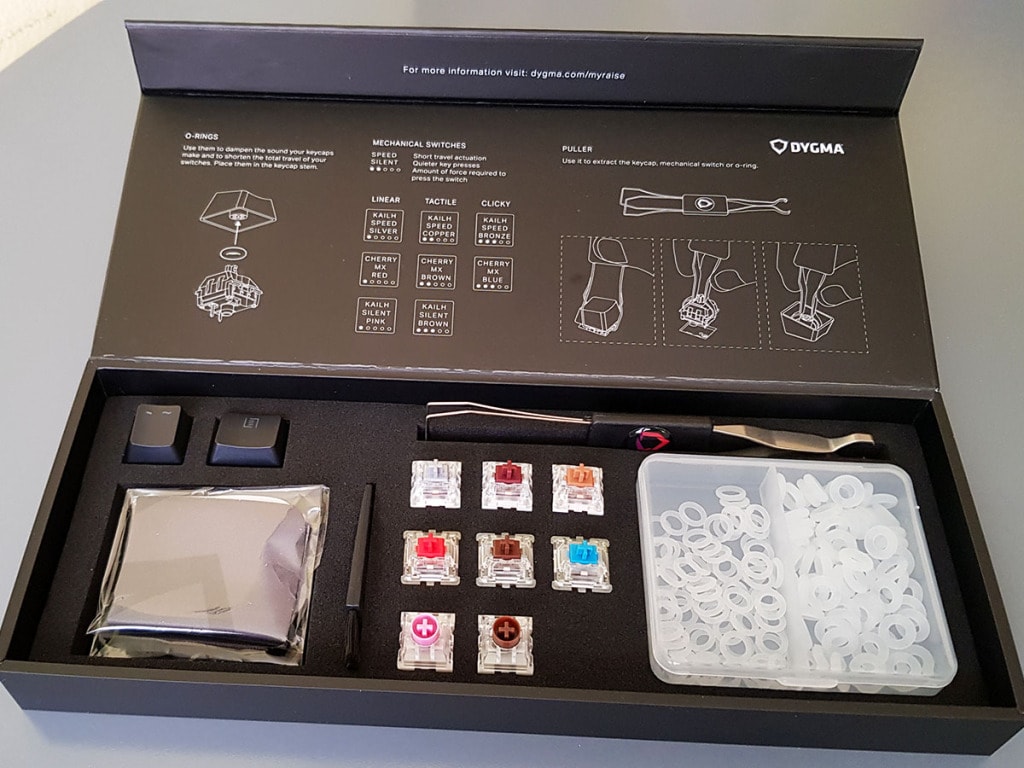 With your purchase of the Dygma Raise, you also receive an Enhancement Kit, which includes:
2 extra keycaps
A keycap-switch puller
2 sets of thick and thin O-rings (70 pieces each)
2 microfiber cloths
A cap remover
8 test switches
This kit allows you to sample all the switch types that are available for the Dygma Raise, and you can use the O-rings to change the feel and the sound of your typing.
I like my keyboard just the way it is, so I didn't do any modifications to it.
Connectivity
The Dygma Raise is a wired keyboard with an external housing for the microprocessor and on-board memory. This terminal (called the Neuron) has 3 USB-C ports, which are used to connect the keyboard to your computer.
Two USB cables connect from the Neuron to the two halves of the keyboard, and a third USB cable connects the Neuron to the computer.
Since I use a standing desk, I was worried that the cable connecting the Neuron to the PC wouldn't be long enough, but it turned out to be plenty long. If you find that it's not long enough for you, you can buy a longer one, since all the cables are detachable. You can even use customized USB cables if you want.
The Neuron
This Y-shaped device is called the Neuron. It not only controls the keyboard, but also stores its settings. This means that if you use your keyboard on multiple computers, it will always have the same settings, layouts, macros, and RGB lights.
Thanks to the Neuron, the keyboard can operate even if you disconnect one side. This is a great feature for gamers who use the QWER and WASD keys, as they can detach the unused side of the keyboard to give them more surface area for the mouse.
You might wonder why there isn't a wireless option available. I was wondering, too, and when I asked, I was told that it would have been too time-consuming and expensive to develop a wireless keyboard from the get-go. The manufacturing of this keyboard was already complicated enough (you can check out their journey on Dygma's official YT channel), and trying to go wireless would have pushed their launch further down the road, and increased the cost, as well.
On a side note, the soon to be released Dygma Defy, which is an ortholinear keyboard, designed to be even more ergonomic than the Raise, has wireless connectivity. I don't mind the wires, but if you prefer a wireless connection and you want to have a Dygma keyboard, the Defy may be for you.
Ergonomics
While most other brands simply split the keyboard and call it a day, Dygma tackles ergonomics in more than one way.
Split Design
Split design is the basis for truly ergonomic keyboards. Your posture is determined by the position of your hands on a keyboard. When your hands are together, like on a regular keyboard, you're likely to slump.
Dygma's split design lets you sit with your wrists aligned with your forearms, which reduces the stress on your elbows (yes, even typing can cause tennis elbow), wrists, and shoulders. This makes for a more natural typing experience, free of any long-term discomfort.
Since splitting the keyboard fundamentally changes the way you type, it will take some getting used to. Be prepared for mistakes and a slower typing ability in the beginning. However, the long-term ergonomic benefits of typing on a split keyboard are well worth it.
Detachable Palm Pads
The palm pads are nice and soft, with a PU leather cover that feels great. The silicone padding inside is soft enough so that it doesn't strain your hands, but hard enough so that your palms don't sink in and start to sweat.
The pads have a PU anti-slip bottom to keep them in place. They're so secure that you can't move them no matter how much force you use, yet they're easy to remove (you basically peel them off), wash, and reattach if needed. Incredible!
8-Bar and Configurable Layers
To minimize hand movement while typing, Dygma uses two ingenious solutions.
Firstly, they've broken the space bar into 8 thumb keys (called the 8-bar), and relocated the high-frequency keys, like Backspace, Enter, Shift, Control, and Delete, to the 8-bar. Mind you, these 8 thumb keys are, like every other key on the keyboard, fully customizable, and you can assign them one or multiple functions.
Secondly, the keyboard comes, by default, with two layers – the first layer represents all the letters, numbers, and symbols that you see on the physical keycaps. The second layer is accessed by pressing a special layer key on your keyboard. By default, the second layer lets you access arrow keys, media controls, Home/End, Page Up/Down, and the numbers.
You can configure up to 10 layers with the proprietary Bazecor software, and each layer is fully customizable to your liking. More on that later.
Tenting Kit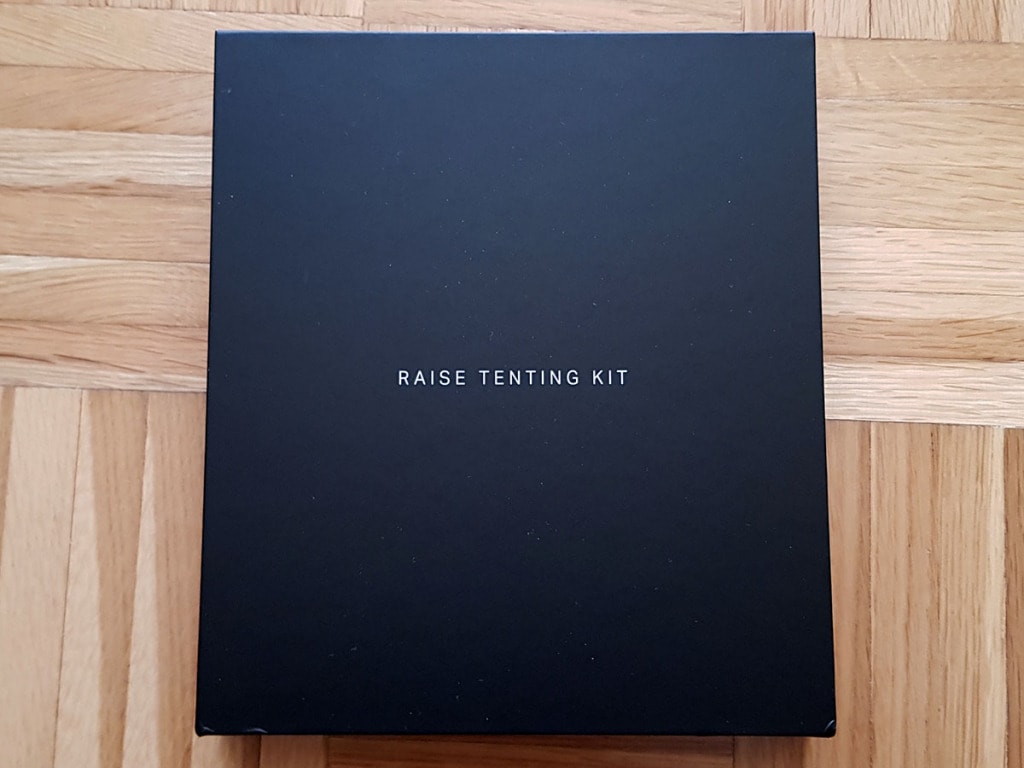 I received this keyboard for free to review, but I liked it so much that I decided to spend my own money to buy the Tenting Kit. This is sold separately from the keyboard, and costs $89. Shipping is $20 (only Express shipping is available), so the total price was $109. There's no other way to put this – it's an expensive piece of kit.
Installation is very easy – simply remove 10 screws from the bottom of the keyboard with the included screwdriver, put the plates in place, and replace the screws with the longer ones provided.
You then have 4 different tenting positions to choose from; 10º, 20º, 30º, and 40º. I like the 10º angle the most, but this will vary from person to person.
The tenting kit has an excellent build quality; it's made out of powder-coated steel, and it weighs about 500 g.
My only issue (in a way) is that even if you lay the keyboard flat, the mounted stand will raise it by 10 mm.
This might not seem like much, but it changes the position of my hands as I type. Ideally, your hands and legs should be at a 90º angle to your torso. After installing the tenting kit, my arms were angled slightly upwards, and if I raised my chair to compensate, I started feeling pressure in my legs.
Still, the tented keyboard felt so good, that I decided to leave the stands mounted. Also, the added height may not be an issue for everyone. After all, we all have different body proportions.
On a side note, Dygma's latest keyboard, the Dygma Defy, solves this issue by having its legs integrated into the body of the keyboard. This means that you can use the keyboard tilted or flat with no extra height added.
Bazecor Software
Bazecor is open-source configuration software from Dygma that lets you remap keys, and create up to 10 programmable layers, superkeys, macros, and shortcuts. You can also control the RGB lights with it. This software gives you a lot of freedom to customize your keyboard to your liking, so you can further minimize the movement of your hands, and increase your productivity.
If this sounds complicated, it is. It can be tough to understand how to use this software at first, but don't worry, with some effort, you'll get the hang of it. It's definitely worth it in the end.
Luckily, Dygma has an in-depth tutorial video on how to use Bazecor. It's well worth watching.
In this video, Bazecor 0.3.3 is used, but there's a much-improved beta version available, Bazecor 1.0. This new version is much easier and more intuitive to use than the old version, so hopefully it reaches a stable release soon.
What Else?
Price
The basic model starts at $319, but if you choose the Cherry MX switches and add the tenting kit, your total cost will be $434.
This is a lot of money, and I don't see everyday users spending so much on a keyboard. However, for working professionals and computer enthusiasts who spend a lot of time at their computers, the investment makes sense.
The Dygma Raise is designed to not only improve your productivity, but also to prevent you from developing repetitive strain injuries and other health problems from working at a computer for hours on end.
This keyboard is sure to last you at least 10 years, so even if you spend $434 on the keyboard and the tenting kit, that's only $43 per year. It's a small price to pay for all the benefits you'll get.
At the moment, the Dygma Raise is available only on Dygma's official website.
Portability
The Dyma Raise comes in a custom-made travel case that is big enough for your keyboard, the Neuron, and all the cables. It is hardened, and although compact, has plenty of space inside. You can even use it to carry the Raise with the Tenting Kit attached.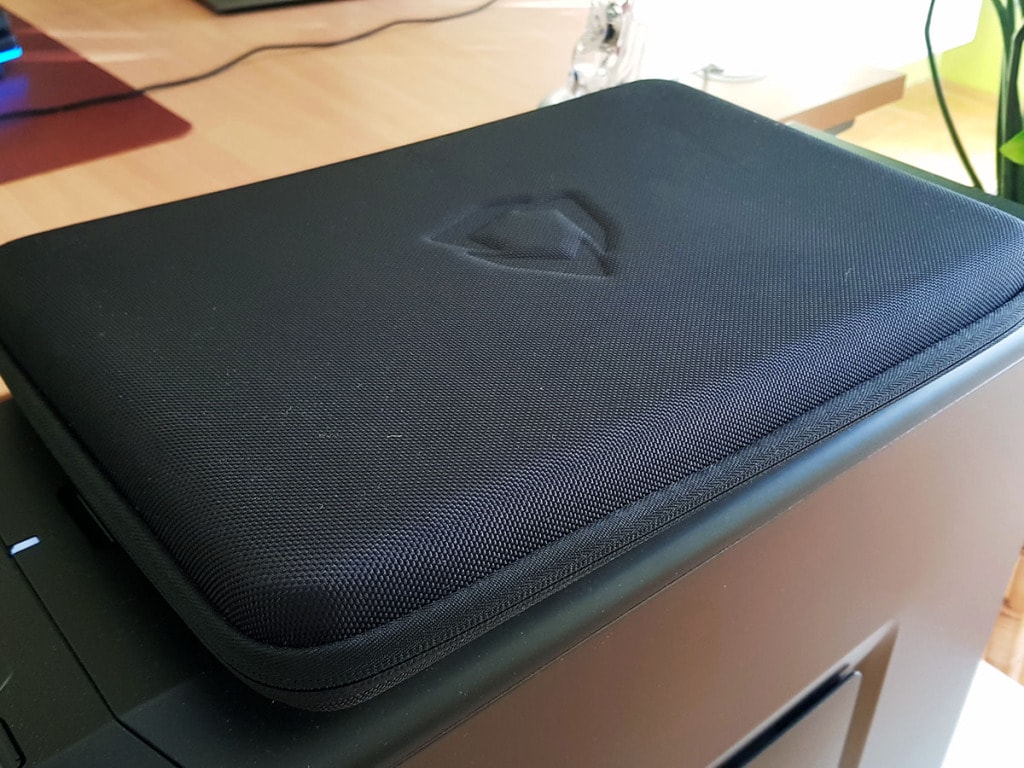 Warranty
The Dygma Raise is covered by a 2-year warranty for parts replacement and labor repairs.
Summary of My Experience So Far
I've been using the Dygma Raise exclusively for two months now, and this is how my work has changed in this time.
Using a regular keyboard feels awkward now
In the past, whenever I received a new keyboard to test, I would switch between my trusty old Logitech K810 and the new keyboard. But not with Dygma. Once I plugged it in, I never switched back. This was very surprising, since I thought that I would never find anything better than the K810.
I tried using the K810 and the Kemove DK61 (both 60% keyboards) to write part of this review, and I was surprised how unnatural both felt. I also found myself typing a lot slower, and making more errors. This is kind of worrying, because if I ever need to type on a normal keyboard again, I'll look like I never typed before.
Still, there's no going back for me. I guess if I won't be able to type on my Raise, I simply won't type. 😊
I finally learned how to type with 10 fingers
I used to hybrid type before I got the Raise. I thought it was okay, but compared to now, it was terrible. Not only did I type a lot slower, but I had constant pain in my right-hand forearm muscles from overusing my middle finger.
With the Raise in split mode, you can't cheat. You have to use all 10 fingers to type, whether you like it or not.
Learning to type correctly has not only improved my productivity, but also got rid of the nagging pain in my forearm muscles! This was a huge win.
I learned dozens of new shortcuts
After realizing how much faster I can work with all the shortcuts, layers, and macros, I figured I could work even faster if I learned all the shortcuts that are available in Windows.
There are many simple shortcuts in Windows that I knew about, but I didn't bother learning them, because I could do everything with my mouse. But my thinking was wrong. Too much clicking can also cause repetitive strain injuries, and like I mentioned before, I already had issues with my forearm muscles. In fact, the pain was so nagging that I had to switch to a vertical mouse, which helped a lot, but not completely.
So I found a list of all the Windows 11 shortcuts, and I printed them out so I could learn them. Some of the shortcuts would have required me to press 3 keys simultaneously, but with the help of Bazecor, I reduced them to a single key.
This was another boost to my productivity, and it helped me to significantly reduce mouse usage.
I didn't need to buy a keypad for my soaring simulator
I like to play the Condor 2 soaring simulator, which utilizes quite a few keyboard commands. Prior to getting the Raise keyboard, I considered buying an external keypad that has all the most common commands.
However, after receiving the Raise, all I needed to do was create a new layer with all the commands that I need. This only took me a few minutes, and I was able to save $30.
Conclusion
The Dygma Raise promises a lot, but it also delivers. At $319 (and $434 with the MX switches and the tenting kit) it's an expensive keyboard, but the price is comparable to other high-end split keyboards.
Since I had never used a split keyboard before, I was skeptical at first, but now I'm a fan. I don't see myself using a regular keyboard again, because the Raise was such a game changer in more ways than one.
In fact, I believe that the demand for these types of keyboards, despite the price, will only go up. Before, I would have been hard-pressed to spend this amount of money on the Raise, but now that I've experienced it, there's no going back. It's well worth the investment.