Note: We received this product for free. No other compensation was provided, and as always, all opinions are our own. We may earn money from links on this page, but we only recommend products we back. Learn more.
Many brands make keyboards, but only a handful of them make only keyboards. With commitment like that, you know that there's a serious effort put in to creating the best products possible. Das Keyboard is one of those brands.
The company has a big following among professionals and keyboard enthusiasts alike because the Das Keyboard products are not only very durable and well-made but beautifully designed as well.
Mechanical keyboards are the first – and often the only – choice for writers, programmers, and gamers who spend their days behind the computer screen.
Related: 7 Best Mechanical Keyboards for Programming
While I do a fair amount of typing, I've been using a scissor-switch type of keyboard (they sit between the dome-switch and mechanical switch keyboards) for the past 7 years. It's a compact (60%) keyboard from Logitech (K810) that I've bought mainly for its portability. Nowadays, the K810's portability is not important to me anymore, but I keep using it because it still works (I type between 8,000 and 12,000 characters per day, translating to about 25 million keystrokes to date), and I got used to it.
When I swapped my K810 for the 4C TKL and started typing on it a smile soon appeared on my face. I quickly remembered how good it feels to type on a mechanical keyboard. But typing on the 4C TKL was even better than I expected it to be.
Let's find out why.
Design and Build Quality
The design of this keyboard is minimalistic and stylish, and it follows a similar design language that is used across Das Keyboard's whole lineup.
The keyboard has an anodized black aluminum top panel, which not only adds to the great looks but also makes it rigid.
The base is made from high-quality plastic, and it features a footbar that doubles as a detachable ruler. This might look gimmicky to some, but it will often come in handy in an office setting.
The attached ruler also tilts the keyboard at a 4-degree angle, which is believed to be the best angle for ergonomic typing. The rubber feet are wide and sticky, and with the weight of this keyboard (2.5 lb. / 1.13 kg), the keyboard is stable, no matter how wild your typing might be.
The charcoal-colored keycaps are made out of PBT plastic, which is known for its durability, temperature resistance (up to 302°F / 105°C), and chemical resistance. As a result, the keycaps won't shine or wear out as fast, like those made out of ABS plastic (my old K810 has keycaps made out of PBT plastic, and the shining is hardly noticeable, even after all these years of heavy use). The keycaps also have a nice textured finish that is barely noticeable, yet it's pleasant to the touch.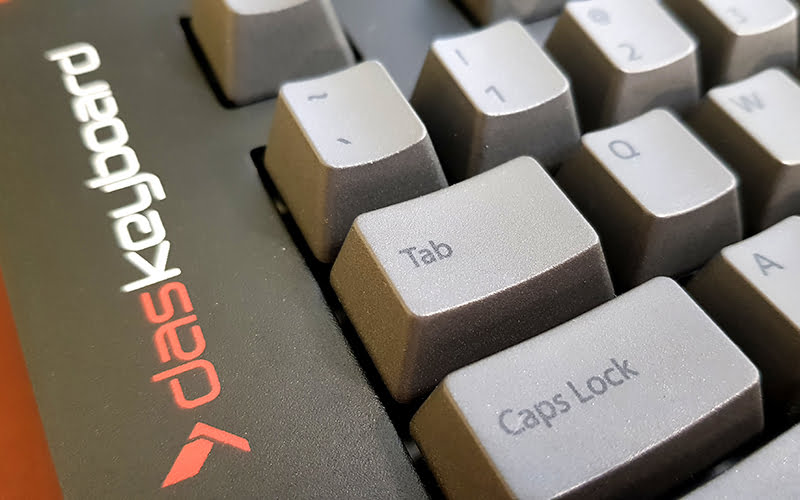 The keyboard lettering on 4C TKL is black, which, without a backlighting option, and on charcoal-colored keycaps is (in low light conditions) somewhat hard to see. While this might look like a design sacrifice made for better aesthetics, you'll be surprised to learn that the people at Das Keyboard are big proponents of blank keycaps. So, with 4C TKL, consider yourself lucky. However, they do acknowledge that this is not everyone's cup of tea, so some of their other keyboards are more standardized.
Switches
Das Keyboards 4C TKL comes with the popular MX Brown switches made by a well-known German company, Cherry.
The Cherry MX Brown switch is considered the most versatile switch in the entire MX lineup because it offers the precision and feedback of the MX Blue while being softer and quieter, as is the MX Red. It's, so to speak, a hybrid of the two and it gives you a great experience if you're using it for typing or gaming.
The MX Brown switch is rated for 50 million actuations, which is considerably more than you get from membrane-based keyboards (they are usually rated for up to 5 million actuations). The switches are plated in gold, which makes them rust-resistant, so even if you live and work in a humid climate where everything else may fall apart, these switches won't.
Keyboard Size
Das Keyboard 4C TKL is a Tenkeyless keyboard, which means that it has no Numpad. These keyboards are often labeled as 80% keyboards, meaning that they have roughly 80% of the width of a full-size keyboard (100%).
The smaller form factor will save you some space on your desk, and you'll be able to adopt a more ergonomic posture as well. Full-size keyboards are wide, and if you position it so that the spacebar is towards the center of your body, the mouse will be too far away. Stretching for your mouse and using it in a forced position for too long can cause a lot of strain in your elbow and shoulders. This can lead to RSI.
The TKL format is beneficial for gaming, too. The extra space on the right side of the keyboard will leave more maneuvering room for fast-paced mouse movements.
For anyone who has their work desk set up as I have (with a laptop placed in the right corner of my desk and connected to an external monitor), these smaller keyboard formats are a must.
Connectivity
4C TKL is a USB wired keyboard. It also has a USB 2.0 hub (Type-A), which is located on the left side of the keyboard. It's hidden from the view by the protrusion of the aluminum top panel.
This is a nice little detail that helps to keep the design of the keyboard clean. You can use the hub to connect your mouse, charge your devices, or transfer files to and from your USB stick.
The cable is 6.5 feet (2 m) long, so even if you're working at a height-adjustable desk, you won't run out of cable.
Compatibility
This is a Plug & Play keyboard which requires no software to run. It's compatible with Windows, macOS, and Linux operating systems.
Typing Experience
I love typing on this keyboard. The factory-oiled switches are tactile and quiet. The feedback is much better than on low-profile keyboards, which are typical for membrane, rubber dome, and scissor-switch keyboards.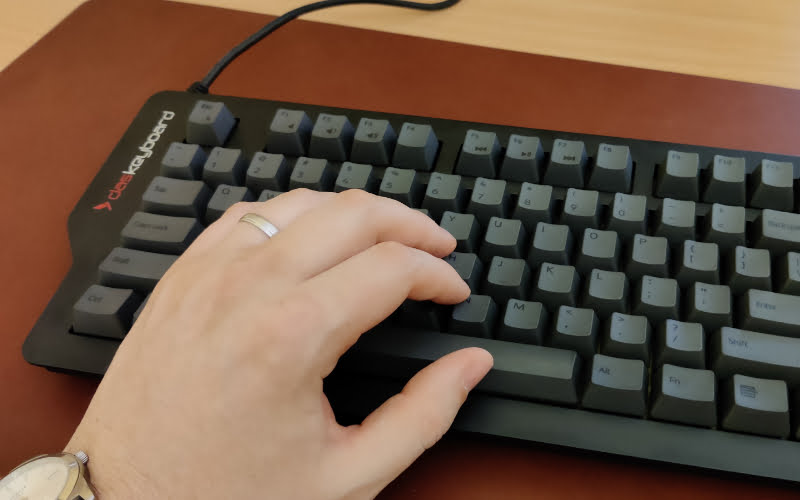 The operating force for MX Brown is 55 cN, and I find it perfect. There's no fatigue in my fingers even after long hours of typing. The total travel distance of this switch is 4 mm with 2 mm of pre-travel. The typing sound is audible but still quiet enough that it remains pleasant to listen to and won't bother anyone near you.
The keycaps have some unavoidable wobble, but they feel very stable. Media keys can be accessed with the Fn key.
I haven't done any speed typing tests, but I feel that I type faster on this keyboard than on my old one. The mechanical switches and the extra finger travel provide me with better feedback, plus the curvature of the keycaps helps me to position my fingers correctly. The keycaps on my K810 are much flatter, which enables me to slide my fingers across the keyboard, and in turn, it lowers my precision.
4C TKL also has an N-key rollover feature (NKRO), which can be turned ON or OFF using Fn+F11. NKRO allows you to press as many buttons as you want without confusing your operating system. With NKRO enabled, the keyboard will monitor the keypresses instead of the operating system. While this feature is fairly common on premium keyboards, it's probably most used by gamers.
Watch this short video that I made to see the keyboard from all angles and to hear how it sounds while type on it.
Conclusion
Das Keyboard 4C TKL is a great choice for writers, programmers, and anyone else who wants to type quickly, efficiently, and accurately.
While this is quite an expensive keyboard (at the time of this writing, it costs $139), it's worth the investment. It should easily last you 10 years or more, bringing the cost down to only $13.9/year.
I thought that I would keep using my old K810 keyboard until it failed, but I typed on this keyboard for several days, and there's no going back.
If you're shopping for a new mechanical keyboard, you can easily put the 4C TKL on your shortlist.
You can buy the Das Keyboard 4C TKL on Das Keyboard's website or Amazon.
Sale
BUY FROM AMAZON