Note: Durability Matters is reader-supported. When you buy through affiliate links on our website, we'll make a small commission, without impacting your price. Thank you. Learn more.
In This Article
As I was winding down the other day, I opened one of my favorite YouTube channels, Harry's Garage. While I do not consider myself to be a car guy (depending on who you ask), I do enjoy watching car shows and learning about cars.
The video I watched was all about how to properly store your vehicle(s) long-term. I don't actually have a vehicle that would need long-term storage, but learning something new is always fun.
However, one of his recommendations did apply to all car and motorcycle owners. Namely, the importance of keeping your vehicle's battery in prime condition. This is something that most of us, presumably, ignore. The truth is, having a well-maintained battery will not only save us a lot of money, but it can save us from a number of other issues, too (imagine your car not starting when you need it the most).
According to VARTA, 39% of all car breakdowns are caused by the battery. That's a lot!
A car battery will typically last from 3-5 years, but this number can vary a lot. Many factors affect the life of a battery.
Nevertheless, with a good battery charger/maintainer, you can extend the life of a battery by years.
This will not only save you a lot of money but time, too (who wants to waste their time waiting around in repair shops?).
For his car and motorcycle collections, Harry uses a battery charger/maintainer made by the Swedish company, CTEK. The model he uses is CTEK MXS 3.8.
Now, because one of our family cars was having issues starting on cold mornings, I wanted to get a car battery charger anyway (I didn't want to give up and just buy a new battery). Usually, I would just take Harry's recommendation and buy one of the CTEK models, but the monomaniac in me had to dive deep and explore this topic thoroughly.
So, after way too many hours spent, I came to the conclusion that CTEK's are among the best there is, if not the best charger on the market (in retrospect, I should have just taken Harry's advice).
About the CTEK Company
CTEK's are among the most expensive chargers that you can buy, but they have a lot going for them. First of all, Swedes, like Germans, are known for their impeccable engineering. CTEK, unlike other car battery charger manufacturers, is focused solely on this niche. Everything they do is about charging and maintaining batteries in one way or another.
Product quality is, as they say, 'in the heart of everything we do.' It's no wonder that they are the only company (as far as I know) which offers a 5 year 'no hassle' guarantee. That's a no small feat, considering that a lot of other chargers fail after only a few years of regular usage (according to what I've discovered through various subreddits, forums, and by reading customer feedback). Other manufacturers typically give a guarantee of 1-3 years at most.
About the CTEK MXS Chargers
The technology used in CTEK chargers is impressive. After all, their (trademarked) slogan is: 'The smartest battery chargers in the world.' You have to be confident in your product to trademark a slogan like that.
So, what makes a CTEK battery so ingenious and convenient? Their products boast quite a few advanced and unique features:
CTEK's advanced microprocessor will control battery charging with automatic temperature compensation – meaning, your battery will be charged at an optimal level, no matter the surrounding temperature.
Before charging, the charger will make a quick diagnosis of the battery to establish if it can receive and hold a charge. If not, the error LED light will turn on.
It performs a battery desulfation before the charging starts (they've patented this technology). As a result, your battery will always get an optimal charge.
CTEK can revive and restore deeply discharged, stratified, or old batteries. It does that by reconditioning them (also a patented technology). Most other chargers will need the battery to have at least 8 volts to be able to charge them. A CTEK charger can charge a battery with only 2 volts left in it.
There's a unique charging program for AGM car batteries. These are mostly found in newer vehicles with stop/start technology, and the AGM technology itself is mainly reserved for high-end car batteries.
Related: 6 Best AGM Battery Chargers and Maintainers
CTEK's are Both Battery Chargers and Battery Maintainers
CTEK chargers are also state-of-the-art battery maintainers. The MXS series can charge and maintain all kinds of motorcycle and car batteries. There's a special 'float/pulse' mode for long-term maintenance, so you can leave your MXS device hooked up to the battery for as long as you want.
For example, if you own a motorcycle or a quad, you can simply connect the MXS charger to the battery (no need to disconnect the battery first) at the end of the season and leave it there until you're ready to ride again.
In fact, if you happen to own multiple vehicles, you can buy special CTEK indicator eyelets. You need to mount these small devices on your batteries, and they will show you the battery's charge levels via green, yellow, and red LED lights.
With these indicators, you will never have to measure (or guess) the charge levels of your batteries again. Simply check the LED lights and charge as needed. This is much cheaper than buying a separate charger for each vehicle. The best thing is that these eyelets make charging even more straightforward – they are easily accessible, and you can connect your charger directly to them. It's like inserting a USB key into a computer. Easy, right?
If you happen to own a luxury or high-performance vehicle, there's a good chance that you already own a CTEK charger, and you don't even know it. Let me explain. CTEK makes branded chargers for over 40 of the most prominent and prestigious car & motorcycle brands in the world. There's an exclusive 'Client Brand' team within CTEK that works with OEM clients and fine-tunes their chargers for each specific brand. If you have bought a particular model of Ferrari, Porsche, Aston Martin, Rolls Royce, etc., you probably received a CTEK charger with the car. These cars, in most cases, aren't daily drivers, so maintaining their batteries is a must.
Here's how a branded CTEK charger for the Swedish high-performance car brand, Koenigsegg, looks.
CTEK's are also used by car dealers, first responders, and other professionals who need their cars or machines to be ready at all times.
The CTEK MXS 5.0
For my needs, the CTEK MXS 5.0 is just perfect.
The other models in this series are MXS 3.8, MXS 7.0, and MXS 10. These numbers designate the output power of the charger, which is 3.8, 7, or 10 amps. The higher the amperage, the bigger a battery it can charge and maintain. There are also slight differences in charging modes, but you can check these out yourself on the product pages.
My CTEK MXS 5.0 is a 12V charger with 4 different charging programs:
Small batteries
Normal batteries
AGM and stop/start batteries
Reconditioning deeply discharged batteries
It can charge batteries from 1.2Ah up to 110Ah, and it can maintain batteries up to 160Ah. The charger is also IP65 certified, which means that it's splash-proof and dustproof. Another great feature of these chargers is that they are spark-free and reverse polarity protected (you can't do any damage to the battery or your charger).
The charging process happens in 8 steps.
Step 1: Desulfation
The sulfates are removed from the lead plates by a pulsing voltage. This restores the battery capacity.
Step 2: Soft Start
A short battery test to check if it can accept a charge. If it can, the charging will begin.
Step 3: Bulk
The charger will charge the battery with a maximum current up to approximately 80% of its capacity. The charging speed is, of course, dependent on the surrounding temperature and the power of the charger.
Step 4: Absorption (the battery is ready for use)
A slowly declining current will charge the battery up to its full capacity. As soon as the LED light #4 turns on, your battery is ready to use.
Step 5: Analyse
This is a second test that will determine if the battery can hold a charge. If not, the battery may need to be replaced. If it can, the charger will proceed to step #6.
Step 6: Recond
This is an optional step that will only be engaged if you've selected it beforehand. It reconditions deeply discharged or old batteries, thus improving their performance.
Step 7: Float (fully charged battery)
The battery is 100% full and is being kept full by providing a constant voltage charge.
Step 8: Pulse (maintenance charging)
The LED light #8 will only come on if you keep the charger connected to the battery for long-term maintenance. The charger will monitor the battery voltage and give it pulses when needed. This is also known as trickle charging.
Charging the Batteries
Because I did my due diligence before getting the charger, I was already charging our first car 10 minutes after receiving the package.
The battery in our Ford Kuga, or Ford Escape in the U.S., is 3 years old. The car itself is an MY2011, and it's on its 3rd battery. The original battery died after 3 years, the second battery, which was VARTA, also went after 3 years, and the current battery is now 3 years old. For whatever reason, Ford is eating batteries like candies.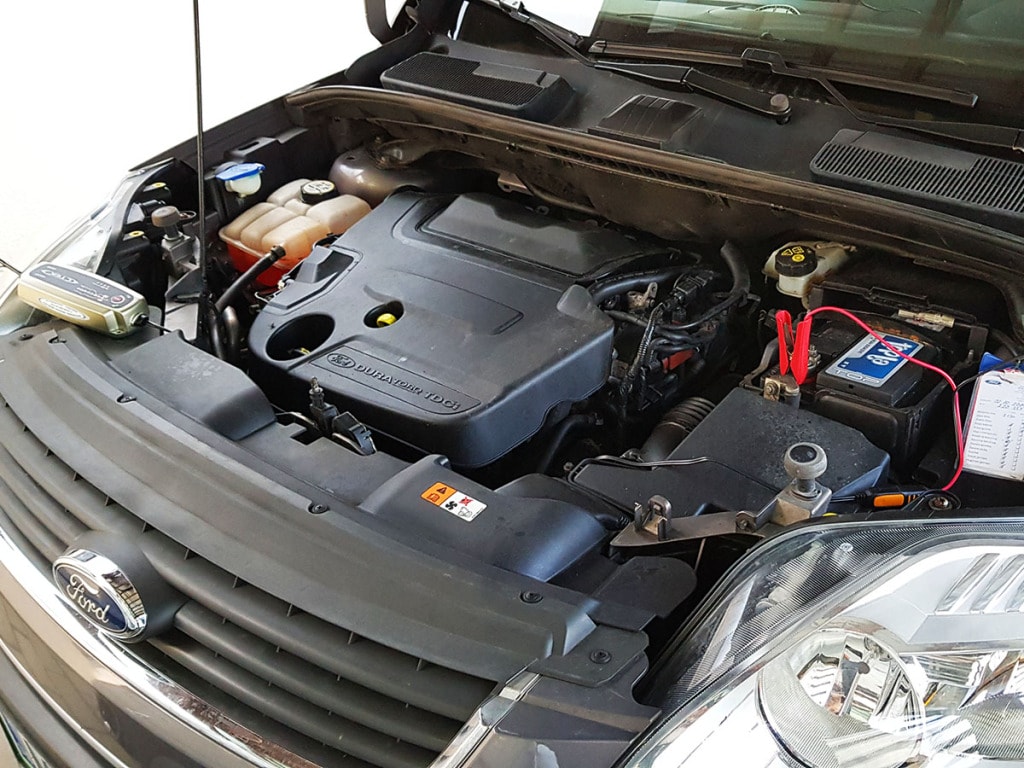 The current battery (Topla, 72 Ah) is also showing signs of weakness. In the winter, the car nearly didn't start on several occasions. Instead of repurchasing a new battery, I decided to buy a charger and see if I can revive the battery and make it last for a couple more years.
When I hooked up my CTEK MXS 5.0, steps 1 and 2 flew by, and the LED light was burning on step 3.
I should have selected the 'Recond' mode, however, a friend I talked to (he's an auto mechanic) told me that the reconditioning function should be used mainly when the battery is disconnected from the car. His concern was that the Recond function ups the charging voltage from 14.7V to 15.8V, and that could potentially damage the car's electronics.
Just to be sure, I sent a question to CTEK's main headquarters in Sweden asking about this functionality. When I get an answer, I'll update this article accordingly. (Update: Check out the 'Q&A' section below to see the answers that I received)
The battery was charged to 100% in about 8 hours.
Next was my Peugeot 308 (MY2012). Surprisingly, it's still using its original battery. If the car isn't driven for a week or so, it definitely struggles when the engine is started.
Again, I probably should have activated the 'Recond' mode, but I didn't for the same reasons as before. I have no idea what kind of battery is in the car because it doesn't say in the owner's manual, and the data-sheet isn't visible on the battery.
For steps 1 and 2, the charger did the same job as on the Ford Kuga and remained on step 3 for about 12 hours. To get to the final step (100% charge), it needed about 18 hours in total.
The last car to receive the special treatment was my Alfa Romeo Stelvio (MY2019). This car has stop/start technology and uses an AGM battery (VARTA Silver Dynamic AGM, 95 Ah). I simply added the AGM mode and left the charger to do its thing.
The charger did precisely the same thing as with the previous two cars, but then it got stuck on step 3 for about 5 hours. The remainder was completed in about 2 hours. All in all, the green light lit up after 7 hours.
IMPORTANT: Many newer vehicles are equipped with an Intelligent Battery Sensor (IBS) which can measure the charge and discharge voltage and calculate the charge level and the general condition of the battery. If your vehicle has an IBS sensor (the sensor is usually placed next to the negative terminal (-) of the battery) then make sure that the charge voltage goes through the IBS sensor. Failing to charge the battery through the IBS sensor may result in a dead battery due to incorrect measurements by IBS. This is not mentioned in CTEK's manual – this info can be found only in your car's manual.
Q and A with CTEK Support Team
When I originally published this review (in April 2020), I wasn't sure if I could use the 'Recond' mode on a battery that was still attached to the car.
I also wasn't sure about a few other things, and I could not find answers to those questions in the manual, on the CTEK website, or on their YouTube channel.
So, I sent my questions directly to CTEK's support team in Sweden and they went above and beyond in explaining everything I wanted to know.
Q: I have an Alfa Romeo Stelvio (MY2019) and I think it has the VARTA Silver Dynamic AGM (95 Ah) battery installed (I don't know for sure, because the battery has an OEM sticker by Alfa Romeo). However, I do know that it's an AGM battery. CTEK's manual says that MXS 5.0 'can charge most AGM batteries.' I wonder, can I safely use the AGM mode on my battery?
A: Recommendations regarding charging voltage varies. There are many different battery manufacturers and battery models on the market. Please check with the battery manufacturer to get the correct information for your particular battery, as CTEK does not have the particular recommendations for each and every battery brand and model.
However, all EFB and most AGM batteries are recommended to charge with the normal 14.4V voltage. Some AGM batteries can be charged with 14.7V for the most effective charge.
If no information is available, use the normal charging option, which is 14.4V. That setting is safe to use for all battery types (lead-acid, including GEL, EFB, AGM, etc.). In general, if you are not sure about the battery type, it's always better to charge with lower voltage than a higher voltage.
Q: What if I select the AGM mode, but the battery isn't AGM? Will that cause damage to the charger or the battery?
A: No, it won't.
Q: Can I use the 'Recond' option on AGM batteries?
A: The Recond program is used only for flooded batteries (including EFB), to re-balance the flooded acid inside.
The remixing/balancing is necessary to treat an already stratified battery or to prevent severe stratification.
AGM or GEL batteries are not flooded, and therefore do not suffer from stratification. That means the Recond mode will not help with AGM or GEL batteries.
Reconding an AGM battery does not harm the battery, but does not help either, so we cannot recommend the Recond program on AGM batteries.
For GEL batteries, Recond can be harmful, because using too high a voltage can dry the gel inside the battery and weaken the battery instead of empowering it.
Here's an extended explanation:
When you choose the Recond program, you should note that the Recond program always starts with a normal battery charging program. Then, after the battery is fully charged, the Recond treatment is implemented. Depending on the charger model and battery size, the Recond step lasts from 30 minutes to 4 hours, and that is on top of the charging time.
When the charger light turns green, the program is completed.
Recond is made for remixing flooded acid inside the battery – hence, stratified batteries.
What is stratification?
Stratification is when the acid inside the battery becomes layered.
As long as the acid and the water of the electrolyte in the battery are well mixed, the battery works as it should. But, if the acid and water separate into layers, the battery cannot be charged anymore because of the parts that are layered, not by the alternator, nor by the charger.
So, acid that is layered inside a battery causes loss of capacity.
Why do the batteries get stratified?
Stratification can happen if the alternator charging voltage is too low or the charging time is insufficient (due to short drives, for instance, or a lot of parallel loads during the drive), or if a battery is deeply discharged and unused for a period. Different batteries suffer different levels of stratification depending on the battery type.
Why is stratification a problem?
A stratified battery cannot store voltage as well as a healthy battery can and behaves like a smaller-capacity battery. When conventionally charged – by the charger or the alternator – only the parts that are still "healthy" will be charged. So, a battery may seem fully charged but can be emptied by one start attempt. Stratification also promotes corrosion on the upper half of the plates and creates sulphation problems at the bottom.
Why does Recond help?
Recond causes a controlled gassing that remixes the acid and equalizes the acid balance. Through that, the battery capacity is reclaimed and battery efficiency is restored, partially or almost fully, depending on how severe the problem is.
Just one more thing: Do not mix Stratification with Sulphation problems. Sulphation affects all kinds of lead/acid batteries AND every CTEK charging program starts with a desulphation step, so you do not have to worry about that.
Q: If I use the Recond mode on WET or Ca/Ca batteries, should I unplug the battery from the vehicle or can it remain plugged in?
A: Normally, there is no reason to disconnect or remove the battery from the vehicle, or open the battery caps, while charging, even if you use the Recond program. Most vehicles have a voltage limit, which is 16V, and CTEK chargers don't exceed that.
Desulphation starts every charging program (for lead-acid batteries) and the charger pulses voltage peaks to remove sulphuric acid crystals that have been built up inside the battery.
CTEK chargers are spark-proof, reverse-polarity protected, and electronic safe.
Accessories for CTEK MXS 5.0
I already mentioned the CTEK Indicator Eyelet accessory, which I'll probably buy later on, but there are many more CTEK accessories available.
After originally publishing this review, I got in touch with the CTEK support team with the above questions. Because their answers were so detailed and helpful, I asked them if I could include the answers in my review.
They connected me with their PR & Communication manager, who kindly approved this, plus she generously offered me to send the CTEK CT5 Protect Bumper and the CTEK Comfort Connect Cig Plug.
CTEK CT5 Protect Bumper
The CT5 Protect Bumper is almost a must for anyone who wants to thoroughly protect their charger (the charger is an expensive device, after all). The Protect Bumper is manufactured from durable and non-marking black silicon rubber, which fits easily on your charger. You just need to stretch it over your charger and you are good to go.
The rubber will protect your charger from bumps and scratches and offers extra grip on slippery surfaces.
I'm regularly rotating my charger among three cars and I know that this Bumper will help to keep it in pristine condition.
Buy CT Protect Bumper from Amazon
CTEK Comfort Connect Cig Plug
This accessory helps make charging your car battery a breeze. It just doesn't get any simpler than this. All you need to do is connect the Comfort Connect Cig Plug to your CTEK charger, plug the other end into the cigarette lighter outlet, turn on the charger, and you're done.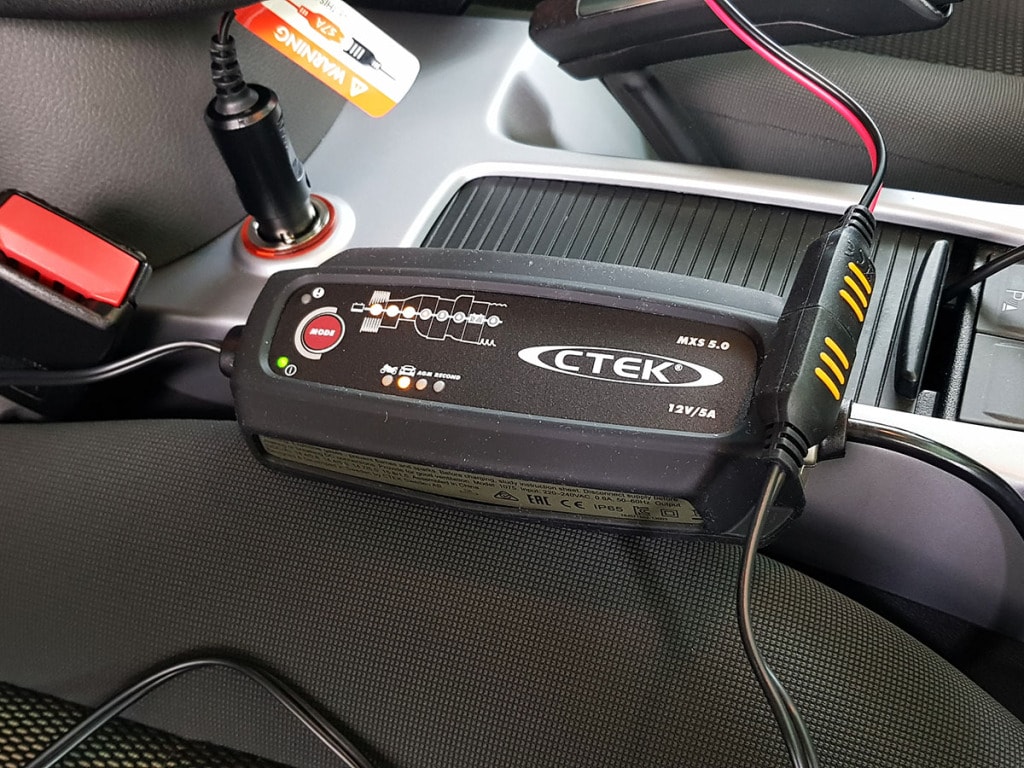 The CTEK Cig-Plug fits both 12-millimeter and 21-millimeter outlets, however, it will only work if the cigarette outlet in your vehicle is 'live.' In other words, the socket in your car must provide power even when your car is completely turned off.
To easily test the socket, simply insert a phone charger, a charger for your dashcam, a charger for your external navigation unit, or something similar. If it powers the connected device, then the socket is 'live' and you can use the CTEK Comfort Connect Cig-Plug to charge the battery.
Buy Comfort Connect Cig Plug from Amazon
Final Thoughts
Based on all the information that I have gathered about car battery chargers, I honestly think that CTEK chargers are the best your money can buy.
Going forward, I will definitely strive to maintain our cars' batteries every other week, if not more often. The more frequently I do this, the better it is for the battery. This way, I can easily prevent problems before they happen.
Related: 5 Best Heavy-Duty Jumper/Booster Cables
With a little luck and regular maintenance, I should be able to add at least 5-8 years to each new car battery. Saving money is fun, having no car problems is fun, and making things last is fun.
You can do that, too. All you need is a good battery charger.
Long-Term Update (September 2022)

I've had my CTEK MXS 5.0 for two and a half years now. I used to use it frequently, but I don't need to as much now because we sold our Ford Kuga and our Peugeot 308. We have a Fiat 500 Hybrid now that doesn't need its battery charged, and since my wife has a new job about 19 miles / 30 km away, she drives the Alfa Romeo Stelvio every day.

Even so, I am regularly lending my CTEK to my neighbor who has two motorcycles and seldom drives one of them. He is using the CTEK to preserve the battery in good condition. I am also lending the CTEK to another neighbor who has an old Mercedes G-class and only drives it short distances. As an insurance against stranding, he uses my CTEK every two weeks on his vehicle's AGM 90 Ah battery. The battery has a relatively high capacity, but even that doesn't help, when it's not used properly.

The CTEK is still working like new and appears to be in perfect condition with no sign of any wear.