Note: Durability Matters is reader-supported. When you buy through affiliate links on our website, we'll make a small commission, without impacting your price. Thank you. Learn more.
As an audiophile, you want crystal-clear sound. It does not matter if the sound comes from the premium speakers in your living room, your headphones or earbuds, or your PC speakers.
If you don't have the best sound, you feel like you are not living your best life. There is something about incredible audio which can make your day and something about sub-par sounds which can ruin your day.
While many PCs are used as entertainment centers, they simply cannot live up to that pressure. They are not designed to be a one-stop-shop for all of your audio needs, and the stock speakers included with the computer are there to be functional and nothing more. That is where a high-quality speaker set comes in.
Come and check out some of our favorite speakers, which are all excellent for music, gaming, movies, and everything in between.
Our Top Picks
1. Harman Kardon SoundSticks Wireless – 2.1 Bluetooth Speaker System
Pros
High performance wireless connectivity
Unique transparent design
Rich, realistic sound
Cons
Bright blue LED on subwoofer
If you're looking for rich, realistic sound with strong bass and clear treble, no matter the input device or source, then you can't go wrong with the Harman Kardon SoundSticks Wireless. You can expect consistently optimal performance from this speaker set, whether you choose to connect via wire or Bluetooth, since all Harman Kardon products are built using the latest technologies and the highest quality materials.
The SoundSticks Wireless consist of 8 full-range drivers and a 6-inch subwoofer with 40 watts of amplification, as well as wired connectivity and up-to-date Bluetooth technology. Volume and mute touch controls make for quick and easy adjusting, and to top it all off, the speakers are designed with a modern and sleek appearance that will fit beautifully into any space. The transparent design creates a modern industrial feel, while the rounded shape softens and beautifies the look.
Whether you're listening to a podcast on your phone, watching a movie on your laptop, or playing music for your friends from your desktop PC, these speakers will put out the best possible sound from each source, and ensure that you enjoy whatever activity you are taking part in to the fullest.
2. Logitech Z623 – 2.1 Speaker System
Pros
Immersive, studio-quality sound
Plug in up to 3 audio devices
Carbon Neutral Certified by SCS Global
Cons
Some listeners find mids lacking
The strength of this Logitech Z623 audio speaker system is that you have multiple inputs available to you. You can connect to your TV, computer, music player, or game console. If you can listen to audio on it, you can plug it into these speakers.
They are wired speakers (though there is a wireless option available) and can deliver up to 400 Watts of power. The two satellite speakers are complemented by a robust subwoofer, a headphone jack, and the volume controls are right on the speakers.
200W RMS power delivers the audio which you have been dreaming of and will actually shake the room around you. You will be able to feel the rumble of the thunder or the vibration of the car as it screeches past. For movies and video games, this is a fantastic set.
With 3.5mm and RCA inputs, you have a lot of versatility in your connection. You even have the option to connect up to three devices at the same time and switch between them flawlessly. Once you are connected, you have all of the controls at your fingertips.
A fantastic set with a wide range of functionality.
3. Audioengine A5+ Stereo Speakers
Sale
BUY FROM AMAZON
Pros
3 distinct color finishes
Big sound from small footprint
Comes with speaker & cable bags
Cons
Too big for average work desk
There are built-in amplifiers in these Audioengine A5+ active speakers, so the audio input is amplified and given a boost. The resulting sound is loud, warm, and vibrant. With the input, you have your choice of RCA and 3.5mm jack inputs. You can also charge the speakers through USB, so they are ultra-portable.
With improved thermal management and gold-plated connectors, you have a high-quality set of speakers which can really fill a room. Variable preamp audio output with 150 Watts of power quickly fills a room.
You can connect these speakers to any computers, a desktop PC or a Mac, they connect to almost any phone, and you can also take advantage of wireless adapters. Inside the speakers, you have Kevlar woofers and silk tweeters. The hand-built MDF wood cabinets give a subtle finish and showcase the speakers while enhancing the sound. They are magnetically shielded and come with full-size 5-way speaker binding posts.
A great pair of bookshelf speakers which you can also take anywhere with you.
4. Klipsch ProMedia – 2.1 THX Speaker System
Pros
THX certified
Sleek & simple design
Compact but powerful
If you are looking for something stylish for your home, then look no further. This is a 2.1 home speaker system with two speakers and one subwoofer. The setup is compact and concise but still provides a lot of power and a booming, rich sound.
The Klipsch ProMedia 2.1 is THX-certified. The three-piece system can transform a regular desktop into a home entertainment zone. The speakers are high-performance, delivering 35 Watts each. This gives a full-bodied sound in conjunction with the 130-watt subwoofer. If you thought that you had heard booming basses before, well think again.
The two satellite speakers help to maximize the clarity of the audio while being responsive to high-frequency distortion. There is a headphone jack in the back, along with analog and stereo inputs. The system is set up to work with multiple devices, and you can switch between them once they are connected.
The satellite speakers come with 9.5-foot cables, allowing you to position them where you want — great sound from an excellent system.
5. Bose Companion 20 Multimedia Speaker System
Pros
Separate control pod & jack
Compact, space-saving design
No subwoofer needed
Your speaker purchase can be limited by more than just budget: what if you desk simply does not have enough room for a large set-up? What if you get noise complaints from the neighbors for using a subwoofer? Bose has the answer with these sleek, compact stereo speakers that pack a big punch.
The kicker for the Bose Companion 20 speakers is great low-tone sound without a subwoofer. Extra powerful drivers mean you can pump out lower audio ranges than most stereo computer speakers. The speakers also mix audio to equalize the sound, making it sound more natural and carry further through your room.
This pair of speakers includes a handy control station so you can easily adjust or mute the speaker volume. It also has two 3.5mm jacks: one for output to headphones, and one for input from mobile devices. The speakers wire into your computer, so set them next to your main computer so they can make a home there.
6. JBL Professional C1PRO High Performance Speakers
Sale
Pros
Wall mountable
Overload protection
Built-in microphone
Used by professionals and amateurs alike, these JBL Professional C1PRO speakers have a wonderfully clean sound. There is virtually no loss of quality in the audio, thanks to powerful speaker drivers with enough nuance to properly capture the sound.
These speakers come with their own wall brackets with adjustable angles. You can mount them on the wall and tweak their positioning so that their sound matches the shape of your room best. As any audiophile knows, acoustics will make a big difference, so the ability to adjust your speakers in this way is a big plus.
As a stereo system, these speakers handle mid- and upper-range tones best, making them perfectly suited for gaming and movie watching on your computer. One clever feature for everyday use is magnetically shielded transducers, so you can place the speakers next to your computer monitor without any magnetic interference.
7. Edifier R1280T Powered Bookshelf Speakers
Pros
2 x AUX input
Remote control
High quality wood finish
Looking for a rich, full sound right on your desk? The Edifier R1280T speakers produce quality sound at all ranges, thanks to a 4" bass driver which fills out the low end. The sound is unprocessed too, great if you want speakers for audio engineering or even for using an electric turntable to listen to vinyl.
The speakers come with a remote control for adjusting volume, handy if your audio setup means the speakers are positioned around the room out of arm's reach. There are also manual treble and bass adjustment knobs on the side of the speakers. On the back you have two RCA jacks so two devices can be connected at once, and switching between them is as straightforward as it could be.
While they are made with high-quality parts, if something does go wrong, the speakers are built using easily replaceable parts for quick repairs and an extended lifespan. These speakers come with a nice two-year warranty as well.
What To Know Before Buying Computer Speakers
When it comes to choosing the best set of computer speakers, there are a few things which you need to be aware of. There are different types of speaker and, depending on how much of an audio buff you are, that will form a large part of your choice. There are also some additional features which should not be overlooked.
Here are the main things to look at when you are choosing a set of desktop speakers.
The Types Of Speaker
When it comes to desktop speakers, there are two main types to choose from:
Stereo computer speakers
2.1 computer speakers
Stereo Computer Speakers
This set consists of two speakers. By having two speakers, generally spaced so that one is to each side of you, you get a stereo sound when the audio combines. This is the primary type of speaker which you will see attached to a laptop or personal computer.
With computer speakers, you definitely get what you pay for (the same is true for most sets of speakers). You can save yourself some money by buying a cheap set of speakers, but you are only going to drive yourself crazy with the tinny sounds and low-quality audio.
When it comes to PC speakers, especially if you are an audiophile, you need to invest a little more.
2.1 Computer Speakers
Take the two speakers in the regular stereo speaker set and add in a subwoofer. The two denotes the number of speakers, and the one indicates a subwoofer. Again, the speakers are placed to either side of you with a subwoofer somewhere in between.
The subwoofer helps to create a delicate balance with the stereo sound and richness the bass. When it comes to a 2.1 system, the speakers are better quality (on average) than a conventional stereo speaker system. This means that you get good mid- and high-range sounds too.
Style Of Stereo Speaker
No matter which option you choose, you are going to have at least two stereo speakers. That leads us on to our net question: does it matter what type of stereo speaker you have?
It does, and it doesn't. What matters most is the quality of the speaker, but the style of the stereo speaker can also be a factor.
Speaker Enclosure
How much space do you have?
That is one of my primary considerations. Do you need the speaker to sit on your desktop? Can you hang it on the wall? Do you have floor space for it? The shape and size of the speaker will determine if you can even fit it into your room.
The shape will also dictate how the audio sounds too. A larger speaker will resonate more effectively at lower frequencies, and if the bass port is right, will also give you a richer bass sound.
When it comes to the surround material, wood is the best at enhancing the sound.
Speaker Cone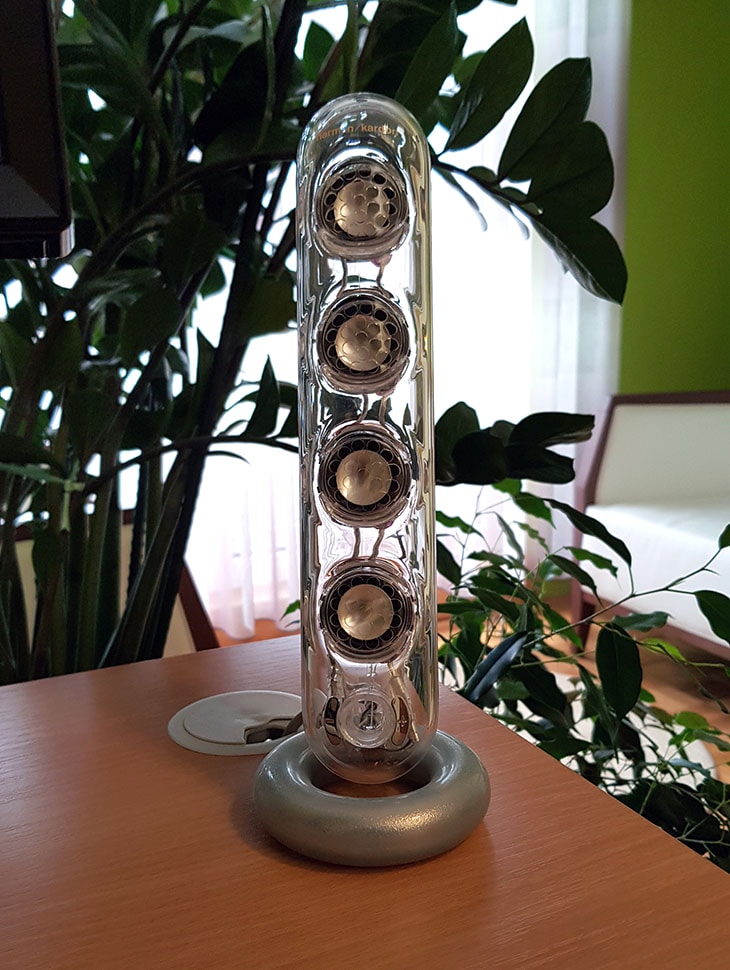 Each speaker which you get in your speaker set will come with at least one cone. Some have a single cone which produces all of the sounds while others have multiple. If you listen to a lot of music or play a lot of audio, then we recommend finding speakers with multiple cones.
The most common style of speaker which you will want to search for is one with two cones. One cone will produce the high sounds (the tweeter), and the other will provide the low and mid-range sounds (the woofer). If you split the sounds into high and low frequencies and play them through separate cones, you get better overall audio quality.
There are also speakers which have three cones, with a separate cone for the mid range. Again, these speakers split the frequencies and will give you a better overall sound, but you may not notice a lot of difference between two and three cones.
Active Vs. Passive
You may have heard the words passive and active, but do you know what they actually mean?
The difference between the two is in the way that they treat the audio signal. With active speakers, the speakers take the sound and either amplify or add an effect to the music. With a passive system, the speakers reproduce the audio as it arrives into the speaker. There is no amplification.
As active speakers amplify the sound, they need a power source to do this. Most models will get this power through a USB connection, and the speakers will connect directly to your laptop or PC. Others can be plugged directly into a socket and get energy from mains power. For true portability, a USB connection is preferred.
Passive speakers do not need a power source, so they are also portable but, since they do not am-plify the audio, they can lack in volume. They are limited by the amount of capacity which your PC or desktop computer can generate.
The Subwoofer
With the 2.1 and 5.1 desktop speaker systems, you get a subwoofer. If you are an audio buff, then you are probably pretty excited about this part. The subwoofer is the large enclosure which has a low-frequency cone inside (it can also have multiple cones).
Low-frequency sounds can travel further than high-frequency sounds, so you can put this anywhere in the room. In conjunction with the other two or five speakers, the subwoofer helps to deliver a well-rounded and balanced sound.
There is not a lot to think about when choosing your subwoofer, and you will be more interested in the speakers themselves, but some models will have a separate volume control for the subwoofer, and this is a benefit. Just be sure to position the subwoofer somewhere within easy reach so that you can turn the volume up or down as needed.
Specifications
When you are choosing your speaker, you will probably find numerous specifications that go along with it. They may sound great, but it is easy to get lost in the confusion. Here are some of the most common ways in which speakers are rated:
Power is generally stated in Watts (W). The higher the wattage, the more energy the speaker can produce.
Root Mean Square (RMS) measures the actual output power. 1 is a decent RMS, and anything above is better.
Music Power is also rated to give you the power output. Generally, music power is around half of the RMS.
Peak Music Power Out (PMPO) is also used at times. The PMPO is roughly a quarter of the RMS.
Durability
Just because a PC speaker is expensive, that doesn't mean that it's built to last.
All of the speakers on our list have a proven history of reliability. They are not only the best in terms of sound quality but also for build quality.
For example, the Harman Karman SoundSticks Wireless (2.1 speakers) are on our recommended list because we know from experience that they last (you can check out our H/K SoundSticks II long-term review). Even after using SoundSticks II for over 15 years, they still work and sound like new. The H/K SoundSticks III are almost identical to the H/K SoundSticks II, so we know that these speakers will last.
Another speaker that lasts, and is on our list, is the Logitech Z623 Speaker System with subwoofer. These are also owned by Henrik and are almost 5 years old. The Z623 system was hooked up to a PC for the first year, but it's now used as a TV speaker. They still work perfectly and, 5 years later, you can still buy the same model. Just as with SoundSticks, this system was built to last from the very beginning.
A premium speaker which didn't last was the Logitech Z520 (2.0 speakers). We bought them 7 years ago, but they lasted only 3. The sound quality was comparable to the SoundSticks but, after 3 years of daily use, the sound quality greatly diminished. We still keep them in the office as backup speakers, but we don't use them anymore. It's no surprise that they don't make those models anymore.
We have all bought a product only for it to drop dead a month or a year later, sadly before its time. The common factor has often been price. We are suckers for a bargain, a good deal, and this can be our downfall. It may seem like a great deal, but it is often not. An investment in the short term usually means savings in the long run.
A decent pair of speakers can set you back $100 or more, but spend a little more, and you are going to have speakers which last.