Note: We received this product for free. No other compensation was provided, and as always, all opinions are our own. We may earn money from links on this page, but we only recommend products we back. Learn more.
A quality angle grinder will last your lifetime and come in handy time and time again. As someone that works in rural areas, monitoring lands, an angle grinder can be the difference between getting your job done–and having to return to the office because someone has cut the designated lock and replaced it with their own. Additionally, I've found an angle grinder is the best tool for random bike chains on my project sites' trees and fences.
So, when Bosch reached out and offered for us to review their Bosch GWX18V-8N, I was thrilled. Not only does Bosch have one of the best reputations for buy-it-for-life power tools, but I had heard many great things about their X-Lock mounting system.
So, over the course of about a month, I tested the Bosch GWX18V-8N. I used it at work and at home. I put the unit as well as the battery through its paces, and it didn't disappoint. I will outline the details of my hands-on experience in this review.
First Impressions of the Bosch GWX18V-8N Design
This Bosch 18V Cordless Angle Grinder is a small, professional-quality tool with advanced features. Because it's battery-powered, it's perfect for smaller jobs around the house, job, farm, or camp.
First Impressions
Putting this tool together is so easy. It shouldn't take you more than a few minutes max. The side handle twists on after. The wheel guard also clicks into place with a simple 90-degree twist.
If you're left-handed, one of the neatest features of this angle grinder is that you can assemble it, so the leverage/side handle is on the right.
The wheel guard can also be repositioned to the opposite side if needed. All you have to do is hold the guard release lever and spin the guard into position. This also works well if you want to use your left hand for fine motor control and your right hand for weight support. It's also fantastic for cutting at certain angles or getting into tight spots.
The battery easily pushes on and clicks into place. It's also to remove be depressing the release button.
What's in the Boxes?
I received the Bosch GWX18V-8N separately from the GAL18V-40 battery and charger. However, you can buy the kit where they come together with a storage and carry bag. The GWX18V-8N came in a cardboard box with a type 27 wheel guard and type 27 grinding wheel, plus a side handle. I also received a battery and charger in a separate cardboard box. Bosch offers an "L-BOXX" tool storage system for this angle grinder. Bosch also sells a type 41/1A wheel guard as well as a hand guard separately.
The tool itself comes with:
The angle grinder tool (main body)
X-Lock GWX27LM40 Metal Grinding Disc (4.5" x ¼")
Side handle
Wheel guard
Year Warranty Paperwork
Operating & Safety Instructions
The GAL18V-40 battery charger comes with:
The Core18V 4.0 battery
Battery charger
Operating & Safety Instructions
Bosch GWX18V-8N Features
The Bosch GWX18V-8N is an investment–not an extremely expensive unit, but more expensive than the entry-level off-brand angle grinders you will find at Lowe's or Home Depot. So, what are you paying? A sturdy tool and ease of use. You will find that this tool truly follows through on these, and its features provide exceptional value for money.
The X-Lock Mounting System
The X-Lock mounting system was new to me, but I was able to understand it intuitively. It is a simple clamping system and feels both safer and simpler than a traditional key-and-spindle. The X-Lock system only works with compatible accessories, but they are well worth the investment. X-Lock accessories can be used on a standard arbor, though. The system really feels foolproof, and changing accessories is extremely fast. It's hard to overstate the simplicity of the system, which feels like a revolution for this type of tool.
If you decide to invest in this line of tools, the system will save you time and unmeasurable frustration.
Specs
This is a pretty standard lightweight angle grinder. It is competitive with others in the same size and voltage class.
No-load speed: 11,000 RPM
Battery voltage: 18.0 V
Weight excl. battery: 1.8 kg
Grinding/cutting disc, diameter: 125 mm
Rubber backing pad, diameter: 125 mm
Sound pressure level: 82 dB(A)
Sound power level: 93 dB(A)
Uncertainty K: 3 dB
The weight including the battery is just about 6-lbs.
The battery is long-lasting and easy to charge on the 40-watt charging unit. It also has a battery life indicator, so you can easily tell how much charge is left before and after each job.
Bosch GWX18V-8N Performance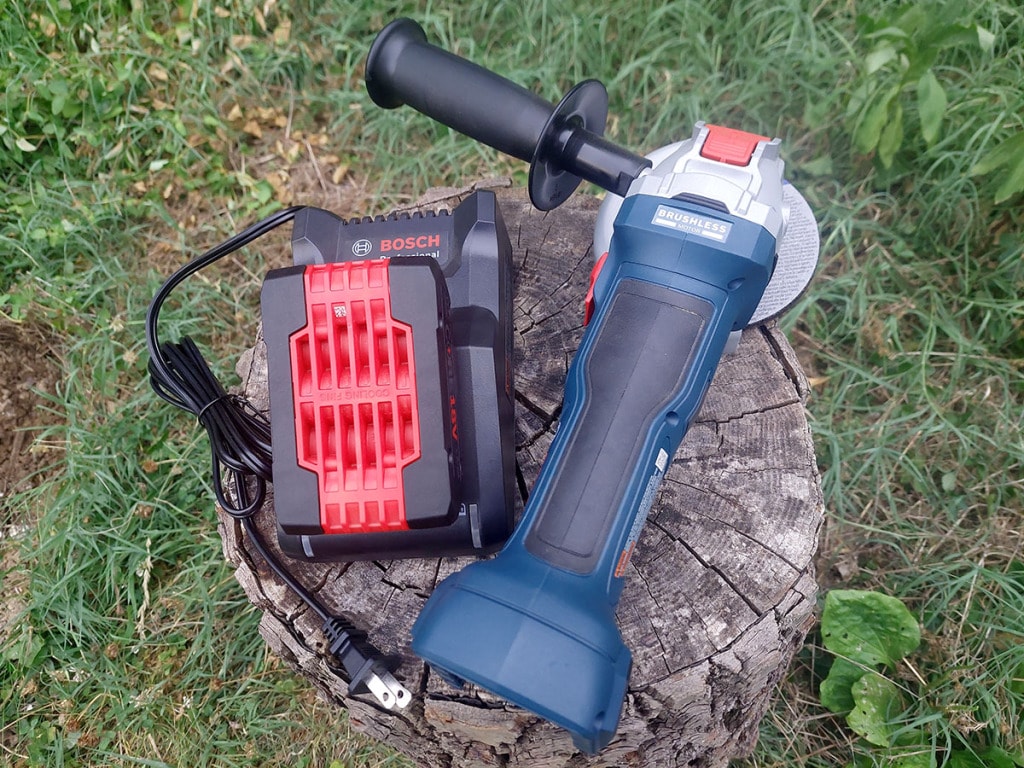 This is definitely not the most powerful angle-grinder on the market. But it's lightweight, portable, and packs a definite punch for its size. The battery life is impressive, making it a perfect choice for smaller jobs away from the house or inside the home and a range of jobs around the shop.
I used the Bosch GWX18V-8N without any issues. It cut through padlocks, chains, and sheet metal quickly, cleanly, and without having to exert too much force or energy. It makes an easy job of cutting through metal.
Control & Comfort
The initiate button (or side switch) allows for smooth, controlled startup. This is great for accuracy and avoiding those unwanted startup jumps you may experience from other angle grinders. You can push the button or switch in to lock it in the on position.
The side handle offers an optimal angle, and the body handle fits nicely in the hand and distributes the weight of the tool evenly and comfortably. I didn't find my arms or hands aching at all using it.
The tool is relatively quiet with a bit of a high-pitched whizz. I appreciate the Bosch GWX18V-8N doesn't vibrate as much as other angle grinders I've used (which can also tire out your arms and hands).
Surprising Perks of the Bosch GWX18V-8N
I will be purchasing some of the other accessories available for the tool. I think it will perform phenomenally as a detail sander or polisher.
The grinder worked so quickly and efficiently, that I didn't notice any excess heat from the battery or tool body.
I appreciate how easy the handle can be removed. This makes tidy storing in my work vehicle easy, and I don't break a sweat putting it together when needed.
The battery-level indicator is bright and extremely helpful. It's easy to see when the battery is becoming drained and needs to be charged.
After a month of use, I haven't noticed any negative signs of use or wear. The photos in this review were taken after several sessions of use–not new out of the box for reference.
Drawbacks of the Bosch GWX18V-8N
The only drawback I see with this angle grinder is that you cannot use your existing grinding discs and accessories. You have to use the X-Lock discs.
The Bosch GWX18V-8N & the X-Lock System: A Must-Have Angle Grinder
I feel confident the Bosch GWX18V-8N will last a lifetime with occasional use and for years (if not decades) with regular use. It easily cuts through metal and offers an interchanging disc system that makes use easy and convenient. If you're looking for an angle grinder that will perform to your expectations– this is it. It's comfortable, precise, and affordable for its quality.