Note: Durability Matters is reader-supported. When you buy through affiliate links on our website, we'll make a small commission, without impacting your price. Thank you. Learn more.
When you are buying power tools, it makes sense to choose a brand and stick with them. You do not have to worry about different types of batteries, different ways of doing things, and all the other hassles that come into play when you mix and match tools.
Before we jump into listing the best brands, I want to point out that the brand order is not ranked. The reality is that there is no one size that fits all. No one brand contains all of the best power tools, so what you find amazing in one brand, your neighbor is going to find in another.
The brands on this list are the best brands in general. We have completed some comprehensive research before compiling this list, so we're sure that these are the best your money can buy.
In This Article
How We Researched The Power Tool Market?
The power tool industry is big and complex. One brand might make the best drill while the other might make the best jigsaw. Also, the power tool lineup within each brand can get very granular, because most brands want to cover the widest market possible.
The idea behind this article was to find the best brands based on the following criteria.
Opinions of Professionals and Homeowners
I did some major renovations in and around the house recently, so I had plenty of opportunities to talk with various contractors about the tools of their trade.
I also have some friends who are carpenters, builders, and woodworkers and they are always happy to talk about the equipment they use.
The homeowners I talked to are my DIY friends and neighbors. I've heard them say that they've either inherited their tools, bought them on sale, or they did thorough research before buying them.
I, too, own a few power tools and the difference between brands is sometimes enormous.
Warranty Length
The warranty length usually implies how confident the manufacturer is about the quality of their product. In most cases, it's true that the longer the warranty, the better the quality.
Related: 23 High-Quality Brands With A Lifetime Warranty
I went through each manufacturer's warranty page on their website to get a better feel for what type of warranties they offer.
In the power tool industry, it's almost impossible to compare warranties just by brands, because almost every power tool has its own warranty policy.
But, generally speaking, each brand on this list has at least 2 years of wear and tear coverage on their tools. If you want to get deeper, I have included a link to each brand's website, where you can also find their warranty pages.
User Ratings
We scanned the Trustpilot ratings for all major power tool brands.
We also visited the Amazon and HomeDepot websites to check the user rating for each brand's most popular cordless drill (it's a safe bet that cordless drills are among the best selling products for each brand).
Forums and Websites
There are quite a few forums centered around power tools. Discussions of the brands and their tools are frequent.
We've read the most recent topics to get a better feel for what users currently like and with which brands they have had the best experiences.
As for websites, there isn't much research available, but there is one that stands out. It has recent research conducted by Lifestory Research on the most trusted power tool brands in America.
Search Trends and Search Volume
With tools like Google Trends and KWfinder, we were able to check the search trends for each brand and the number of monthly searches on Google.
With this data, we were able to gauge the overall popularity of each brand.
Professional And Homeowner Power Tools
There is often a blurred line between professional and homeowner tools.
You may find tools aimed at homeowners being used on worksites, and vice-versa. Some companies create high-quality tools in both markets, while some fall short and others create amazing one-offs.
There is no one brand that does it all. There is a lot of overlap.
With that in mind, here's what we came up with.
The Best Brands for Professionals
We have tried to find the brands that not only have the best tools but have also built a reputation over the years.
Lots of happy customers help to build trust in a brand and are a good indicator of future quality and service.
The tool market is competitive, with new companies entering the market all the time, but our recommended brands have risen to the top with years of experience, high-quality tools, and expert customer service.
1. Milwaukee
Established in Wisconsin in 1924, Milwaukee has been owned by many different companies, but the quality has remained consistent. In 2005, they were acquired by Techtonic, who also owns Ryobi and Hoover.
Their reputation formed when they released their lightweight one-handed drill, the Hole Shooter, and the company only grew from there.
Now, they offer construction tools, outdoor equipment, and more. They have amassed a large line of cordless tools, leading the way with a cordless revolution.
They also have corded, gas-powered, and multiple battery-powered tools. Their One-Key platform allows them to manage compatibility and maintenance across all of their battery-powered tools.
They make some of the best tools for electricians, HVAC technicians, and automotive workers. They are popular with professional contractors, and suitable for the most rugged and tough jobs.
2. Makita
A well-known brand that was established in 1915, but was not recognizable as the power-tool company that we know today until 1958. First came the planer, then drills, followed by everything else.
You will find Makita tools on construction sites and in workshops around the world. Their power tools are solid, and they also offer yard equipment and a range of pneumatic tools.
They even make a cordless coffee maker that you can use on job sites. And if you want your tools to be powerful and stylish, you can reach for the LXT sub-compact brushless series.
Once based in Japan, the tools are now manufactured all around the world without any drop in quality. A favorite on job sites, their power tools are complemented by extra convenience equipment such as fans and radios.
Makita is well-known for their cordless platform, and have streamlined the system, featuring one voltage where others have multiple batteries. If you are looking for simplicity, then they are the way to go.
3. DeWalt
Raymond E. DeWalt invented the radial arm saw in 1923. The result of that is the multinational company that is around today. They are one of the original power tool manufacturers.
The success led to the acquisition of the company by Black & Decker in 1960, though there was a bleak period for a few decades as people saw Black & Decker as an amateur power tool company.
A successful rebranding in the 90s changed that, and DeWalt became a leading choice amongst professionals.
DeWalt manufactures hundreds of different power tools, with corded and cordless options. When they took over ELU, they began manufacturing German woodworking tools too.
The combination of hand tools and power tools became popular with contractors, and their reputation has grown. They have a wide variety of tools, accessories, stands, tool boxes, yard equipment, job site aids, and more. Some say that they have the best carpentry and concrete tools on the market.
When it comes to batteries, they have a range. The company manufactures the standard 12V and 18V batteries for compact tools, along with 20V and 40V batteries for outdoor equipment.
However, where they stand apart from the competition is with their FLEXVOLT technology. Depending on what tool the FLEXVOLT battery is attached to, it will switch between 20V and 60V, powering almost anything. Very cool!
4. Festool
Festool market themselves on quality. Their tools may cost you a little more than the competition, but you are paying for excellence. The engineering of the tools is incredible, they provide superior customer service, and they pride themselves on ease of use and portability.
The dust collection system alone is worth buying the tools that generate a lot of dust, such as sanders and routers. This makes the brand especially popular with contractors and carpenters. The dust-collection system is integrated into the needed tools, and it gives professionals the confidence to go into people's homes and not leave a mess.
Cabinet makers, and other such contractors, are drawn to the track saw, a breeze for cutting wood with straight, neat, and smooth lines and edges.
The German company builds tools that are worth the money. If you need to do a professional job, or you have a lot of jobs to attend to, then the tools should be one of your top choices.
5. Bosch Tools
Founded by Robert Bosch in 1886 in Stuttgart, this German company is now a familiar name in many homes and workplaces.
You would expect a tool company to stand out based on the quality of their tools but, while Bosch does make excellent tools, that is overshadowed by the fact that they are 90% owned by a charitable organization, Robert Bosch Stiftung. They are a company that cares.
When contractors think of Bosch tools, they often mention build, quality, performance, reliability, and flexibility.
They are also pioneers in battery technology, with an amazing array of cordless tools.
Many people say that their batteries are the best on the market, that they are the most durable and last the longest.
In terms of battery performance, they are to tools what Tesla is to car brands.
Related: Bosch GWX18V-8N Angle Grinder Review
That technology does come at a price. Bosch tools are usually more expensive than their rivals, but you are paying for the extra quality. They are a favorite among serious amateurs, semi-pros, and professionals. If you need to do the job well, Bosch will help you.
6. Hilti
Hilti is the go-to brand of the professional contractor, and you may not find their tools in local stores.
They have a range of tools that not many other companies can compete with, and their tools are used for heavy-duty jobs, such as skyscraper construction and bridge repair.
They also pride themselves on aftercare. They support their customers with excellent customer service, solutions, and accessories. Their large sales force is also available to visit job sites to aid in problem-solving and to deliver tools and accessories as quickly as possible.
If you are looking for large tools, such as jackhammers and impact drills, they are the way to go.
7. Ridgid
Ridgid serves the plumbing and HVAC industries. They were formed in 1923 in Ohio, and pride themselves on their wrenches. The legendary red pipe wrenches are amazing to work with, and many claim that they are the best plumbing tool manufacturer in the world.
If you check with any handyman or contractor, you will likely find that they use Ridgid tools on their job sites. Their line of power tools may be limited, but they are still worth mentioning. They mainly produce drills, impact drivers, and saws.
Their limited range of power tools does mean that they do not have as advanced battery technology as other companies, but they compensate for that by offering one of the best warranties on the market.
As we mentioned before, a lengthy warranty often means complete trust in the tools, and tools that are built to last. This is the case with Ridgid. They may not have the biggest line of tools, but they do guarantee quality.
The Best Brands for Homeowners
The following brands are largely focused on hobbyists, homeowners, and semi-pros, but sometimes you'll see these power tools used by professionals as well.
What these brands have in common is that they all make durable, versatile, and powerful enough tools to finish any home project.
1. Ryobi
The Ryobi company is owned by Techtronic Industries, just like Milwaukee. You could see the two power tool manufacturers as two arms of the same company, Milwaukee servicing professionals and contractors and Ryobi focusing more on homeowners and semi-professionals.
Ryobi tools may not be as rugged as Milwaukee tools, but they are still perfect for anyone wanting to dabble in DIY.
They have everything that you need to work around the home, and they are built to last. Even on a worksite, they will get the job done, though they will not hold up to heavy use, five days a week, fifty-two weeks a year.
With a variety of corded and cordless options, and a focus on impact drivers, drills, and circular saws, Ryobi is perfect for home renovations and quick fixes.
2. Craftsman
Craftsman is owned by Black+Decker. It was first started in 1927 by Sears and, after being acquired by Black+Decker, it has helped its parent company to rule the tool market in the United States.
They have a variety of tools, but you may be most familiar with one of them, even if you do not know that it is a Craftsman tool. Everyone knows the Weedwhacker brand, and these string trimmers are used by a lot of people. Craftsman owns the Weedwhacker brand, along with manufacturing many other gas-powered, battery-powered, and corded outdoor and yard equipment.
They also pride themselves on their Versa System, a system for organizing tools, equipment, and accessories within a workshop. With this system, they are firmly marketing themselves towards hobbyists and homeowners.
3. Black+Decker

Almost everyone knows Black+Decker. Founded in 1910, the company produces power tools for professionals and amateurs. It made its name in 1917 by inventing the portable electric drill and has gone from strength to strength, weathering some storms in its time.
While one of its companies (DeWalt) went the professional route, Black+Decker went the other way, marketing to hobbyists and homeowners.
They focus on the most commonly used tools, drills, sanders, and screwdrivers, and put a lot of energy into nailing (excuse the pun) those few select tools.
They do manufacture other tools, and you will find specialized tools in their range. From accessories to hand tools, they manufacture pretty much anything, though their core focus is on the most popular tools.
Venturing out from just power tools, you can find outdoor equipment, cleaning devices, and home appliances.
4. Kobalt Tools
Kobalt is the tool company of Lowes. They supply homeowners and professionals, and their tools are designed to be used by those people.
They are often compared to Ryobi, and have a similar quality, though Ryobi has been in the power tool market for longer and has more tools in its lineup.
Their new XTR lineup of cordless power tools is the most powerful yet. It offers 50% better performance than before and its meant for serious DIY'ers and semi-professionals. It also offers exceptional value for money.
The tools are very accessible to homeowners and hobbyists, and if you are building a collection of tools for your home, then Kobalt is worth a look.
They have a wide enough range of tools to tackle any home job.
Kobalt offers great quality at a fantastic price and I feel that they are, at the moment, still underrated.
5. HART Tools
A new company on the scene, they are sold through Walmart, and the power and money that Walmart has to back the tools are phenomenal, allowing them to hit the ground running.
Hart is another tool company that is owned by Techtonic, so you know that you are getting high-quality tools at a reasonable price.
Along with the affordability, you have convenience. As they are sold through Walmart, you can go into any store to find the tools, buy new accessories, or find replacements. And, with Walmarts renowned return policy, there is less risk.
Hart offers a wide range of tools on a 20V platform, and they show no signs of slowing down their growth.
6. Skil
Founded in 1926 in New Orleans, the tool company is now based in Stuttgart after being acquired by the German company Bosch in 1996. More recently they have been acquired by Chevron, a Chinese power tool manufacturer.
Skil is the Skil in Skilsaw. The Skilsaw Model 77 was introduced in 1937, and a power-tool company was built around it. Many American houses and buildings were built using the Skilsaw.
After the initial success, the company built a wide portfolio of high-quality tools, with a focus on saws.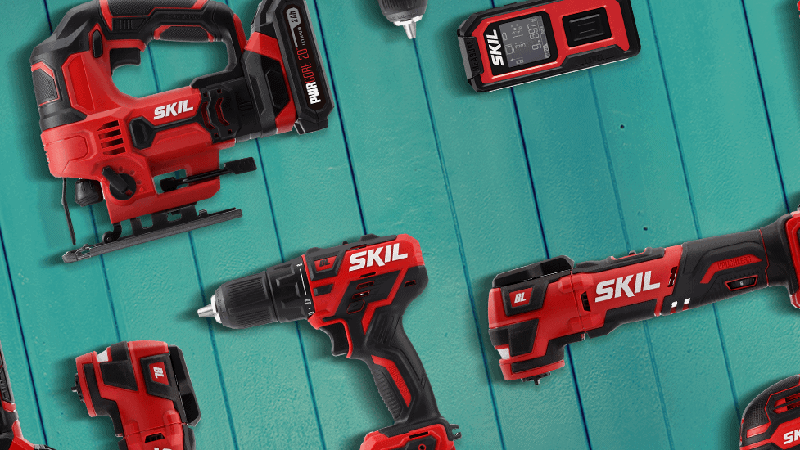 If you need a saw, chack out Skil. If you need any other power tools, they are also worth checking out.
Popularity By Brand
At the beginning of this article, I mentioned that we used Google Trends and KWfinder to help us understand the popularity of each brand.
Here's a screenshot from KWfinder where you can see the monthly search volume on Google for each power tool brand on our list.
These numbers tell you how many times each keyword is searched for in Google on the US market.
Milwaukee power tools are the most searched for brand with 13,500 searches per month. DeWalt (9,900) and Ridgid (7,700) follow closely in second and third place. Ryobi is the go-to brand for many homeowners, which is also apparent from the search volume (5,700). Probably the biggest surprise on the list is Hart (4,000) which is gaining rapidly in popularity.
I also took the 5 most searched for professional-oriented brands and added them to Google Trends. Here are the results.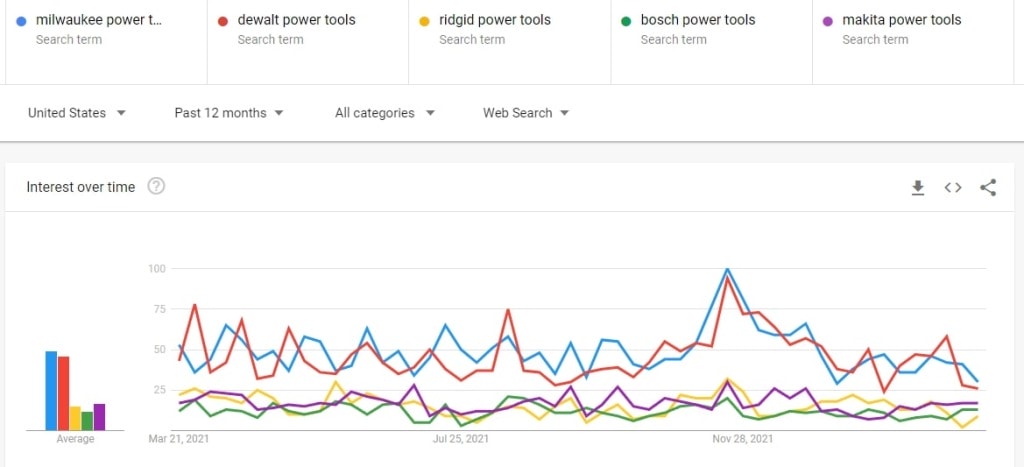 Milwaukee and DeWalt are leading the pack convincingly, with Milwaukee keeping a slight edge over DeWalt. Rigid, Makita, and Bosh did not seem to be able to keep up with the two leaders over the past 12 months; however, there's fierce competition between the three.
As for the homeowner-focused brands, here's the Google Trends chart of the top 5 most searched for brands.
As expected, Ryobi has a lead over the competition; however, it's surprising to see how much HART Tools has gained in popularity. They seem to have overtaken long-time and established brands like Kobalt and Skil and are now close behind Craftsman.
Conclusion
There are many power tool companies out there, both for professionals and homeowners. There is a reason why the recognizable names are the ones who have mostly been around for a long time. With years of experience and feedback, they have been able to mold and shape their companies, driving them forward in a competitive industry.
However, there are some new companies coming to market, and that can only be a good thing for you. The more quality competition there is, the more quality and affordability you are going to get, and these new companies are certainly invested in quality.
Knowing which companies to choose between when it comes to power tools is going to help you get the job done.
As we said at the beginning, there is no one-size-fits-all when it comes to power tool brands, but there is a brand out there that is right for you. All you have to do is choose the one that fits your needs.